A "Glad to Have Around the Bedroom" Product
These nicely sized wipes are great for both toy and body clean up when you are just too tired to get to the sink with it's hot water and soap right away. They wipes are strong and large enough for body use, they clean well and they leave no odor or stickiness behind. These are a great wipe, I only wish there were more in the package.
Published:
Pros:
Cleans well, non sticky, sturdy, convenient
Cons:
Too few in the package, some may have sensitivity to glycerin or chlorohexidine
Eden wipes are one of those products in the "Didn't know I needed it until I tried it" category. I've never been one to use baby wipes for any in the bedroom use. I have kids, baby wipes remind me of…. Diapers. I don't care for the smell of baby wipes, so we do not use them in sexual situations.
I
have
used toy cleaners in a bottle, and found some of them very useful, but most of these cannot be used directly on the skin. Most toy cleaners should not be used to clean human skin and human tissue. Eden wipes can be used on toys and skin, even for many sensitive users.
We always have a box of Puffs on the headboard for sex messes (and stuffed up noses.) They are convenient and inexpensive, if we needed something wet, we would go into the bathroom and get a slightly soapy washcloth. We still use these some of the time.
However, the Eden wipes have made easy immediate clean up simple and even more convenient for those "I can't
move
." times after sex or even self love.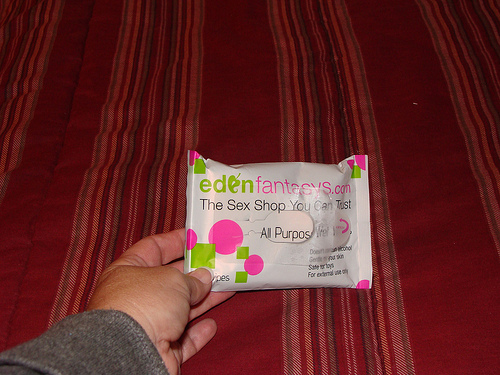 The wipes are made from a nonwoven material (not sure what it is) embedded with Water, Chlorhexidine, Glycerin, Aloe Extract, Vitamin E, Tea Tree Oil. These substances kill germs (Chlorhexidine, Tea Tree Oil) Condition and clean skin and materials (glycerin, aloe extract and Vitamin E) and the Vitamin E also most likely works as a antioxidant. I do have a glycerin sensitivity, but in my case, it is only if the glycerin is used
internally
, such as in a lube. Theses wipes are made for
external
clean up, and so have never caused any sensitivity, discomfort or yeast infection in the time we have been using them.
They feel soft and cool on the skin, yet are very strong and will stand up to vigorous wiping and cleaning. The stretch built into them seems to make them even stronger than many cheaper nonwoven wipes.
The wipes are approx 7.5 in by about 7 in. They are about the thickness of a "plushy" baby wipe, but they
stretch
in one direction,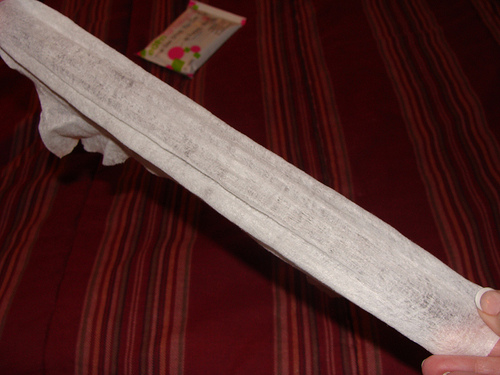 and are very difficult to tear. We found the stretching attribute helpful in certain cleaning situations.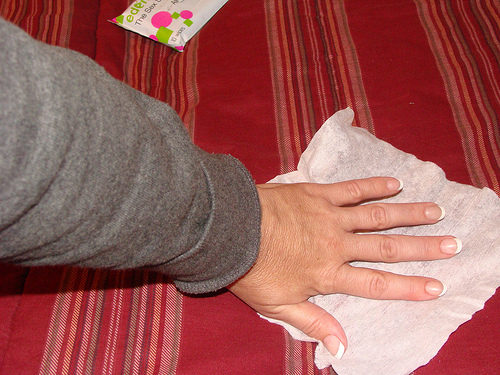 Experience
These wipes hold up and work well. We have found them most useful after lube intensive activities, cleaning up semen from bodies and any time gushing (I don't actually squirt, although they might be helpful for clean up for this) situations. They can be used on toys, genitals, bottoms, hands or anywhere you feel the need to freshen up after sex. They do not leave any stains on sheets, clothing or anything else. We usually only need one per sex escapade. But, your mileage may vary.
They can also be used to do a cursory cleaning of toys, as long as one does do a thorough cleaning with soap and hot water as soon as one is able. Neither toys nor skin is left sticky or smelling of the wipe.
The aroma of the wipe is slightly medicinal, but very light. They do
not
smell like baby wipes. They come in a pillowy little package with Eden signature green and pink accessorizing the package. A small "lid" made from the plastic package material can be lifted up to remove one wipe at a time. The "lid" has a good adhesive on it, as ours have lasted through at least 10 openings and closings with no problem. It seals tightly every time, keeping the wipes left behind moist and ready for usage. Each package contains 10 wipes.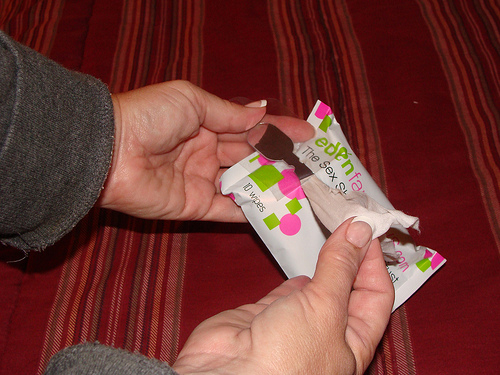 The small package can easily be placed in a purse, pocket or bag if one is going out or may be having sex in a place where running water isn't available. (Yes, those who enjoy sex in the car will
love
these.)
We have found these useful for after-sex clean up, toy clean up, even for wiping down the wood headboard of the bed. The aroma of the wipe fades quickly and is never overwhelming. They can then be simply tossed away and you can drift away knowing you are "clean enough" as are your toys, until you can get to soap and water when you are better able.
They aren't a substitute for a bath or a shower, or for deep cleaning your toys. But, they do provide a nonsticky alternative to Kleenex and are more convenient than a damp washcloth in those drowsy blissful hours after sex.
My only regret is that they only come in packages of 10. I would buy a larger container of them as soon as they are available. These are a great simple product and I will continue to buy and use them.
Follow-up commentary
2 months after original review
I think we are on our fourth dispenser of these toy and body wipes. We just love them. They are still perfect for after sex, when you are too tired to get up and get in the shower or even rinse off in the sink. Sometimes you just want to go back to sleep, but don't want lube and "girl juice" (as My Man calls it) and semen all over you. These wipes are perfect for those times, as well as a quick clean up after anal sex, when you are going to be taking a shower or bath in the morning.

We find we use these more for our bodies than for toys, but occasionally they are used for toy cleaning, as long as the toys do get cleaned with soap and hot water later or the next morning.

Neither of us have had any irritation from these wipes, they smell great, and they work.
This content is the opinion of the submitting contributor and is not endorsed by EdenFantasys.com

Thank you for viewing
Eden toy and body wipes
review page!