Convenience All Wrapped Up
An pretty expensive item for only 10 to a package, but I make sure to pick this as my free item every time I order, because they really are good, quality wipes. Better for toys than body, these are great for travel or those times when you just don't feel like washing toys in the sink.
Published:
Pros:
convenient, cleans well, no lasting residue
Cons:
expensive, smell could be nicer
I've received these wipes with a couple of my past orders from Eden. They can be used either as toy wipes, to clean off toys after play, which is what I use them for, or as personal hygiene wipes. There's nothing fancy about them, but they do what they are designed to. The smell reminds me a bit of a grape-scented shampoo I used as a kid. Not offensive, but not particularly sexy, either. The sheets are 7.5 inches square, are somewhat stretchy, and very soft and cottony. After wiping down a toy it is a bit sticky at first but if allowed to fully dry there is no residue left behind. I haven't had any problems with them drying out, but if you find that your pack is not sealing well enough (as often happens with this sort of packaging) I recommend storing them face down (to prevent lifting) or keeping the pack in a ziplock bag. The front of the package says:
All Purpose Wet Wipes
Does not contain alcohol
Gentle on your skin
Safe for toys
For external use only
These retail for $4.99 for a pack of 10, and are currently an option as a free gift with any Eden order. As someone who indulges in quite a bit of play, I don't think I would purchase these on their own, as they are a bit expensive at $0.50 a wipe. For the most part I stick to soap and water, but these are great to have on hand anyway.
Picture of a wipe for size: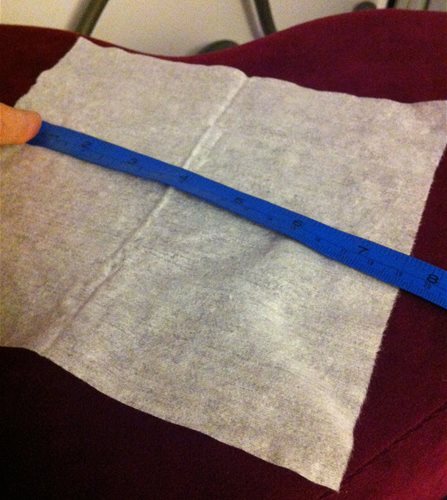 Ingredients:
Water
Clorhexidine
Glycerin
Aloe Extract
Vitamin E
Tea Tree Oil
Aloe, Vitamin E and Tea Tree are all good for skin. Aloe is very soothing and healing (we always keep some fresh spikes growing in the back yard in case of sunburn!) and tea tree is often used in antiseptics or disinfectants. These two ingredients in particular stand out to me as beneficial in a product like this. Some people have reactions with Glycerin, and while I myself have not I try to avoid it just in case. For that reason I wouldn't use this as a personal wipe, but I am particularly sensitive. As the other reviews show, many people use these for body cleanup as well with no problems. I love these for toy cleaning, though! They definitely get the job done.
The back of the package lists activities that Eden provides, like reading and posting reviews, forums, points and SexIs.
This content is the opinion of the submitting contributor and is not endorsed by EdenFantasys.com

Thank you for viewing
Eden toy and body wipes
review page!