Convenient But Not Economical
I like these wipes, but they are too expensive for me to use on a regular basis. I mostly reserve them for wiping toys like my Hitachi or other non-waterproof toys.
Published:
Pros:
Convenient
Great for wiping toys you are nervous about getting wet
Cons:
Expensive
Packet does not always reseal properly
I like these toy wipes and get them as a free gift when I can. I particularly love them for cleaning the head of my Hitachi, or anything where I'm nervous about getting water where I shouldn't. Buying packets of them gets expensive though, so I don't really buy them. A packet of 10 toy wipes costs more than a tub of 40 count Wet Wipes. I admit, I can't use Wet Wipes on my toys (they're meant for hands) and wouldn't recommend it, I just wanted to draw that comparison. At the current price, these wipes cost 50 cents per wipe. I clean several toys daily, so they're not economical for me.
They are thick and stretchy, like higher-quality paper towels. I would say they have more of a fabric-like feel than that weird papery feel that some wet wipes have. I took a photo of me stretching them so you can see what I mean. Each individual wipe measures approximately 6.75 by 7.75 inches, large enough to use a single wipe to clean all but the largest toys. Large enough for my Hitachi, anyway.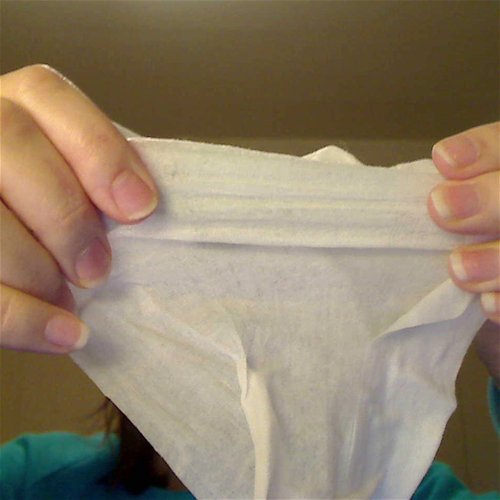 They have a very faint smell. I can't really describe it as anything but "neutral". They do not leave a smell on my toy, and any smell they might leave dissipates very quickly. They contain aloe, which I suppose is nice if you use them on your body. They are for external use only. These wipes also contain Tea Tree oil, which has been reported to have antimicrobial and anti-fungal properties. If you have sensitivities, please be aware that these also contain Glycerin and Vitamin E with no sources listed. They haven't made me break out, but I generally don't use them to clean my body. They are moist, but not wet or soggy.
The packet reseals once you open it, although it doesn't always seal perfectly. Also, the packaging is not discreet. In addition to the day-glo green and pink, it says "The Sex Shop You Can Trust" right on the front. I like to conceal mine in a blue plastic case that came with my makeup removal wipes. It helps keep them from drying out even when the seal on the packet doesn't stick properly, and also makes them a bit more discreet. Not many people rummage through your makeup wipes after all. If you're worried about your mother, friend, or sister going to borrow a makeup wipe and finding these, just shove them under an actual packet of makeup wipes. Problem solved!
This content is the opinion of the submitting contributor and is not endorsed by EdenFantasys.com

Thank you for viewing
Eden toy and body wipes
review page!