Crazy? Seems Pretty Basic To Me!
This balm isn't anything special. It's expensive for what it is, leaves a heavy, waxy feeling on your lips, and has a very artificial taste and scent to it. It is cute and looks like it would appeal much better to a teenage girl than anyone. I can also appreciate the fact that it's made in the USA, but not enough to buy this balm again.
Published:
Pros:
- Cute
- Compact
- Made In The USA
Cons:
- Expensive
- Vague Ingredients
- Heavy Feeling
- Artificial Taste/Scent
Use
Crazy Girl Lip Balm from Classic Erotica is a basic 'chapstick' that's designed to be applied to the lips to keep them looking and feeling soft. Nothing about this product would make someone assume it came from an adult site or is primarily intended for adult use. It contains no aphrodisiacs, no pheromones, isn't meant to 'plump' your lips, and isn't designed to be a sexual enhancer.
This lip balm is marketed toward
girls
and has a cute label on it that would appeal to a variety of age groups; from teenagers to the young at heart. Since the label says 'wanna be kissable', it's best to not give this to a child since that could be sending the wrong message. Though it is feminine to look at, if you were to peel the label off it could easily be used by any gender, and would be suitable for kids and adults alike since the actual tube is simply solid white. The flavor and scent to the product is suitable for anyone, making it a great product to have on hand.
Like any lip balm, this is very compact and travel friendly. It fits easily into a purse, backpack, or other bag, and doesn't look bulky if you were to tuck it into your pants pocket.
While this is great for
keeping
your lips soft, it's not intended to help
heal
chapped lips. Using a medicated balm that's designed to reverse that issue is a good idea if you're dealing with dry or cracked lips, and following up with this balm to keep them soft and smooth is best.
Ingredients
The ingredients list on this product is very vague. It says: Vitamin E, UVA/UVB, Aloe Vera, PABA Free, and is SPF 15. The Drug Facts show the active ingredients as being Octinoxate (7%) and Oxybenzone (4%); the purpose of both is to work as sunscreen. This product is made in the USA and provides a phone number for ingredient questions. If you have ingredient questions prior to purchasing this item, call 877-827-5425.

Texture / Consistency / Thickness / Viscosity
This lip balm has a thick, creamy, and somewhat waxy feel to it when first applied. It doesn't feel natural on your lips, but it also doesn't have any texture to it; it feels totally smooth. Unlike a lot of other lip products, this one takes a while to absorb into the skin. It's both a positive and a negative. The positive side of it is that you don't need to reapply it nearly as often, but the negative is that it feels waxy for quite a while. It's difficult to remind yourself not to lick your lips since it feels a little weird on them, and the more you lick your lips, the more you end up needing to reapply which kind of defeats the purpose.
The stick itself has a sort of pale, yellowish/off-white look to it, but is clear on your lips. It isn't tinted with coloring, but it does add a little shine when applied. It doesn't look like a gloss on your lips, but it shows up just enough to know that something is there.

Taste / Aroma
While this is called a Tropical Lip Moisturizer, it doesn't quite seem fitting. When I think of a tropical fruit product, I imagine a combination of different fruits, but only one really stands out in this one; banana. And not in a I-just-peeled-a-banana kind of way. It's very artificial and kind of reminds me of the tropical freezer pops that come in the assorted box we get each summer. The scent is obvious to the person wearing it since it's obviously directly under their nose, but no one else can smell it until they are very close to you.
The balm can transfer a little bit if you engage in a kiss not long after applying, but it shouldn't be bothersome unless the person kissing you doesn't care for the scent/taste. My husband enjoyed it, so it wasn't an issue for me.
Packaging
This balm comes packaged just like most; in a small tube the same size as any regular chapstick you'd get at the drug store. The difference; it shows that it contains 4.5g rather than the 4.25g that is displayed on others (Chapstick, Blistex, even the Dona plumping lip balm that Eden carries).
Experience
(continued)
The label around the tube is mostly pink and is very
cute
looking. It's discreet enough that no one will think it came from an adult site, but it kind of has an immature quality to it that looks like it should be in the purse of a teenage girl. It says 'Crazy Girl' in large letters and underneath that it says 'wanna be kissable'. The rest of it shows the ingredients, the website, and the bar code.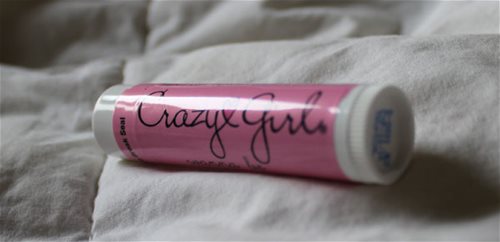 The label extends partly onto the cap and has a perforated line that makes it easy to twist the cap and break the seal. This seal is in place to give you comfort that no one opened it up before you received it.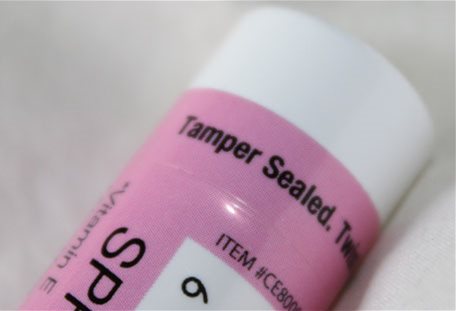 Experience/Performance
I'm a big fan of chapstick in general since I hate my lips feeling dry or sore. When I saw this lip balm, I figured it was worth a try. The scent sounded nice, and I've been pleased in general with the other Crazy Girl products I've tried.
I was excited to open up and try it as soon as it arrived to my house. I cracked the seal, and opened it up and was rather surprised by the scent. It wasn't what I was expecting, but it wasn't the worst scent in the world either. I tried it out and didn't really care for the heavy feeling on my lips. It was bothersome to the point that it was hard to stop myself from licking my lips since it felt so strange.
The balm lasts a decent amount of time, if you can actually stop yourself from licking it, and I don't mean because it tastes so good, either. I would say I felt like it was necessary to reapply after about 40 minutes, not counting the times when I couldn't prevent myself from wiping or licking it off.
My husband wasn't bothered by it when we kissed after I had applied it. In fact, it seemed like he actually enjoyed it. I think the scent/feeling/taste will be something that only certain people really enjoy. If it wasn't for the odd feeling, I would like it a lot more. I don't
love
artificial banana, but it's okay. I'll be keeping this balm for emergencies since I don't like it enough to use it on a regular basis and won't be purchasing it again.
Follow-up commentary
2 months after original review
I still think this is okay, but I don't love it. It's fine in a pinch, but certainly isn't the first lip balm I'm reaching for. I keep it around in case I can't find something more favorable, which isn't often. You'd be better off purchasing something cheaper at a convenience store than to grab this one.
This content is the opinion of the submitting contributor and is not endorsed by EdenFantasys.com

Thank you for viewing
Crazy Girl lip balm
review page!