Crazy to kiss with this
This is a sunscreen lip balm that is fairly average in looks, consistency and performance. This product can last for a long time, but the flavor fades quickly while the texture remains noticeably waxy. There is nothing that makes this balm stand out, except perhaps the first few moments of confused banana goodness.
Published:
Pros:
Sunscreen,
Vitamin E and Aloe Vera,
Long lasting,
Banana!
Cons:
Flavor is fleeting,
Stays waxy,
A little expensive,
Not forthcoming with ingredients
Wanna be Kissable Tropical lip moisturizer is a Classic Erotica product from the Crazy Girl line. This is an ordinary sunscreen lip balm with the standard intention of softening and protecting lips.

The balm itself is slightly translucent with an off-white/light-yellow tint. It has a smooth texture that allows for easy, glide-on application. One sweep over the lips will leave a moderate thickness with a noticeably waxy consistency. This lip balm application will last for around an hour.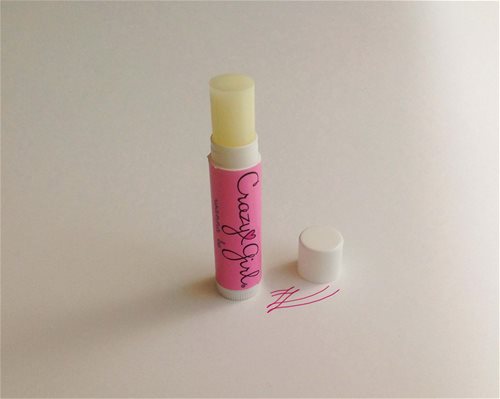 Packaging
The container is a traditional lip balm tube with a removable cap and a twistable base. The cylinder stands upright to roughly 2.63 inches and contains 4.5g of lip balm. The tube is a white plastic with a pink wraparound sticker label. Whether you purchase this balm as a standalone product or with the Crazy Girl gift set, the cap will be tamper sealed to the tube by a removable portion of the sticker. The expiration date is found on the base of the tube above the word Tropical.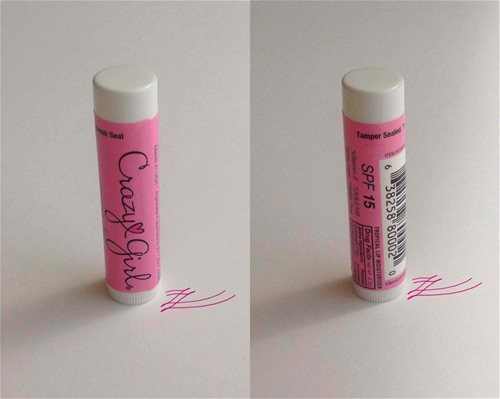 *Quick fix for people who want to purchase this product but do not wish to be a
Crazy Girl
.
(Or if you like the lip balm but not the packaging)
Simply peel the pink sticker off. You will be left with a plain white cylinder that looks like any other generic lip balm tube. It's already compact, easily fits in a pocket, and if you do this it makes it discreet and male friendly. I would also suggest this to those of you who like to dabble with DIY beauty products, once you finish the balm just clean it out and it can be refilled.
Ingredients
The label clearly states that the balm is equipped with SPF 15, protects against UVA/UVB rays, is PABA free, and contains Vitamin E and Aloe Vera.
The SPF 15 falls under the category of Active Ingredients, which are also clearly listed on the label under Drug Facts.
There are two:
Octinoxate
(7%), which protects against UVB &
Oxybenzone
(4%,) which protects against UVB, UVA-2.
PABA stands for Para-aminobenzoic acid. This was once a common ingredient in sunscreen but has been removed from most due to the fact that it causes allergic reactions.
Vitamin E and Aloe Vera are the only Inactive Ingredients mentioned on the container; they are not labeled as such. These two ingredients have been added to the lip balm to soften and nourish lips.
The label does not display detailed ingredients and I did not find them on the website. If you wish to inquire about the rest of the contents of this lip balm prior to purchasing, here is the phone number for ingredient questions taken from the container: 877.827.5425.
Crazy Girl products are listed on the Classic Erotica website and certain product packing as being paraben-free, sugar-free, not tested on animals and made in the USA.

Smell & Taste
Wanna be Kissable comes in one flavor - Tropical.
Personally, I do not feel this is the right description; I find it misleading. While the flavor is a fruit of tropical origin, I did not expect it to be the only discernible scent & taste from a product label as
Tropical
. I was anticipating an assortment of fruit flavoring with either pineapple or coconut playing a dominate role. I do not detect anything besides one fruit and I am very sensitive to smells. Either it is the only scent/flavor there, or it has overpowered everything else besides the sunscreen.
Crazy Girl products that have a food flavor are generally named for said food. This lip balm does not follow that pattern, but if it had it would be called BANANA! That, friends, is what it is. And if not, at the very least, that's what mine is.
The balm has a sweetly artificial smell that is reminiscent of an imitation banana abstract used for baking. When it is first applied to the lips the taste is akin to a banana Popsicle with a slight undertone of sunscreen. Unfortunately the banana flavor fades within five to ten minutes and rubbing your lips together does not reactivate it. For the rest of the time the waxy balm remains noticeable on your lips, the only detectable flavoring will be a hint of sunscreen.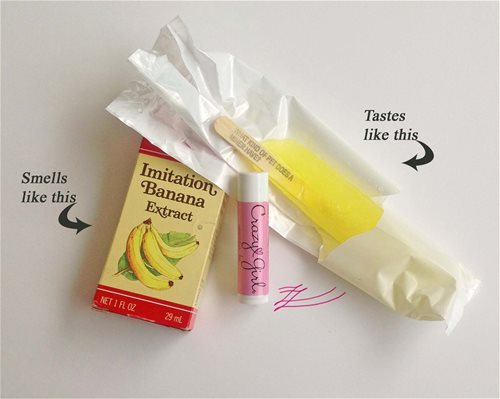 Experience
Wanna be Kissable Tropical lip moisturizer is not going to be a favorite for me, but it is a decent product that protects and nourishes. I like the initial banana flavoring, but it fades too quickly and allows the sunscreen to be excessively noticeable. This product has regularly lasted for around sixty minutes when I have worn it. During the first forty minutes, the waxy consistency has kept me very aware of the fact that there was a balm on my lips.
I do not feel this product is worth the money unless you get it on sale. You can find cheaper alternatives that are the same product, if not better. There is probably one with a flavor you would prefer, one that lasts longer, is not as waxy or has more SPF. This is very similar to a cheaper Banana Boat lip balm that I already had in my possession, except this has half as much SPF.
For an SPF 15 lip balm, I favor the eos Lemon Drop over Wanna be Kissable. It stays fresh longer, the sunscreen is almost undetectable and the flavor persists while it is worn. eos has provided, on their packaging and website, all of the ingredients and product details, including 80 minutes of water resistance.
For me, Wanna be Kissable is just a basic sunscreen lip balm without any bells or whistles. I do like this product, but I do not feel that it measures up to other lip balms that I have a preference for. I am going to keep this lip balm around, but just as a backup sunscreen. It will occasionally get some face time on certain days spent outside.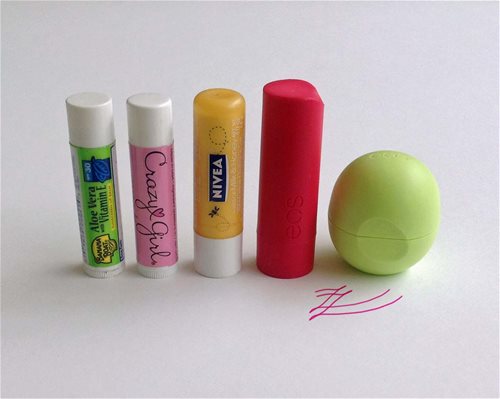 This content is the opinion of the submitting contributor and is not endorsed by EdenFantasys.com

Thank you for viewing
Crazy Girl lip balm
review page!