Cult sensation? Really? How on earth did that happen?
If you are looking for a very big headed toy for some Jurassic sized stimulation, you might like the Hitachi. But as to why it has a "cult" following I do not know as I seemed to have missed that meeting. It is such a nice deep tissue massager and my hands and my back have been loving the attention the Hitachi has been giving it. I just am not happy that I have to carry around a transformer to plug it in.
Published:
Pros:
Strong, GREAT muscle massager
Cons:
Not international, heads too big, short cord
Ok. Let's get the stuff you've read a zillion times out of the way.
And pretty much yes, I copied it from the Hitachi's product page.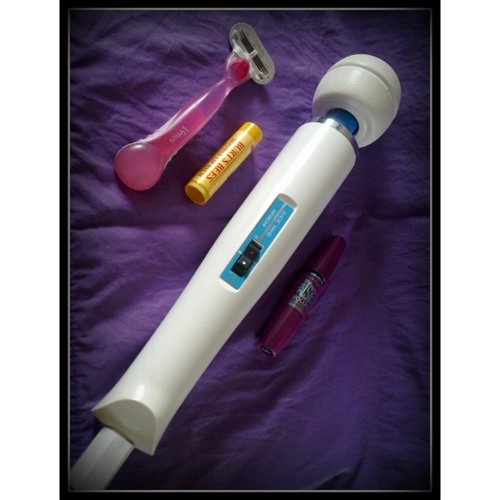 Color: White
Length: 12"
Circumference: 6 3/4"
Diameter: 2 3/8"
Material: plastic with a rubber style head
Power source: 110-120 volts, 6 foot cord
He's got oodles of power, but according to the instructions, you should not use him for more than 25mins at a time.
Two settings: high and low
Level of use: anyone
Area of body: pick a fleshy body part, and get to town! Many will want to use him on their clit, perineum, nipples and inner thighs.
You heard right folks. For all you international people out there if you want to add the Hitachi to your collection, make sure you take a gander at what your volts are like. Here in China we have 220-240v. So if you live outside of the 110-120v countries, make sure you get a
transformer thingie
and not an "adaptor".
The Hitachi is NOT waterproof, and to be honest? Just like the Fairy Wands, I would not suggest putting him anywhere near water. To clean, just use some of your EdenWipes, or spray with a toy cleaner and use a wet wash cloth to get him clean. To store him, just toss him in a drawer. I'd not suggest leaving him out as if he really has a cult following, everyone knows why you bought him.
Even if you bought him for muscle massages.
If you are going to use lube on him, I would suggest water based, and if you are going to share the Hitachi with people, I would suggest using a condom over the head.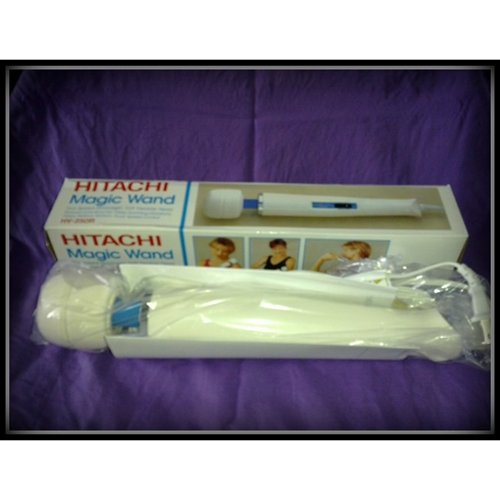 He arrives to you in something I swear looks like it is from the 1970's Sears Catalogue. It's just a white box with some various people smiling displaying some of the more "common" places people would use a massage item. If you are planning on gifting him to anyone, I would strongly suggest wrapping him first!!!
Now onto the good stuff
.
Try as I might (about half an hour or more a number of times a week since I got it) I just couldn't get off. I do prefer broader stimulation... but there is a limit as to just how broad you can take!! Every time I got close, I'd try to angle the head to get a corner or something to press my clit up against... but that is where I lost the orgasm. Even if I do not "re-angle" I cannot seem to get myself over that edge.
So that is where the Tenga eggs come in. *And the crowd goes wild!!!*
If you give your Hitachi a Tenga hat, you give him a whole new texture to explore.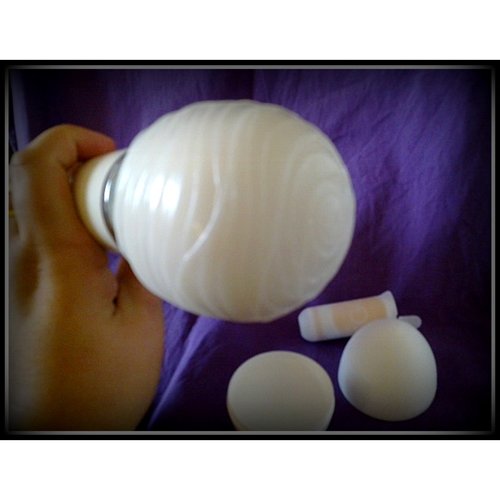 That is the Tenga Silky.
With him wearing a hat, I found I much preferred the little bit of texture that the Tenga Silky provided. He had just a little bit more of a padding so when I ground up against him, it wasn't as hard as before. But still... my orgasm was denied.
I only wish I could put toys in a proper penalty box for not working with my body. Hum. Might have to rename a Toy Box the Penalty Box.
No matter how hard I worked at it, no matter my frame of mind... it just didn't happen.
Not until I created a fez for my Hitachi.
A simple hat wasn't good enough.
He needed a fez. Because after all, fez's are cool.
So I took the hard plastic of the Tenga egg and put that on the head of the Hitachi. Then I put the Tenga egg over top of that to keep him in place. I admit, that while working at trying to get off using the fez it slipped a little, but if you got the plastic along the edge part, viola! A brand new toy!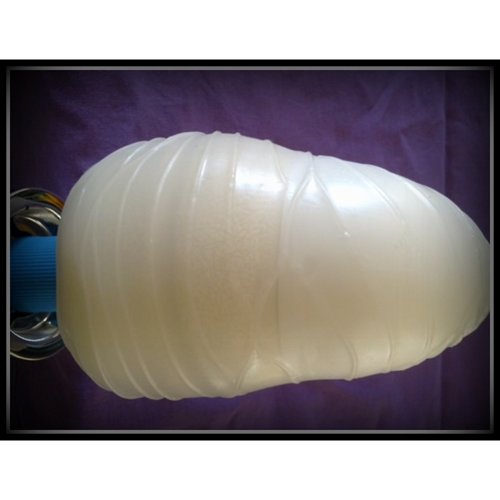 Granted, it looks a little like a cocoon or some sort of alien baby pod or something, but it worked!!!
Within moments I was experiencing my very first Hitachi orgasm.
It was a nice orgasm, but the orgasms I get with the
vr6
are in my opinion much nicer.
I think the biggest problem with the Hitachi for me, is just his head is way too big. I think it "hyper stimulates" too many nerve endings and as a result, my body just laughs at me. So if you are thinking of getting the Hitachi because you think it will get you off wicked easy and fast... be careful because that may not be the case.
Experience
Pay attention to your body. If you like huge stimulation, he will work wonders. If you like me, need some sort of edge, you'll need to find something to make that edge. In my personal opinion, the Hitachi makes a lovely foreplay tool but not something to get off with. I love the feel of him feather light over my flesh especially over my mound. I did enjoy the fact that while I did get a little numb while using him, it was that enjoyable numbness and not the painful kind you can get from too much buzzy vibrations (cue the Fairy Mini Wand).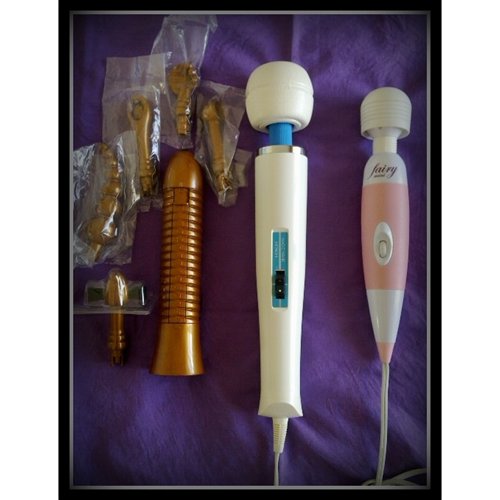 Comparing the sizes of the Eroscillator to the Hitachi to the Fair Mini Wand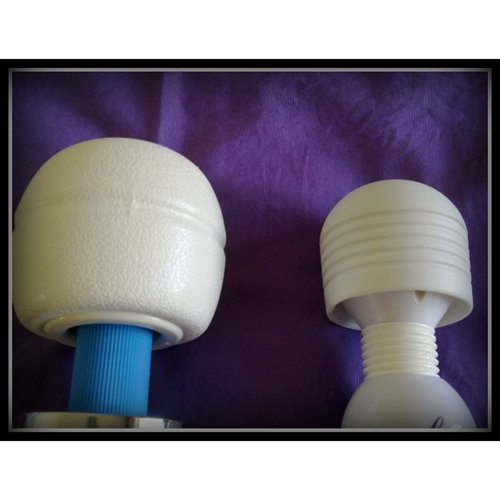 Comparing the heads of the Hitachi to the Fairy Mini Wand.
Out of the three, I prefer the Eroscillator because of all the attachments and is my favourite nipple toy. But, I like how intense the Hitachi is. A long while ago I went in search of which
wand to choose
and I picked the Fairy originally because of the uber high rpms. It was a mistake.
The Fairy Wands are buzzy vibrations, and not deep. Think of a fan. When it is closed and you use it, it does not displace much air. But when it is open, one sweep of the fan you displace so much air. That is like buzzy and deep. Buzzy vibrations are only skin deep. Deep vibrations go all the way down and expand. The Hitachi IS a deep vibrator.
Because I am not able to get off with the Hitachi, I have had to discover some alternate uses for him. And my favourite use of him, is to massage my hands. I wrap my fingers around his head, and turn him on. All the pain in my joins are gone and my hands feel so amazing! Also, I love putting him in the arch of my foot after a day out in the mountains.
As a sex toy I would only give the Hitachi a one star. As a muscle massager I would give the Hitachi a perfect score!!! So I am going to give him a three star ranking. I would strongly recommend him as a massager. But not so much as a sex toy.
Follow-up commentary
2 months after original review
I still question how the Hitachi got its reputation. I ended up tossing this in the hardly used toy box because it is just not up to snuff.
I love the power of the Hitachi, but gosh golly. That huge head just ticks me off. I just bypass the Hitachi altogether and go for the
Jopen Vr6
. The Vr6 is not quite as powerful, but I find it packs more of a punch because it has a smaller head and is more focused on my clit.
If I need a nice focused massage on my back, I do prefer the Hitachi over the Fairy.
As a back/muscle massager, this thing is wonderful. But for me as a clitoral massager... it is seriously lacking.
This content is the opinion of the submitting contributor and is not endorsed by EdenFantasys.com

Thank you for viewing
Magic Wand Original
– wand massager review page!