Eden toy and body wipes
If you have the opportunity to receive these wipes as a free gift, take it! They are easy-to-use on the toy or body. They have a great smell too them and the scent isn't too strong. They will clean your toys very well without leaving the soap residue look, but I would definitely recommend this for everyone.
Published:
Pros:
Fresh smell
Not too moist
Cons:
Packaging isn't very discreet
Thank god I've never used them because now that I looked on the package and on the back it says the expiration date and it reads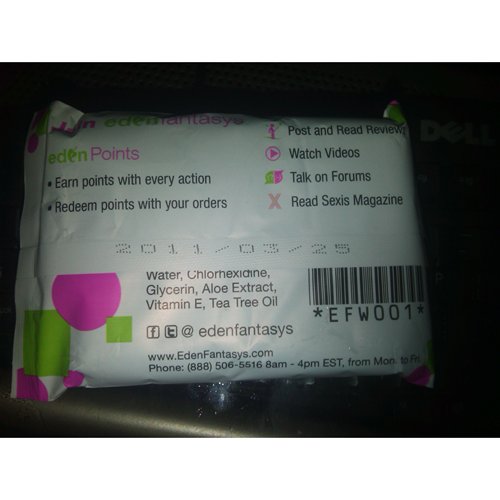 That freaks me out about any other products now. I have taken one of the wipes out of the package just to smell it and it smells light of soap but its a very cleansing smell. The smell is not too strong and it does not linger on toys or yourself after using the wipe.
I absolutely love how the wipes are Hypoallergenic because I am allergic to everything possible. In this package you get 10 wipes; which it states on the package it does not contain alcohol; which makes it even easier on the skin. The phone number for edenfantasy.com and their office hours are located on the back bottom of the package. The wipes are very easy to travel with and very easy to figure out how to use. The wipes come out of the package very easy which makes it a whole lot better when in a rush or certain situations at hand. I received these wipes as a free gift with my order, and I was pleasantly surprised! These wipes are deffinitly not a rip off. Other than that while pulling one of these 10 wipes out, you will notice that they are decently sized, with a length of 7.5 inches and a width of 6.75 inches. Each wipe comes out one after other they thankfully don't all come out at once. These wipes are not extremely moist that when used they run liquid all over the place. They have just the right amount of moisture to clean.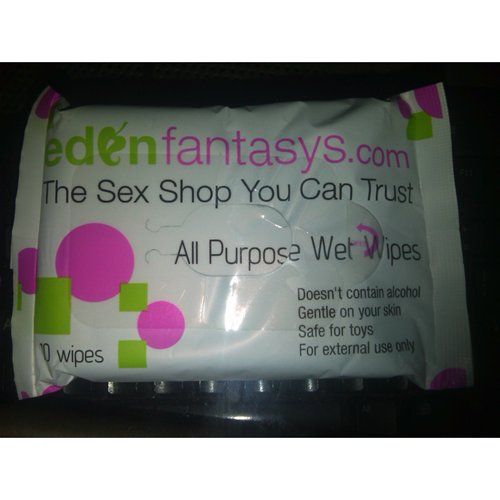 The ingredients are located on the back underneath the expiration date.
Ingredients:
Water, Chlorhexidine, Glycerin, Aloe Extract, Vitamin E, Tea Tree Oil
Be careful because a lot of women are allergic to Glycerin. Glycerin is a thick liquid that is colorless and sweet tasting. Glycerin's most common use is in soap and other beauty products like lotions.
The wipes are labeled as "all-purpose," but I use them primarily for toy cleaning. I would use these wipes on any kind of toy material. You should maybe go with baby-safe wipe, if you have sensitive skin.
They arrived in the mail in a small white package just about the size of an average smartphone with two finger more in length which is small enough for storing away easily. The packaging does not help if your parents see this because it says in big bold black lettering
The Sex Shop You Can Trust, Safe for toys
I couldn't be anymore pleased with the wipes, other than the expiration date. But not that I'm looking I see everyone else's pictures of these wipes and they all have the same date. HMMM, that's interesting.
This content is the opinion of the submitting contributor and is not endorsed by EdenFantasys.com

Thank you for viewing
Eden toy and body wipes
review page!