From Frisky To Fresh
As a gift with purchase, I think the Eden toy and body wipes are awesome and I've found several good uses for them other than just giving toys or myself a quick clean. I probably wouldn't buy them full-price since they're more of a convenience item than one I absolutely must have but I do appreciate having them on hand.
Published:
Pros:
- Wipes smell good
- Decent size
- Nice, quick way to clean up
Cons:
- They dry out over time
- Not a great value if you actually buy them
- Glycerine can irritate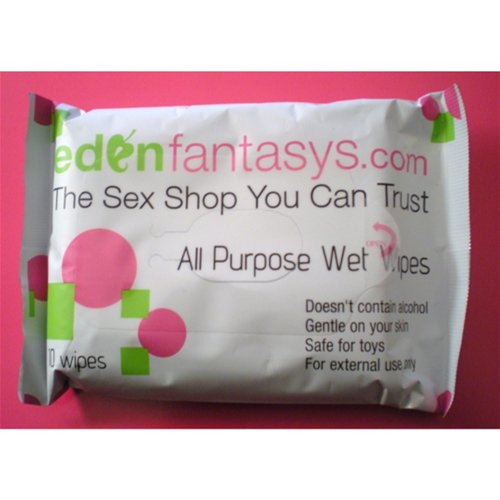 There are many reviews on the Eden toy and body wipes already but I figured I would give my own take on them as well. Chances are you've seen these offered as a free gift and either gotten them (I've gotten multitudes.) or thought about getting them. Well, I'll tell you right now: You want these. They are one of the nicest freebies I've ever received from Eden!
From a packet itself:
"All-Purpose Wet Wipes
- Doesn't contain alcohol
- Gentle on your skin
- Safe for yous
- For external use only"
That says a lot right there. These are like typical baby wipes and I haven't had any irritation from them on my body. What has irritated me is the smell, at first. These wipes have a strong floral scent to them so if you're sensitive to smells, stay clear of these. It's not an unpleasant aroma, it just took some getting used to for me. It reminds me of an antibacterial soap with added scent or something.
These wipes come in a foil packet that is around 5" by 3.5" and have a resealable opening on top. Just peel away the clear plastic to grab a wipe, then stick it back down to close it. It's very convenient. While the packaging looks a little flimsy, it holds up well and they reseal pretty well. Over time, the wipes will dry out. It takes a couple of weeks for me if I seal them up well and it's generally only the wipes at the very bottom that get too dry.
Just be careful when you're taking a wipe out of the packet, because you can tear the small opening if you're too eager. I've only torn one a little bit once but it can happen and if you tear it too much so that the plastic can't stick back over the ripped area, the wipes will dry out faster.
Each wipe is a decent size, like an average baby wipe, and I generally only have to use one per toy if I'm using them to clean toys. They stay wet for a while and are pretty durable. They start flaking and deteriorating only after quite a bit of rough rubbing. They have a good stretch to them and are fabric-like in feel.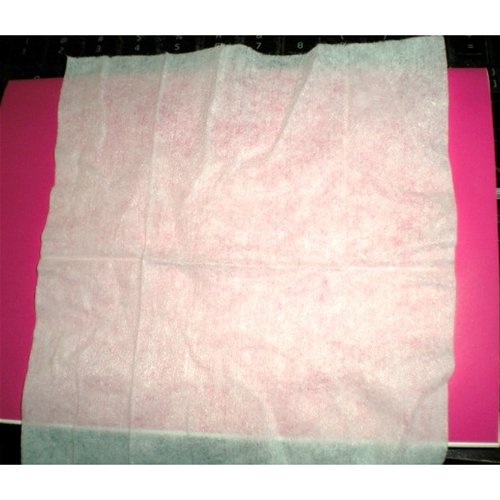 The packets are white with "Edenfantasys.com" in bold, green and pink letters with "The sex shop you can trust" under that. There are also pink and green circles and squares decoratively scattered in the corners. I think the package design is cute and modern, though not exactly discreet. On the back is more info about Eden Fantasys, a list of ingredients, and contact info for Eden.
Ingredients:
Water, chlorhexidine, glycerine, aloe extract, vitamin E, and tea tree oil.
Do not use if you have a sensitivity to any of the above ingredients. I don't have issues with glycerine or anything so I have had no reaction whatsoever to using these, either on my toys or on myself.
In each packet, you get ten wipes. If you buy them at $4.99, that makes them about 50 cents apiece. To me, that's too expensive for what they are but getting these as a free gift with my purchases has been pretty awesome and I do think they're a quality product. If more came with each package, I wouldn't hesitate to pay for them!
Experience
I use these wipes for a lot of things:
1. Cleaning up spills like lube or, heck, even non-naughty spills on my desk. They're quite good with sticky messes actually.
2. Getting fresh after long play sessions when I don't feel like taking a lot of time to clean up.
3. Cleaning plastic, glass, and TPR toys.
4. Giving silicone toys a quick clean-up before I get all the lint and stuff off with running water.
Follow-up commentary
3 months after original review
I still use these all the time when I have them, and I have a lot. All my points in the review still hold true for me and I find them just as useful a month later as I did when I decided to review them, just like I did when I first started getting these in the first place.
I still wish they were packaged in a slightly more secure way so that they didn't dry up but I'm sure if I bothered to put them in a ziplock bag they would probably stay nice a lot longer.
I still haven't experienced any genital irritation from using these on my toys or on me directly and I don't expect I will.
Get these with your next order if you haven't, and thanks for reading.
This content is the opinion of the submitting contributor and is not endorsed by EdenFantasys.com

Thank you for viewing
Eden toy and body wipes
review page!