Fun And Functional
Octo-pleaser is a great item to have on hand. This wonderful massage enhancer is inexpensive while remaining high quality, and provides a variety of different sensations. It's easy to use, totally discreet, and is super cute on top of that! Use by itself or along with your favorite massage oil for a great, soothing experience!
Published:
Pros:
- Discreet
- High Quality
- Versatile
- Easy To Use
- Compatible With All Oils/Lotions/Lubes
Cons:
- None
Use/Design
Octo-Pleaser from Pipedream is a cute little tool to help make massaging you or your partner easier and more fun! It doesn't matter what gender you are, what type of relationship you're in, or if you're not in a relationship at all, this little guy would work for anyone!
The look and design of this item really makes it shine! The massager itself reminds me more of a child's toy than an actual massage tool; it has a big round head with two large eyes, and eight legs with tentacle detailing on the top of them. It's not realistic or accurate, but it's obviously made to resemble an octopus.

There are three different ways you can use this massage tool and they each provide a different type of feeling.

Broad - Pressing the head of the tool against the body and holding the legs against your hand will give the most broad form of massage with this product. This will cover a larger area of the body with a more even sensation. Because of the way the legs are designed, it's easy to hold this way because your fingers and the legs of the octopus intertwine.
Multi-point - Holding the head of the octopus in your hand and pressing the eight legs against you or your partner's body provides a massage that feels a little bit deeper. The head of the tool is easy to hold thanks to the bulbous design and the legs work great at soothing sore muscles.
Single-point - While still holding the head of the octopus, you can angle it so that only one of the legs is against the body. This provides the deepest massage and is great for targeting smaller areas of the body that need careful attention.
How deep your massage will feel all depends on how much pressure is applied. Make sure you start off lightly and work your way up to a deeper massage. Communicating with your partner is really important to make sure you're getting the most out of the massage and aren't inflicting or experiencing discomfort.
While this tool can be used over most of the body, there are a few obvious areas that you want to avoid. This is just a general list, pay attention to your body and use your own judgement when it comes to other areas and situations. Massages should never hurt, keep that in mind.
- Don't use on the upper part of your neck
- Don't use on areas that are swollen or on sensitive skin
- Don't use on areas where you have poor circulation
- Don't use on unknown calf pain
Material/Texture/Size
Octo-Pleaser is made out of transparent periwinkle colored
plastic
. The massage tool itself is one solid piece, there are no moving parts and there is no give to any part of it. Plastic has a safety rating of 8/10 for being made of food-grade material, being hypo-allergenic, non-porous, latex and phthalates free.
The plastic feels very solid and is high quality. There's very little concern about this toy breaking unless it's misused. Even after accidentally being dropped on the floor a few times, nothing happened to it. The quality is impressive considering this was such an inexpensive purchase.
The top of the legs have a very light texture to them, but for a typical massage, this area won't be coming in contact with your body. If you flip the massager over you can
kind of
rub the legs against your body that way, but it doesn't really produce great results. The eyes also have texture and there is a thin seam that runs across the top of the head. This isn't felt during use and can hardly be felt with your fingers. Since this toy is so smooth, it's really easy to glide it along your skin. There's no need for additional oil or lotion since there's no drag to the material, but it certainly helps things go even more smoothly.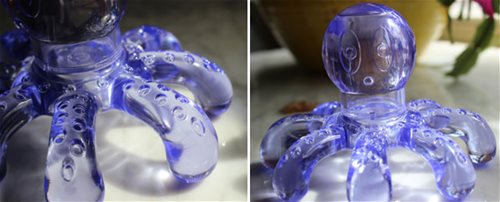 The size is great because it's large enough to massage a larger area of the body in less time, while still being small enough that it's easy to manage. It's 4" across at the widest point, is 3" tall, and has a head circumference of 5 1/2". It's very discreet looking and doesn't need to be hidden since it's not at all sexual in nature. If left out, someone could easily mistake it for a children's toy (if you have children that live/stay with you), but it's fairly obvious that it's a basic massage tool. It's a little large to travel with, but not unmanageable, and the discreet look will prevent people from thinking anything odd if they were to see it.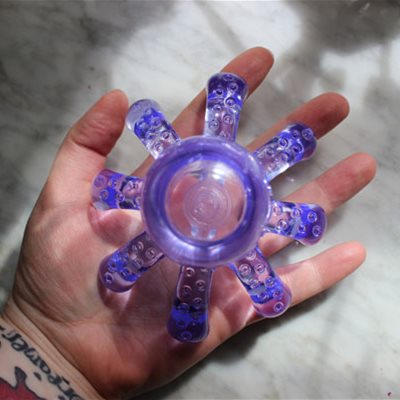 Experience
Care/Maintenance
Plastic is compatible with any lube or oil type, so there's no concern about whether or not your favorite massage product is okay to use along with it. Clean up is also very easy. If you're using an oil, it's best to clean it with a dish soap (like Dawn) so that it removes all the residue from the tool. The inside of the head is hollow and water can get inside of it. Make sure it's standing up so that the water can completely drip out of this area.

There's no concerns about storing or caring for this product. You can toss it in a drawer, leave it on a dresser, etc.

Experience
I've had this product forever. Okay, not forever, but I've had it for over a year now. This little tool has been awesome! It's easy to use, is very discreet, and works really well. It's not the sexiest looking item if you're looking for something that will set the mood, but for every day aches and pains, it's been a must have in our house! I love the fact that I can leave it out without worrying about my children seeing it, which isn't common considering where this purchase was made.

I had no idea until today that this product was discontinued, I love this useful tool and would recommend it to anyone looking for an easy to use, easy to care for massage tool.

Packaging
This massage tool didn't come with any packaging. It simply had a tag around the 'neck' of the octopus that displayed the company name and what the product is. It can easily be removed and discarded.
This content is the opinion of the submitting contributor and is not endorsed by EdenFantasys.com

Thank you for viewing
Octo-pleaser
– massager review page!