"Octopussy" Your New Massaging Friend.
This is a great long lasting versatile massager that is fun for couples looking for a little extra excitement. With its small design and low price, you should definitely give this little guy a new home in your bedroom! The choice is yours whether you want to relax and knead muscles, or turn massage time into fun time!
Published:
Pros:
Small and discreet, Long lasting, Price.
Cons:
Harder for pin-point kneading, Can hurt on bare skin.
Generally there are probably 2 most common responses when first seeing the Octo-pleaser on Eden Fantasy's. The oh so well known "awwww he's cute" and also the "what the heck is that?" however what intrigued me was the 8 individual hard plastic tentacles for massaging with and for his low price you can't really go wrong. With that being said I feel I must inform those of you with severe conditions with your backs and/or muscles you should consult with a doctor before using a massager like this. With that said, if you are just looking for some simple novelty massaging fun, then Octo-pleaser is probably for you. He is made of a hard transparent plastic that is easy to maintain and take care of. I have had my Octo-pleaser for years and he still looks just as good as new. Easiest way to clean him is to wash him off in soap and water; you can use anti-bacterial soap if you like. He should be safe to use with oils and lubes of different kinds, if you are concerned about compatibility you can do a small test spot and let it sit for 24 hours.
The Octo-pleaser's 8 individual tentacles are spread out for a more even and consistent massage with a large bulbous head on top that can also be used for kneading. I must point out this product has seams in it from the molding process in which it was created. Depending on how pronounced the seam is, you may or may not even feel it on your skin during massaging. You can use this massager direct on the skin, however without the aid of a lubricant or oil it will most likely drag and pull on the skin resulting in pain and discomfort. I have used both a water-based lubricant and massage oil with this little guy, both work great to allow him to glide effortlessly over your skin. However I highly suggest keeping paper towels or a linen towel handy to wipe your hands clean/dry while massaging so there is no accidental slippage. I personally didn't mind the oil/lube being used, however it generally meant clean up afterwards because I didn't like the residue on my skin. If you plan on using this massager through clothing, I would recommend at least 2 t-shirts be worn or a sweater. I find it rather hard and uncomfortable to use this with just one shirt on due to the hard plastic. However some people will like this. Gripping onto the head is easy, my hand is fairly large and I find it comfortable to use my thumb, pointer and middle finger to easily control and massage with. My fingers can also easily fit between the tentacles if I decide to use the head for kneading. Depending on how sensitive you are in spots, you can really use this all over the body with the aid of lube, oil or clothing.
Want to know what else is great about this little "Octopussy"? He's small and discreet, so you can keep him out in plain view for the world to see and people might just think he is a kid's toy. Which by the way is another use for him, kids can play with him; however use your best judgement as far as age groups go and safety. Because of his size, the Octo-pleaser is fairly easy to travel with. My fiancée and I have taken the massager places before; we generally just placed it between clothing so nothing breaks. In another review there was mention of placing a vibrating cock ring around the head, turning it into a vibrating massager. I had tried this with Eden Fantasy's vibrating ring, the vibrations were minimal to say the least, however using the
Double Decker twin bullet ring
which uses to fairly powerful bullets, the vibrations were much more intense and fun. This is a great fun little gift for just about anyone or any couple who enjoys a fun massage. You could probably even use this massager as a paper weight with his tentacles that are extended out. On a final note, I found it interesting that when I tap my fingernail against the plastic tentacles it sounds like an icicle when it is tapped on or knocked off a roof for example.
Here is a picture I took of my Octopussy after many years of ownership, he still looks lovely!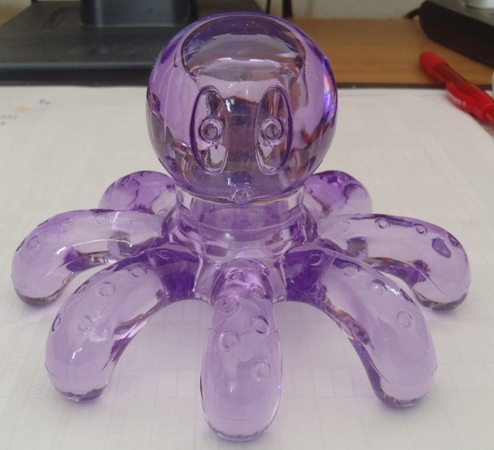 Experience
I have actually had the Octo-pleaser for a very long time, so long I don't exactly remember when I got it and if there was much packaging involved. But as I mentioned earlier he still looks brand new without any cracks or breakage. What I personally did not like about the Octo-pleaser was that I found it harder to use for pin-point kneading. The head is rather large and bulbous compared to the tentacles, but because the tentacles are only 1" apart from each other it makes it harder to get in the right spot at times. Generally at least 3 tentacles are always massaging no matter how it's used or positioned. So when I have a particular sore spot on my back, or a knot in the muscle this massager just can't quite work it out.

My fiancée I feel has enjoyed this massager more than I have, which usually means I have to use it a lot more. I personally enjoy it, but usually for a short period of time and not too often. It never has caused either of us any pain of discomfort when we used it properly for short periods, however, extended use tends to sometimes over work the muscle and cause more pain. Overall as a product I think it is great for the price and extended life it will last. It's been years since we purchased it while it looks like we only purchased it just yesterday. While it does not provide the pin-point kneading that I sometimes prefer, it is still a great and fun massaging tool. Sometimes this little guy is even prelude to a fun night under the covers!
Follow-up commentary
1 day after original review
I will consider this my 2 year follow-up since I have actually owned this product for 2 years. Using it as intended the overall product has been a great addition to our bedroom. Again I must stress the importance of those of you who have severe back and muscle problems to see a doctor before using a massager like this. It could do more harm than good. Octopussy is a part of our routine and probably always will be!
This content is the opinion of the submitting contributor and is not endorsed by EdenFantasys.com

Thank you for viewing
Octo-pleaser
– massager review page!