Little Octo-Dude
This little Octo-Dude is cute and might be able to add some new massage sensations. Even if you can't use him for massage he can be a room decoration or an impromptu toy for children.
Published:
Pros:
Good Price, Cute, Discreet
Cons:
Won't Work For Everyone
A Plastic... Octopus?
He may be, but he sure is cute! The Octo-Pleaser is designed to be a massager. It is one of the much more, ahem, innocent items Eden has to offer. This little octopus and his eight legs can be used to get into knots on the back, buttocks, and thighs. In general, this massager will probably fair better in meatier areas of the body. Since the plastis is hard, it can get into some harder to reach areas but won't probably feel as good on bonier areas of the body.
The awesome thing about this little dude is that he is completely discreet. He doesn't have any electric parts. Octo-Dude's lack of technology might make him a dud for some users, but it also makes him a great option for those who live with others, have kids, or even deal with nosy neighbors. Heck, he's even a great toy to keep a child occupied if you don't have much laying around the house.
Okay, I'll bite. Give me the Specs on it.
The Octo-Pleaser is made purely of plastic. He is a light, springy purple and is transparent. Most of him is smooth and he shines in the light pretty well. He has no smell and is on the body safe side of toys (not that he's designed for internal stimulation). There is a seam that splits him in half and while it is obvious it is not rough or uneven. He has a hollow head so he sadly can't be a floating bath toy. He has a cute face. His eyes are wise as if in surprise and his mouth is a tiny circle.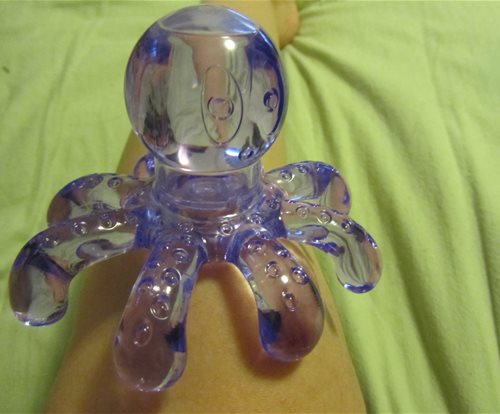 Now, here's an interesting point (for me, I guess, since I'm a biologist). The top of Octo-Dude's legs has rings. Now, it could be because Octo-Dude is a ringed octopus or the circles are meant to be his suction cups. Now, if they are rings, they're not accurate since the rings should be all over the octopus. If they're suction cups they should be on the underside of his legs. It adds a cool bit of detail, but it makes me a bit sad.
Moving on: Octo-Dude does have 8 legs that are equally spaced from each other. The plastic is pretty durable but I wouldn't go around throwing it at walls. The weakest point on the massager is where the legs meat the head/body of the octopus. However, if they snap off you can glue them back on in most situations (your octopus will just have battle scars is all).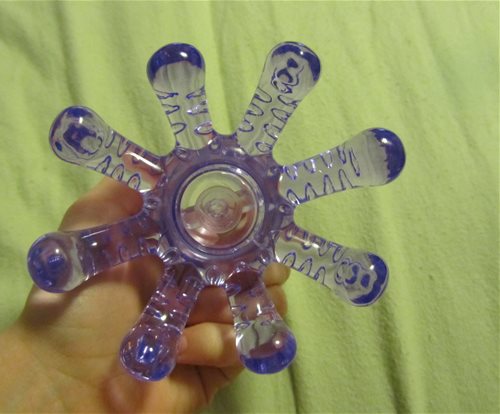 I get that he's cute, but does he work?
The Octo-Pleaser will not work for everyone. This massager won't work for you if you like really deep, pinpointed massage. You can tilt the Octopus so only two or three of his legs are on the desired location, though. This will allow you to apply more force to your muscles than if you're using all eight legs. The plastic is hard, so make sure you place this little guy on places that can stand it (the more muscular parts of the body).
The Octo-Pleaser is still a cool idea if you want to introduce something cute and fun into the bedroom. It doesn't necessarily have to work perfectly; it can create a good memory nonetheless.
Given Octo-Dude's shape, he's not really prepared to do anything naughty. His anatomy is not really genital friendly. He can still spice things up with a massage couple with oil or lotion. Even if he gets a bit messy, Octo-Dude's plastic body makes him easy to clean afterwards. You can leave him to soak in the sink, use wet wipes, or a wet cloth to clean him up. He can be stored about anywhere since he looks like a children's toy. He can be a knick-knack by day and massager (or still knick-knack) by night.
Experience
I didn't personally think I'd use the Octo-Pleaser for massage. Because of my involvement with Eden, my apartment is adorned with various sex toys and accessories. I guess Eden could double as an outlet for interior design if you're into the eccentric (or if you don't have decorations since you're a poor college student, whichever). So, before Octo-Dude, I've had sperm shaped toys, duckies, and other items lying around. They are a hell of a conversation piece.

Regardless, the Octo-Pleaser works for my partner. I tried it on him even though he didn't think it would work. He didn't get anything from broader stimulation with all of the massager's legs. Because he likes more pinpoint
This content is the opinion of the submitting contributor and is not endorsed by EdenFantasys.com

Thank you for viewing
Octo-pleaser
– sex toy review page!