Gunk of Yummy Love
Cake Beauty's Diamond Gloss is a wonderfully rich lip treat that really pumps up both luster and plumpness. It's a bit pricey for the quantity you get, but a little bit goes a long way and lasts with the Diamond Gloss. These tubes come in appropriately cake-like aromas and shades, so if you like gourmand scents and nude colors, you'll love this stuff.
Published:
Pros:
Thick, long lasting, actually moisturizes lips, great sparkle, amazing scent, sheer tiny
Cons:
Bit pricey, scent doesn't last as long as I'd like
I. love. this. lip gloss. I cannot find a single thing about this stuff to hate. Really. I'm trying. I guess the tube could be made out of crystal instead of plastic. The cheap metal cap could be made from platinum. It could be applied to my lips by the deft talons of a phoenix. I suppose any of those things could stand to improve this lip gloss, but nothing short of that. Seriously.
That's why it surprises me to read so many lukewarm reviews of the Cake lip glosses. It almost makes me wonder if we're using the same product, or if we have the same understanding of what it is that a lip gloss ought to do. Some have said this product is a bit sticky, and I'll cop to that because it is. Others have said it's thick and I'll cop to that as well; it's actually downright gooey. But, that's sort of what a good lip gloss tends to be known for in my book. Cake's lip gloss doesn't differ dramatically in the consistency department from thick glosses that you get from most major cosmetic retailers. You're not going to find much in the way of runny and watered down in MAC.
A lip gloss isn't, after all, the same thing as a tube of Carmex. The thicker a gloss, the better it stays put while you talk and hum and whistle and generally go about your business. That's really the beauty of a good gloss. If you try to use a thin balm or butter in place of a lip gloss, you get lots of running at the corners of the mouth. You look like you went to town on a bunch of french fries and forgot to wipe your face. Bad news, especially if you layer your gloss over lipstick as opposed to stain. If you do this, your gloss pulls the lipstick's pigment with it when it moves. Then you end up looking like a summer camper that got into the snack time Kool-aid. See what I mean? None of these are good looks. A thick, beefy gloss means fewer checks in the mirror and reapplications and touch-ups. Not to mention that thick lip glosses also create the illusion of plumper lips. This last bit is something that may or may not be important to you. Me? I'm not too picky about the plumpness of my lips, but hey, if you are? Carmex ain't gonna do much for you.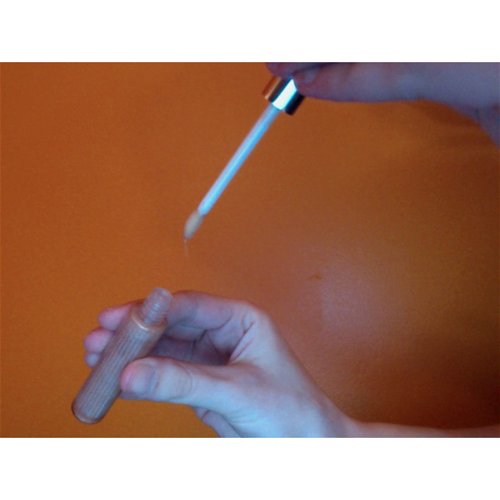 It's difficult to demonstrate, but this is a semi-decent shot of the consistency of this gloss.
Now, maybe not everyone looks for the same thing in lip gloss. Perhaps that's why a lot of people don't love this one. For me though, it's a homerun. This stuff is great in every conceivable way to me. $10 isn't exactly cheap, but you do get a lot of mileage out of this 11 ml tube. Dip the wand in once and you have adequate gloss for all but the fullest of lips, which may require another dip. And barring all but the most rigorous of oral activities like eating or kissing, Diamond Lip Gloss stays in places for hours. I can't say what its maximum staying power is because I usually reapply before it completely wears off. I've certainly had this last a good four hours, however. After that point it does start to get a little sticky, probably because much of the oils in it have absorbed into the lips by that point. There is also wax in this as a main ingredient, so after the oils fade you do have a little bit of a residue on your lips. Nothing too troubling, and really nothing unexpected in the world of lip goops. If need be, a firm swipe with a napkin will remove any weird residual waxy stuff.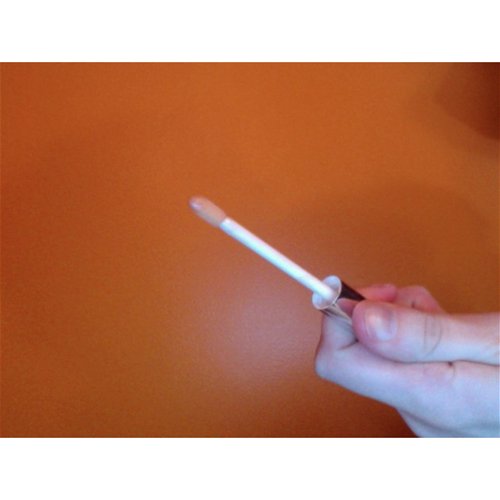 Here's the doe foot wand applicator. You can (hopefully) see that the gloss collects on the flat tip of the wand. It's obviously a small surface area, but you'll be surprised at how much ground that little dollop can cover!
Experience
Besides its staying power, I love the look and feel of this gloss as well. When I smack my lips together, it's not so thick and goopy that I get stalagmite-mouth syndrome. But, I still get the feeling of weight on my lips - a nice heavy moisture - which I love. Because of the stickiness factor, this isn't ideal if you're going to be kissing someone. For that you actually would want a small quantity of the slippery, buttery kinds of moisturizers out there. However, I highly recommend this for work or a club or any place that you want your gloss to stay in place and require few touch-ups. I have mine in the sheer beige color, which has inspired me to go all Charlie's Angels pout on everyone and rock the beige mod lip thing. I expected this color to look more gold, but it has a surprisingly cool feel to it overall. Still, very little pigment, so it'll work well for most complexions. It can also top off a lot other looks seamlessly.

My solitary issue with this stuff is that it smells so damn good, but the smell fades in a matter of minutes. It has the deliciously low-brow scent of canned vanilla frosting, although the gloss itself doesn't have much taste. After a few minutes, the smell is entirely gone. But, really? That's about my only complaint. Otherwise, I love this stuff 100% all the way.
This product was provided at a discounted price in exchange for an unbiased review. This review is in compliance with the FTC guidelines.

Thank you for viewing
Diamond lip gloss
review page!