Have some Eden for your crotch!
For those moments that we all have when you are fumbling for a wipe you simply can't beat EdenFantasys All Purpose Wet Wipes. Toss a package in your purse and you will always be prepared for those little messes life throws at you. While they are a bit higher priced for the amount of wipes you receive they are very high quality and worth the extra cost, at least in this reviewer's opinion!
Published:
Pros:
Large size, soft cloth-like wipes, lovely fragrance
Cons:
Slightly pricey, could irritate allergy prone skin
I travel quite a bit so having a nice wipe that doesn't irritate sensitive vaginal tissues is a God send. Having a package of wipes that advertises my favorite online sex shop makes it even better! This little soft side package of 10 wipes is just the ticket to toss in my overnight bag or purse.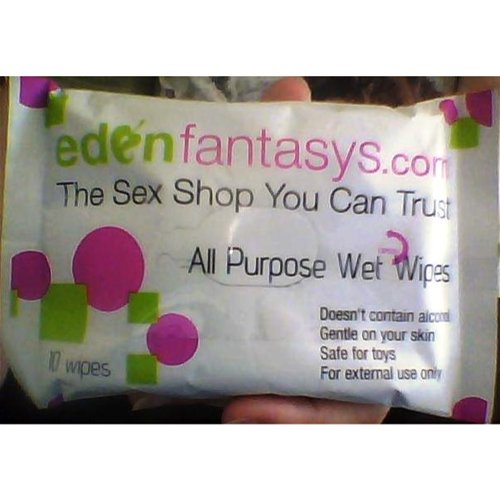 As you can see you get about 10 wipes per package and it closes with a strip of adhesive tape. The opening in the package is wide enough that the wipes come out easily. The wipes are folded together but separate so you won't be pulling the entire package out when you only want or need one wipe. If you have kids you know what I'm talking about! The adhesive strip will close and open many times without losing stickiness so the wipes won't dry out quickly. If they do dry out a touch of water returns them to usable condition.
On the package we learn that these wipes do not contain alcohol which can dry out sensitive tissues as well as cause stinging. What, then, do they contain? The ingredient list is very simple: Water, Chlorhexidine (chemical antiseptic), Glycerine, Aloe Extract, Vitamin E, and Tea Tree Oil.
There are some allergy concerns as we have members of our community allergic to Aloe, and sensitive to glycerine. Glycerine may or may not actually lead to a yeast overgrowth. The studies are still out but people who have a sensitivity when using glycerine products know studies aren't the be all and end all! Still since this isn't meant to be used internally it should be ok even if it is used to clean a toy. Simply wash the toy with soap and water before using it if you are worried! For those moments you simply don't want to get out of bed to clean off yourself or a toy these wipes are a good solution.
So the wipes are chock full of antiseptics and skin conditioners but how do they feel? Well they are very soft, nearly transparent, and large.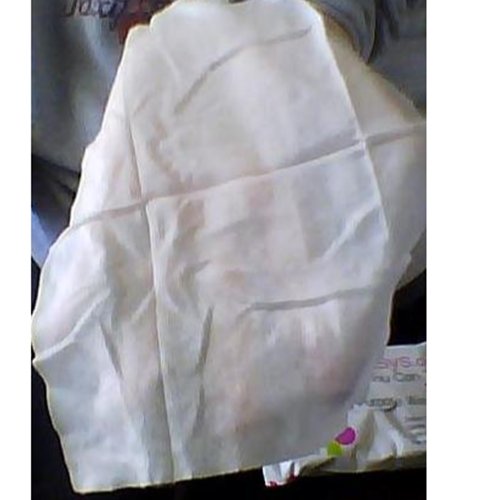 As you can see they completely cover my hand down to my wrist and you can make out the outline of my hand in the picture! This is a soft but very strong wipe, it'll hold up to some scrubbing on a toy without shredding.
The scent, to me, is slightly fruity and sweet but clean and not cloying. it is pleasant rather than overpowering. Having oral sex after you clean off with one of these cloths won't leave you gagging. The taste is light but indescribable and fades very quickly. It simply tastes clean, if that makes sense?
Though the wipes are moistened they aren't dripping wet and the moisture dries pretty quickly. I could perhaps see a tiny improvement if the wipes were a bit more absorbent but that is nit picking in the extreme. I have never had these wipes leave a sticky or filmy residue even on glass toys.
These are a bit pricey for the amount you get but they are such high quality that I really don't mind paying the price. Often EF gives them away as a promotional item so be sure to check before you pay for your next order!
Experience
I have pretty sensitive lady bits but I haven't had any irritation even if it is a few hours before I take a shower. My girls and I have used them to wipe away sweat under our breasts during the summer. Once my daughter had forgotten her deodorant and she used a wipe to clear away the bacteria that causes smell and then applied some of my emergency deodorant I carry in my purse for such occasions. What a relief because we were in the car heading to a fancy restaurant!
They have worked well for wiping a baby face, wiping away makeup, cleaning my eye glasses in an emergency, and other times you just need a quick wipe.
Follow-up commentary
9 months after original review
I still like these wipes and have a package always in my purse. They are perfect for sticky hands, faces and other areas in a pinch or while traveling. The larger size of the sheets makes them much more valuable than those tiny postage stamp sized finger wipes!
This content is the opinion of the submitting contributor and is not endorsed by EdenFantasys.com

Thank you for viewing
Eden toy and body wipes
review page!