Icky Sticky
If you want some mood lighting that you can toss afterward, then have a look at these! For anyone that is familiar with basic massage, steer clear.
Published:
Pros:
Could be used for mood lighting
Cons:
Sticky
Slightly fake-smelling
Doesn't burn evenly
My husband and I love massage. We have oils, stones, scents, books, and even a massage table. I have to admit, though, that a massage
candle
is not something I had ever heard of until recently. I'd heard of using a powder instead of oil, but never a candle.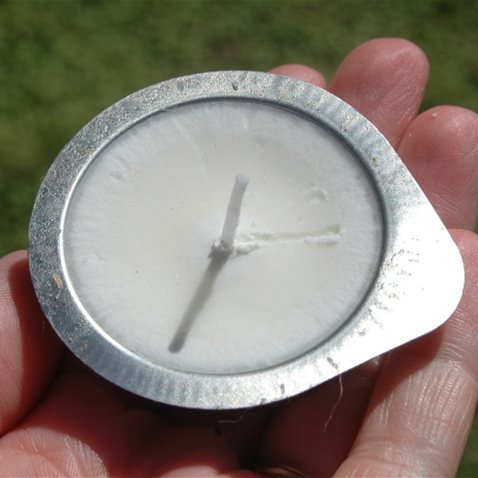 I'm not going to go through all the info on size and shape and all that. You can get those all on the product page and you don't need me to go over them again. I will briefly say, though, that the candle comes in a tiny cup covered with a seal, then placed in a cardboard sleeve. Unlike many massage and scented products, it is packaged in such a way that you can't smell it until you actually open it all up.
I will also say that I have both the "Don't Worry Be Apple" apple/cinnamon and "Choc Your Socks Off" chocolate/chilli scent, and as the ingredients are different for each, I will list them.
Apple/Cinnamon: Glycine Soja Soy Wax, Butyrosperum Parkii Shea Butter, Prunus Armeniaca Apricot Kernel Oil, Perfume Vanillin, Maltol Anisaldehyde
Chocolate/Chilli: Glycine Soja Soy Wax, Butyrosperum Parkii Shea Butter, Prunus Armeniaca Apricot Kernel Oil, Perfume Vanillin, Ethyl Hydroxypyrone, Butyrolactone
I'm going to focus on three points that a massage candle would need to be successful: scent, how well it burns, and how well it works for the actual massage.
First off, the scents. It's...I mean...meh. It's not great, it's not terrible, but I feel slightly closer toward the negative side of neutral about. As I do a lot of cooking with whole foods and use many all-natural body products that are scented with extracts and essential oils, any sort of "fake" smell stands out to me. In this case, I can't ignore the scent of vanillin, or to put it bluntly, cheap, fake vanilla. It's in both the candles I have. I know it may sound a bit snotty or foodie-ish, but I hate that smell. It smells wrong. It smells fake. Although the smell of it won't stand out to the average person, those that are used to cooking, baking, or using all-natural products should be warned that it may smell a little off. But if you're wondering if the candles smell like what they are supposed to smell like, then I guess the answer is sort of, or about as much as any scented drugstore bath product would smell like what it is supposed to.
Next, how well it burns. Oh, boy. Here's where we start to swing more aggressively towards negative. A standard candle
should
, given enough time, burn evenly or close to it, and burn almost out to the edge. I was disappointed to find that about 45 minutes after I lit the candles, they had only melted a very small circle. That means that the rest of the candle remains forever solid, and therefore gets wasted. You end up paying for more than the candle will actually allow you to use.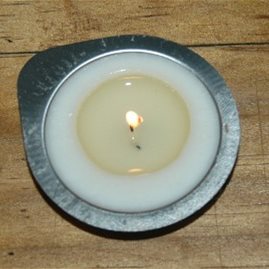 Finally, how it works for massage. Now, keep in mind that my husband and I are very familiar with massage and proper massage techniques. We have to say that the candles completely fail as a massage product. First, when I poured some of the melted "wax" into my hand, I was immediately put off by the feeling. I rubbed it into my palms and felt like my skin was covered in partially melted wax. It was not a good sensation and had a very sticky feel. When I started to massage his back and shoulders, my hands weren't able to just slide across his skin like they are supposed to. Instead, there was a lot of friction coupled with an undeniable feeling of get-this-off-my-skin.
A few minutes later, I called an end to the massage. My husband's back felt like it was covered in a very thin coat of wax. The massage candle oil had not absorbed into his skin, but instead had resolidified on him. Of course the next step was to get it off, and I am disappointed to say that it was hard to get off even with soap and water.
Overall, I can't recommend this to anyone who has any serious ideas about massage. We'll go back to using natural massage oils scented with essential oils, thanks.
This content is the opinion of the submitting contributor and is not endorsed by EdenFantasys.com

Forum
| Discussion | Posts | Last Update |
| --- | --- | --- |
| climax | 6 | |
Thank you for viewing
Massage oil candle
– body massage candle review page!