Livin' La Vida Sticky!
This was our first experience with a massage oil candle and we were not impressed. The wick burned down completely after about 20 minutes, leaving us with a lot of left over wax. It was also too thick to use as an effective massage oil. The smell was very nice and was the one thing we enjoyed the most from it.
Published:
Pros:
-Great Smell
-Nice Ambience
Cons:
-Burns Unevenly
-Thick and Difficult to Spread
-Burns out in less than an hour
The PicoBong Massage Oil Candle is a soy wax based candle used for temperature play and massaging. We purchased the Livin' La Vida Coco! Coconut/Vanilla scented candle. The candle is a tealight; 0.5oz. There is a lip on the metal container which assists in pouring. It can be used solely as a scented candle, massage oil, or as both! It was a good mood enhancer.
Soy wax is basically a form of soybean oil. Soy is body safe and organic. Soy wax has a lower melting point than traditional waxes. The melting point is from 120-180 degrees Fahrenheit.
Ingredients: Glycine Soja Soy Wax, Butyrosperum Parkii Shea Butter, Prunus Armeniaca Apricot Kernel Oil, Perfume Aldehydec-18, Milk Lactione, Ethyl Vanillin, Decalactione.
The directions say to blow out the flame before pouring onto skin. I would advise letting it sit for about 5 seconds after blowing out the flame before pouring. According to the Burn Foundation Third degree burns caused by liquids result after 1 second at 156º, 2 seconds at 149º 5 seconds at 140º or 15 seconds at 133º. It is better to be safe than sorry and end up burning yourself. We waited a couple seconds and held the candle in the air while pouring so it would cool as it fell on the skin.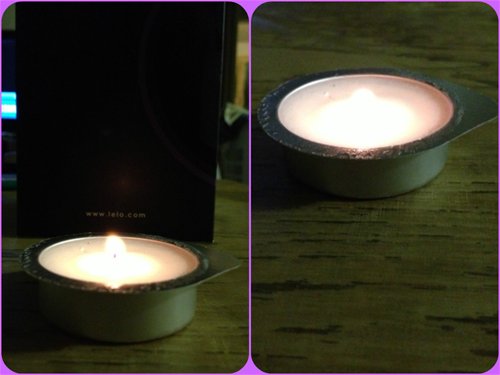 The candle doesn't burn evenly. The flame is very tiny and only melts the middle of the candle. After about 20 minutes the wick burned down completely and left a lot of wax unmelted. This is surprising because soy wax generally burns evenly. We only got a couple of tablespoons full of wax out of this. We had to frequently relight the candle to try and get more wax out of it.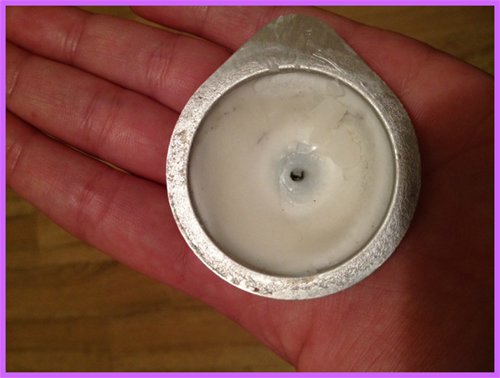 When it touches skin it looks similar to regular candle wax. It has that opaque, bubbly look to it as it is drying. What's different about this in comparison to other waxes is when you rub it in it feels oily and doesn't flake off. The wax turns into a massage oil. While you burn and rub this in you get a nice coconut smell from it. The smell isn't overwhelming or cheap smelling. It smells very nice. I'm one of those people who are sensitive to fragrances (asthmatic) and I didn't have a bad reaction to this. The smell was subtle but beautiful.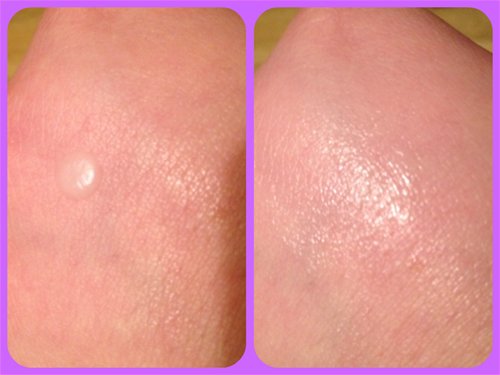 The wax was difficult to spread. It thickened a lot and our hands tried to stick in place. It fought back and didn't make giving a massage easy. Unfortunately this was the most difficult massage either one of us has ever given. It doesn't glide like a massage oil would. It also makes you feel sticky and feels heavy on the skin for hours. You'll need to use soap and water to get this off or you can let it dry into your skin. But if you let it dry, you might feel dirty like we did. The best part about the massage candle was the smell and the warm feeling of it running down your back.
This was our first experience with a massage oil candle but we were expecting more. Even though this is a tealight we expected to get more oil out of the candle. Half of the wax is left in the tealight but the wick is long gone. The thickness of the oil was ridiculous for use as a massager. This would be best used for a scented candle alone. I won't be buying another since it doesn't burn any longer than 20 minutes. The smell was so good but the candle just doesn't long last enough to warrant any further purchases.
Follow-up commentary
2 months after original review
Looking back on our experience with the La Vida Coco, we are still unsatisfied with the consistency of the candle. Since then we've gone on to try similar candles that worked out much better. This one failed our expectations and was pretty hard to distribute. It's just too thick and sticky.
This content is the opinion of the submitting contributor and is not endorsed by EdenFantasys.com

Forum
| Discussion | Posts | Last Update |
| --- | --- | --- |
| climax | 6 | |
Thank you for viewing
Massage oil candle
– body massage candle review page!