Just a Middle of the Road Washcloth
This is a nice free gift, but I would not want to spend this price for what I consider to be just an average washcloth. It is well sewn, just not of high-quality fibers. The presentation would make it a nice addition to a gift basket, but on its own I don't think it measures up to the quality you could get for the same price. I will happily use it, but do not intend to get any more unless they are free.
Published:
Pros:
well made with no loose threads, nicely bound,
generous size, discreet logo
Cons:
not very soft, expensive for an ordinary washcloth
I received this towel as a free gift with purchase and it arrived in a plastic Ziplock bag. The washcloth was folded in half lengthwise & rolled, then banded with brown paper & printed with "FREE with purchase of any Leaf product" & "Manufactured for BMS Factory, www.bmsfactory.com, www.leafvibes.com." When I unrolled it, it measured almost 13" by 13' and was woven in a diagonal ribbed pattern. I didn't see any loose threads & the binding and sewing quality was very good.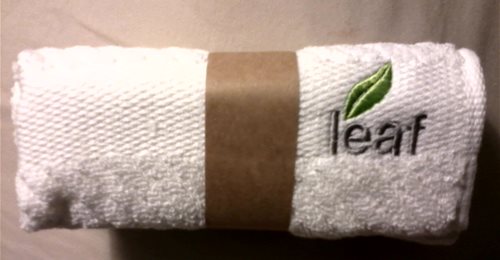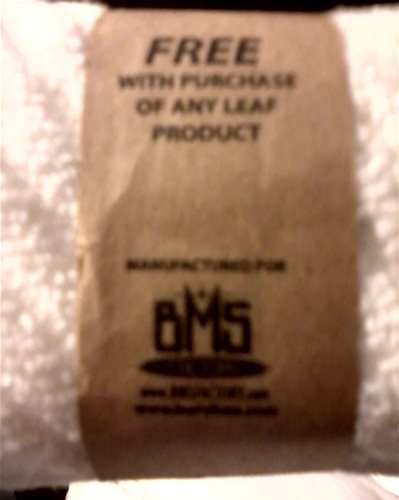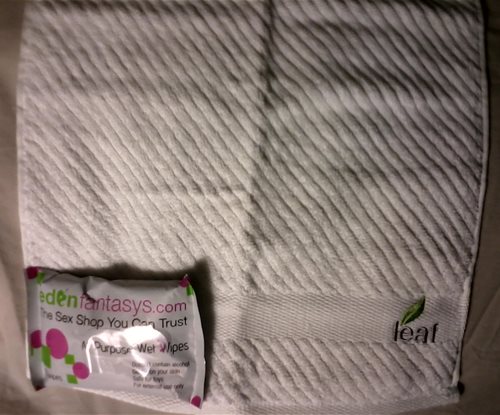 In the lower right hand corner is a well-done embroidery of the Leaf brand logo, which is very discreet. I find that my washcloth is thin to medium in weight, like the type you would find in a middle price range hotel. The care label was too small for me to get a clear picture of, so I am listing here what it says:
-Made in China
-70% Cotton|30% Bamboo
-wash dark colours separately
-machine wash cold
-do not bleach
-tumble dry low
An interesting point is that Eden lists the material as cotton, but it is actually 70% Cotton|30% Bamboo, (maybe that explains the higher price: bamboo blend towels are usually more expensive). I am surprised by the bamboo content in this. In my experience, bamboo lends a silkier hand to towels and this one just feels like slightly rough cotton with nothing silky soft or even fluffy about it. Bamboo is supposed to have antimicrobial properties, as well as being a renewable resource, so it's green & clean!
This washcloth is fairly absorbent & I expect over time with repeated washing, the fibers will bloom more & become softer & more absorbent. Blooming is when certain fibers - such as cotton - naturally puff up & become fuller when dried. Speaking of washing, here is an interesting side note for you: you should not use fabric softeners on any natural fibers! Softeners were developed by chemists working for the manufacturers of the polyesters, nylons, etc. to control the static on these synthetic fibers. Using them on natural fibers weighs them down with the coating and eventually degrades the fibers. For example, a towel treated to repeated fabric softener uses, will become
less
absorbent over time because the softener coating it is water repellent. Plus the fibers will never get the chance to expand, preventing them from becoming fluffier & more absorbent.
Experience
I have an interesting example of how fabric softener can be coating the fibers of your towels making them less absorbent. Dryer repair people began to notice a problem with the motors working too hard and then starting to burn out in dryers for seemingly no reason. They discovered that even with diligent lint trap cleaning before or after every load, as well as a thorough cleaning of the whole exhaust system, there was still a strain on some of these motors. Believe it or not, when one tried rinsing off the mesh screen to a particularly dirty looking lint trap, he found that the water would just sheet right off and wouldn't go through the mesh no matter how long he soaked it. He tried scrubbing it with a scrub brush and detergent, but even that wouldn't remove all of it, nor would bleach! They ended up replacing these screens and found the airflow was restored. So that was the reason the motors were stressed, they were having to work too hard to draw the air through the machine!

It didn't take them long to figure out that the dryer sheets that were used for softening & static control were leaving a residue behind on the fine mesh screens of these lint traps. Eventually it built up enough to completely clog the holes and when enough built up, it was almost impossible to remove without industrial solvents. Now, imagine this same material building up on the fibers of your towels. Since it is water-impermeable, you can understand why it would affect the absorbency of your towels. Not only that, but the coating prevents the fibers from blooming, which is necessary to increase the surface area available to absorb the moisture while drying yourself. The more surface area, the more water it can absorb right away. That is also why towels are woven with those loops; they increase the surface area and result in a more "thirsty towel."
Follow-up commentary
9 days after original review
I had to choose that I still like it because it does work fine and I don't have a real problem with it as a washcloth. It just isn't anything special. It's a little rough, but it absorbs well and washes and dries nicely without unravelling. To me, it really is just an average washcloth like you'd find in a Marriott hotel.
This content is the opinion of the submitting contributor and is not endorsed by EdenFantasys.com

Thank you for viewing
Leaf towel
review page!