Lovely Leaf!
This Leaf washcloth is a great addition to your home. With its large size, discreet design, and variety of use, it's a total must have! It's absorbent, soft, and no special measures need to be taken when it's time to wash it. It's a win, win in my book!
Published:
Pros:
- Absorbent
- Soft
- Discreet
- Large
Cons:
- None
Introduction
The Leaf towel from Leaf is a very large white washcloth that can be used for a variety of reasons. This washcloth is great for regular washing of your face and because of the size, works well for cleaning your whole body in the shower. It's a great bedside companion if you like using a washcloth for after sex cleanup, or can even be wrapped around your glass toys as a way to protect them. Other uses include washing dishes and household cleaning; anything you would normally use a washcloth for, this works just as well!
Design/Size
This washcloth is all white other than the leaf logo. The logo features the word 'leaf' in grey and has a green leaf directly over the word. This is neatly embroidered toward the bottom right of the cloth in a small woven strip that's 1 1/4" wide. This woven area goes across the full length of the cloth and is also on the top and bottom, but is folded over and stitched in those areas. The sides are both woven as well but it's a smaller, tighter weave than the other areas.

Rather than looking like a typical washcloth, this one has diagonal lines going across it. The fabric is slightly raised in some areas, and dipped down in others; it's exactly the opposite on the reverse side. Because of this, it has a light 'ribbed' feeling when you lightly drag your hand across the fabric. It's very attractive to look at and is a great change from 'normal' washcloths we have in our home.

The cloth measures 13" tall and 12 1/2" wide. After washing and drying, the towel measures 12 1/2" by 12 1/2". The washcloth shrinking like that is very common for this material type.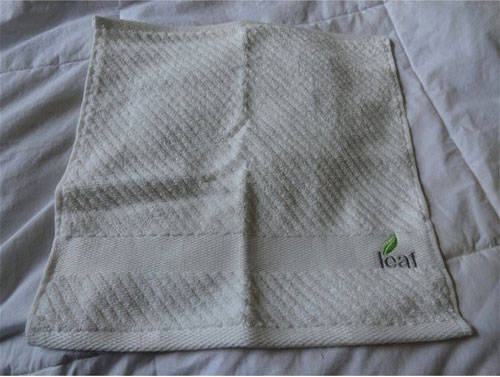 Material/Feel
This washcloth is made from 70% Cotton and 30% Bamboo. The cloth is very soft and doesn't cause any irritation to the skin. The roughest area is the embroidered logo, but even that isn't so scratchy that it should cause a problem. If you have very sensitive skin or have a skin condition (like eczema) it might pose a slight problem, but it never feels scratchy or uncomfortable.
On top of being soft, it's also very absorbent. The cloth holds in water very well, but works much better after having been washed. This makes it great if you're used to making a big mess in the bedroom, though it's not nearly large enough to be placed on the bed for someone that squirts.
These washcloths are very high quality! While there were a few threads that came along with it, they weren't attached to the cloth and no other threads were loose or untidy. The stitching is very well done and it's obvious that these cloths were designed to last a long time!
Care
The tag on this cloth says to wash cold, do not bleach, and to tumble dry low. It also mentions that dark colors should be washed separately. I don't separate my laundry, it all goes in at the same time, and I haven't had any issues with other colors bleeding onto the fabric or it discoloring at all. I would imagine that if you do wash your whites in a separate load, that it will remain white longer, but it still looked just as white after washing many times.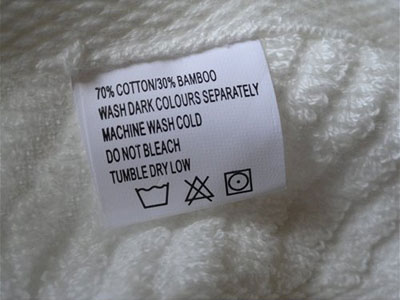 There's no need to store this item in any special way. You can simply fold it up and put it with your other towels unless you have a special use for it elsewhere. Nothing about this towel gives away the fact that it was being sold on an adult website, so it's fine if your children or guests use or see this towel.
Packaging
The towel arrives rolled neatly with a brown paper going around the center of it to hold it in place. The paper mentions that it's included free with the purchase of any Leaf product and says that it's manufactured for BSM Factory. The towel is also housed in a plastic bag to prevent anything from leaking onto it during shipment. Both the paper and the bag can be recycled.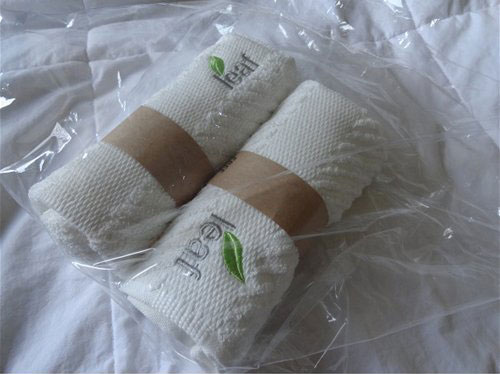 Experience
These washcloths are great! They are very large and work really well for washing my face or body and the logo goes great with the other green colored items in my bathroom. They are so versatile and I greatly appreciate the fact that they can be kept with the other washcloths since they're so discreet. I have a bunch of these and absolutely love them!

While they might seem a little expensive first, because of the size, they are comparable to what you would pay at a regular department store. And since you can get them free with any Leaf product, you can commonly get two for the price of one, making it an even smarter, money saving option!

On top of that, because it's so discreet, it works very well as a gift! Use it for a female friend as a lovely cloth in a basket of bathroom essentials or even get a few and purchase some contrasting colored bath towels and give it as a housewarming gift. As long as the paper around the cloth is removed, it's totally acceptable!
Follow-up commentary
3 months after original review
These washcloths are so awesome! I probably have eight of these and that doesn't include a few I gave to a friend as a part of a gift basket. They have all remained so soft and show no signs of wear even with being washed and dried over and over again. If you can get your hands on some, DO; because they are totally worth it!
This content is the opinion of the submitting contributor and is not endorsed by EdenFantasys.com

Thank you for viewing
Leaf towel
review page!