This Is Not A Towel
The leaf towel offers a lot of absorbency, but in a small package and at a price. This towel is more the size of a washcloth, and it's also a little rougher than the typical towel (or washcloth). You could probably find a similar item (minus the logo) at any low-cost store for less than the $3.49 price tag of this one.
Published:
Pros:
Cute Packaging.
Absorbant.
Unique Pattern.
Cons:
A Little Rough.
Small For A Towel.
The leaf towel is...not a towel for starters. It's size actually suggests that it is a washcloth. This item is 13 inches long and 13 inches wide, which looks something like this: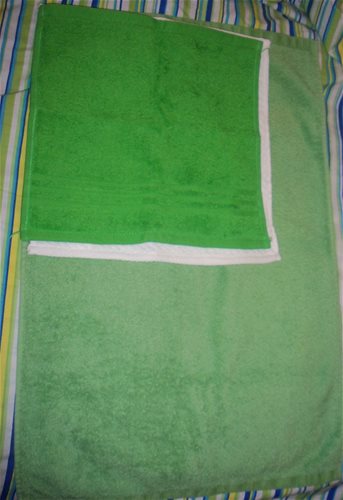 The bottom towel is a hand towel that I own, the middle is the leaf "towel," and the top is a washcloth. This towel isn't going to dry much...that's for sure! I did consider that the sole purpose of this towel might be to clean up after sexy time, but I'm not sure that my partner and I wouldn't each need our own towels.
The towel itself does absorb well thanks to the material, but it is also a little rough. There is a fuzzy/bare strip alternate on the towel. This towel is made of cotton (and it doesn't say preshrunk cotton), so be aware that this could even possibly shrink if you wash and dry it. The leaf logo is included on this towel, but I don't really mind because I have green towels in my bathroom to match.
One thing that I noticed was that these towels don't dry very quickly after use. For this reason, using one as a washcloth isn't something I can advise. It gets far too wet and heavy. Also, everyone knows that when damp items don't dry properly, they acquire a weird smell.
While this item can be washed and dried with other linens, for the first wash and dry I would recommend drying on the lowest setting to avoid major shrinkage. Some recommend hanging to dry to prevent shrinkage, but once again, this towel doesn't dry quickly.
One thing that I truly enjoyed was the packaging for the leaf towel. It's very very minimal, but it is also cute enough to gift the item the way that it is sent. Here is a picture: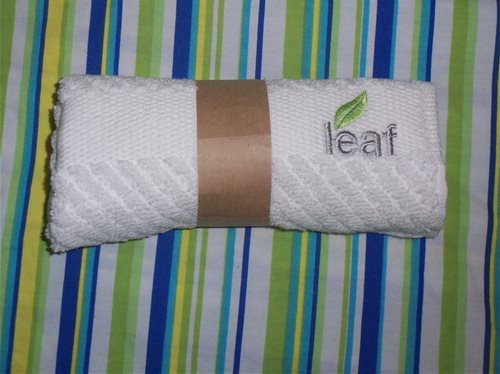 In the future, I see myself purchasing a second towel and storing these items in my toy chest for use after sex. I think that my partner will probably appreciate cleaning himself up with his own towel rather than trying to find the part of the big towel that I didn't use to dry himself off!
This content is the opinion of the submitting contributor and is not endorsed by EdenFantasys.com

Thank you for viewing
Leaf towel
review page!