Leaf it up to me!
Whether you use it for hand or face washing or cleaning up spills around the house this little towel will pull double duty! It won't let you down no matter what you choose to use it for so what are you waiting for, go grab yourself one and rejoice in the towel that is manufactured by Leaf.
Published:
Pros:
+Large size
+Discreet
+Absorbent
+Quality Construction
Cons:
-Not as soft as some may prefer
-White (for some)
What is it?:
The Leaf Towel manufactured by the Leaf company is a small absorbent hand towel or large washcloth that can be used for cleansing your face, drying your hands after washing them, wiping up small messes around the house, doing dishes, etc. The possibilities are endless with this white rectangle of cotton and bamboo.
This towel comes in a bright white color with the green and grey Leaf logo embroidered on the bottom corner and as far as recently, it was available free with Leaf vibrator purchase.
Material:
70% Cotton, 30% Bamboo
Cotton is a comfortably soft material with a good absorbency and good strength and is a color retention, machine-washable and dry-cleanable material. Cotton is also easy to handle and sew, can take high temperatures and takes dyes easily.
Bamboo fabric is light and strong, has excellent wicking properties, and is to some extent antibacterial. Many people who experience allergic reactions to other natural fibers, such as wool or hemp, do not complain of this issue with bamboo. The fiber is naturally smooth and round without chemical treatment, meaning that there are no sharp spurs to irritate the skin.
The towel is very soft and absorbent but may not be soft enough for those with sensitive skin to dry their face with it. This does come to you smelling like new fabric but it has more of a natural fiber kind of scent to it which is crisp and refreshing. The cloth looks fuzzy like most other washcloths or hand towels but this one has a diagonal line pattern to it.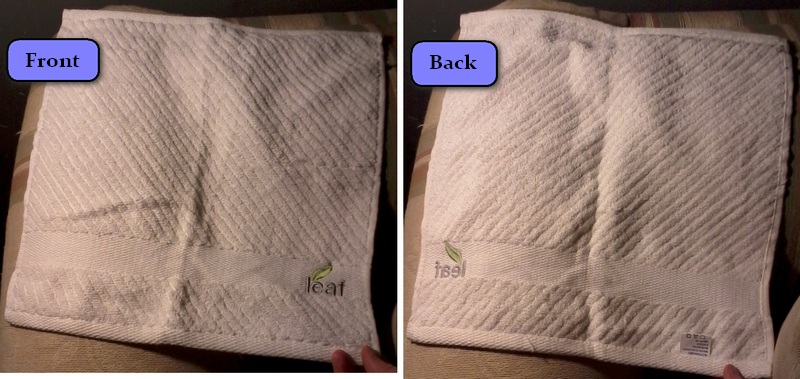 Design:
The cloth is 12 1/2" wide by 13" long and rectangular in shape. It has a top and bottom folded-over-and-sewn seam and a band of tightly woven fibers down on the bottom half, which is typical of washcloths. Also, on the tightly woven band of material is where the embroidered logo is located and there is a white tag with care instructions and materials sewn onto the back of the cloth in the bottom folded over seam.
There were no loose threads, poorly sewn seams or fuzzies coming off of this. This cloth is constructed with quality and will most likely last a long time, even with repeated washing.
Here it is with Je Joue Uma and Reflections Amber for a size comparison: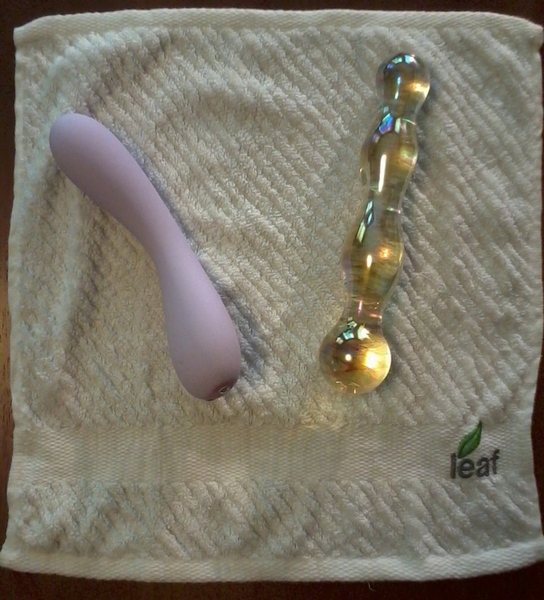 Here is the logo: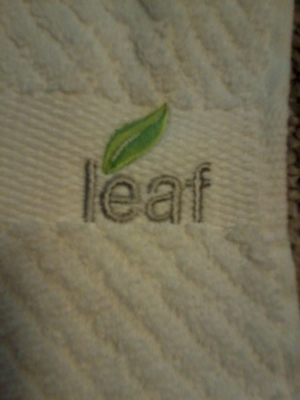 Packaging:
The Leaf towel came folded in half and rolled up then secured with a strip of recyclable brown paper that specified this towel was manufactured for BMSFactory and Leaf. So very minimal packaging, recyclable and discreet; wrapping before gifting is not required here.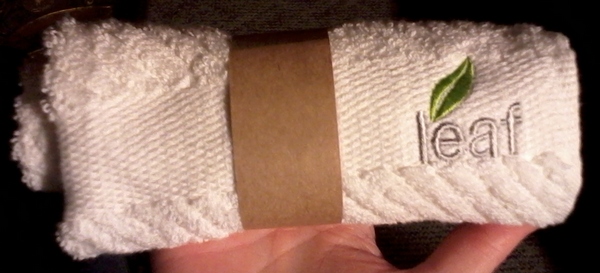 Performance:
This little towel is quite handy to have around for small liquid spills, drying your hands or face after washing them, drying off your sex toys after cleaning them without leaving lint behind or as a post-sex wipe up cloth. It's very absorbent but it obviously will not be able to soak up huge amounts of liquid. It is also very easy to care for and store and it is very discreet.
Care & Maintenance:
To clean this towel all you have to do is machine wash it with other light colors in cold water and then tumble dry it on low. Do NOT bleach it or you'll ruin the colors of the Leaf logo. After washing and drying just simply fold it up and place it with other washcloths/towels or hang it up in your bathroom where you keep the currently-in-use cloth.
Experience
As soon as this was delivered I could tell I was going to like it very much, that was if it absorbed like it was supposed to. So I got right down to removing the paper band so I could go attempt to soak up some water with it off my kitchen counter. It actually did absorb the water nicely so I was very pleased. Since getting this I think I've used it more than 10 times already for small water spills and as an absorbent place for my sex toys to cool after boiling them. Even using this on my sex toys made me very happy because it didn't leave little bits of lint and fiber all over them after drying them.

Overall this is a great investment, especially if you can get it for free with a purchase!
Follow-up commentary
3 months after original review
This is probably the best little washcloth I've ever gotten. It's thick and plushy but doesn't shed lint all over when drying your toys with it. It is definitely my go-to cloth for toy maintenance.
This product was provided at a discounted price in exchange for an unbiased review. This review is in compliance with the FTC guidelines.

Thank you for viewing
Leaf towel
review page!