Make Like A Tree And Leaf My Towel Alone!
This is a great wash cloth; it's well made and soft--though maybe not soft enough for sensitive users to dry their face with. It's super discreet, because anyone googling 'leaf towel' won't be able to associate it with anything inappropriate or sexy. I found it absorbed well and dried quickly, and what else can you expect of a towel?
Published:
Pros:
Jumbo sized washcloth, well made, easy to care for, totally discreet and family friendly.
Cons:
Not totally soft
Use
The Leaf Towel is a soft, square, washcloth like hand towel brought to you by--of course--Leaf. A standard sized washcloth is about 12" by 12", so this is a bit larger than average, measuring 13" x 13". I usually use washcloths to dry off my face after my nightly routine; this towel is clearly smaller than a standard hand towel, but could certainly be used to dry your hands with ease.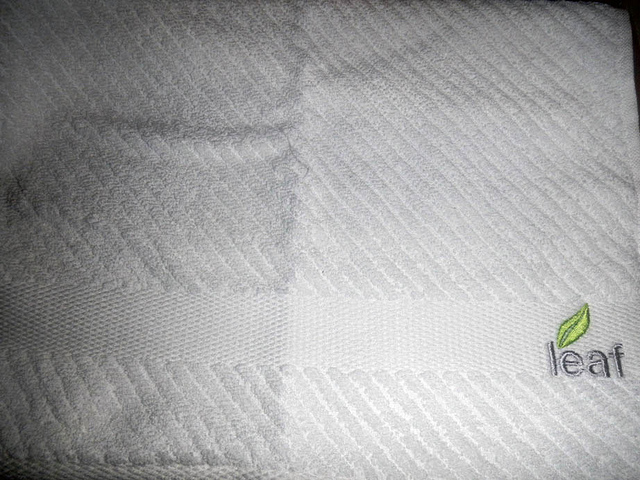 Material
Eden lists these towels as being made of cotton, but the care instructions specify they are made from 70% cotton and 30% bamboo--which only makes me like them more. I find that bamboo towels are more absorbent than cotton, are more soft than cotton--and I also think that bamboo is a better material environmentally than cotton, since it is very sustainable and grows so rapidly. In addition, bamboo has natural mildew resisting qualities, so the dual fibers mean that if you leave this hanging in a steamy bathroom, you won't come back to a stinky towel.
Design
The towel is pure, blinding white, with the leaf logo embroidered into the corner ('leaf' in grey thread, with a small, green leaf above the e). The whole towel is patterned with diagonal stripes, except for the line where leaf is embroidered, which is a more densely woven strip about an inch long. The top and bottom edges are also trimmed in the densely woven strip, probably for stability. The towel itself isn't quite stretchy, but it does have some give. The back of the towel has a small tag with care instructions, and the demarcation that this towel was made in China. There are a few threads that are sticking out or that weren't cut all the way, but the overall presentation is that this is a nice towel--the kind you'd swipe from a hotel after your stay. This towel is discreet enough that you can leave it in the bathroom openly--a brand name like leaf means that even if you google it, a nosy family member, friend, or neighbor would never be able to associate it with a sex toy. (For the purposes of this review, I DID google it and came up with lots of nice leafy towels, but nothing close to this one.)
Packaging
The towel comes packaged in a clear plastic ziplock style bag, with a brown strip of cardboard around it holding it rolled together. The brown strip of cardboard denotes it as being free with purchase of any Leaf product (so make sure you take that off if you want to gift this on the sly) and also specified this towel was manufactured for BMSFactory (www.BMSFACTORY.com, the parent company) and Leaf (www.leafvibes.com). It does come with a slight new-clothing smell, but that disappears after a single wash. I hope you'll forgive me, but I didn't give this one the taste test.
Performance
On the performance front it does well; it's a washcloth, so you can't expect it to soak up all the water on your floor when you overflow your bathtub, but it does absorb water well. I think the best use for this one is to dry off toys after I wash them (to dry them faster without getting little fuzzies on them) or as a post-sex wipe off towel. As an aside, I find that not washing towels with fabric softener helps them to be more absorbent. The towel is soft, but not as soft as totally bamboo towels--I didn't find it too scratchy to use on my face, but some people might not like the feel--if you want to use it as a facial towel, though, fabric softener might make it gentler for sensitive skin.
Care & Maintenance
The towels are easy to care for; they're machine washable (cold water, with light colours only). Even though the towel is white, the care instructions specify you shouldn't bleach it--probably so as not to trash your embroidery. You can also put this in the dryer, but only on a low tumble dry setting.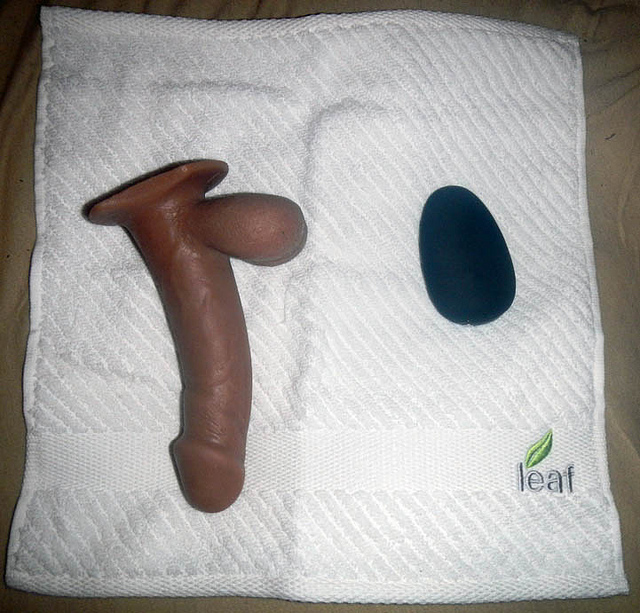 I wanted to include this photo for size comparison; you can easily dry off your toys after washing them with this towel, since it's big enough to dry more than one with no issue!
This content is the opinion of the submitting contributor and is not endorsed by EdenFantasys.com

Thank you for viewing
Leaf towel
review page!