Rough? Cheap? Not The One I Got!
This is one of the best gifts-with-purchase I've yet received from EdenFantasys. It's high-quality cotton/bamboo terry with a great texture, feels good on my face, and looks cute hanging in my shower!
Published:
Pros:
- 30% Bamboo
- Soft Terrycloth
- Diagonal Ribbing
- Cute Logo
Cons:
- None
- None
- Oh, yeah: NONE
What's this?
Cute product image, right? This item looks exactly the same in real life, but by no stretch of the imagination is it a towel. It's a washcloth, and quite a nice one at that. It can be used for washing your face and/or body, just like any other washcloth. It can be used as a soft cloth near the bed for various absorbing purposes, such as beneath her hips for oral sex, wiping extra lubricant off fingers, or quick after-sex clean-up. It can be used during and after massages for removing extra massage oil from hands (or from anywhere). It can be wrapped around an ice pack or a heating pad. You can take it to the gym to blot your forehead or wipe off the equipment seats. If you own small birds, you can use it during wing- and nail-trims to protect your hand from the ones who think your fingers are delicious snacks.
You
could
, theoretically, use it as a dust rag, or a cleaning cloth, but it's really too cute and high-quality for me to recommend that purpose!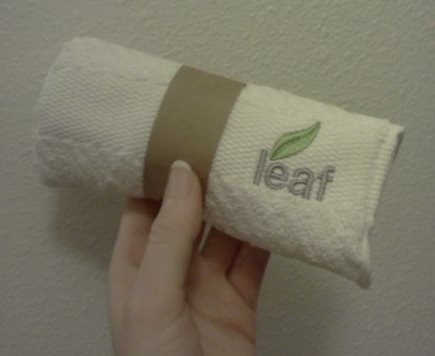 What's it made of?
The fabric content on this classy little cloth is 70% cotton, blended with 30% bamboo. These fibers are woven into a soft terrycloth with a diagonal ribbed pattern. Cotton and bamboo are both very absorbent materials, as well as being natural fibers.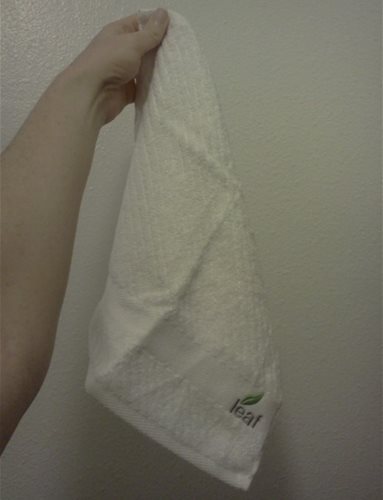 What does it look like? Feel like?
Well, it's a clean, pure white color, and is embroidered with the Leaf company's logo: a pretty green leaf and the word "leaf" in gray. It measures about 12.5" square. Across one end is a non-looped strip of the fabric, as you see on many washcloths and towels, and the Leaf logo is located at one end of that smooth strip. It has a diagonally-ribbed pattern woven into its terry-cloth, which adds just enough of a "scrubby" texture for a gentle, exfoliating face washing.
How is it packaged?
There really is no package as such--this item arrives just as shown in its official product photos: folded and rolled, then wrapped in a strip of thick, unbleached paper. The paper strip is printed with the words, "FREE with purchase of any Leaf product" and "Manufactured by BMS Factory / www.BMSFACTORY.com / www.leafvibes.com."
Experience
This is my new face-washing cloth. I used to use those scrubby, knitted shower gloves to exfoliate my entire body, but I've recently started trying to be more gentle on my skin. I ordered some all-natural skin products, and banished the shower gloves to the rack over the vanity for occasional use on tougher areas like my legs and feet. This left me with just a lovely orange & tea tree oil soap for my face, and my hands or a regular soft washcloth (part of our matching bath-towel set) for applying it. So, when I received this Leaf washcloth, I immediately tried it out with my gentle face soap, and was very pleased! It's soft enough to be very gentle, but that ribbed design gives it just the right amount of texture for light exfoliation. My face has been feeling very soft, smooth, and happy!
This content is the opinion of the submitting contributor and is not endorsed by EdenFantasys.com

Thank you for viewing
Leaf towel
review page!