Messy Letdown
Overall, I'm not satisfied with this lip balm. I could overlook it being scented entirely different from what I thought when I purchased it but I can't say I'm happy with the clumping. Though the hubby notices a difference in my lips I really can't tell if they're plumper or not. My lips are smooth but i'd get the same results from a regular lip balm. This was just a big, messy letdown.
Published:
Pros:
-Smooth Lips
-Peachy Smell
Cons:
-Clumpy
-Doesn't smell like Goji Berry
-plumping not noticeable for me
The Dona Plumping lip balm is essentially a chapstick that plumps your lips. I purchased the one in Goji Berry but was disappointed to find it did not smell like any other items by Dona that were Goji Berry. Instead it was scented like a peach. The balm is labeled Goji Berry & Peach Melba. It definitely smells only like peaches. I don't know why it's labeled Goji Berry on the website if it smells nothing like it. The peachy smell isn't too bad though. I've gotten used to it despite the let down.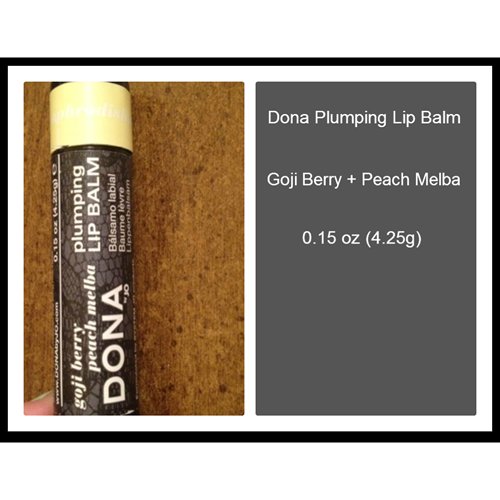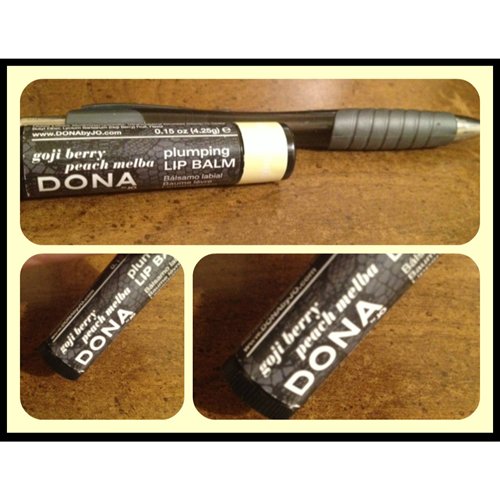 The biggest let down in this balm for me was the flaky texture of the balm. Upon opening the cap I found a textured balm that was unappealing to look at. It's even more unappealing to apply. Every time I apply it to my lips it leaves little pieces of petroleum or beeswax on my lips. This is annoying for me because I have to use a mirror with every application to pluck it off.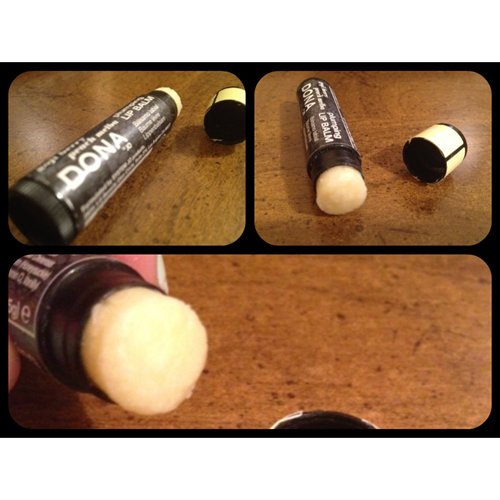 This pretty much has the same feeling and qualities as an everyday chap stick other than the plumping aspect to it. Within seconds after application you can feel the plumping start to work. You will notice a mild tingling sensation that is comparable to most lip plumping serums. The tingling is milder than most. Generally lip plumping serums can have a strong sting associated with it and this is caused by oils such as peppermint, clove, or cinnamon. What happens is these oils irritate the skin which causes the lip to expand. These oils are not found in this lip plumping balm; instead the element is Menthoxypropanediol, which is a type of menthol. After researching Menthoxypropanediol on the internet I found it is twice as irritating as regular menthol, yet for me it is less irritating than balms that contain peppermint, clove, or cinnamon. The level of irritation really depends on the level of sensitivity the applicant has. If you're new to plumping serums or sensitive to skin irritants you should still steer clear from this even though the irritation is mild for me, as it may not be so mild for you.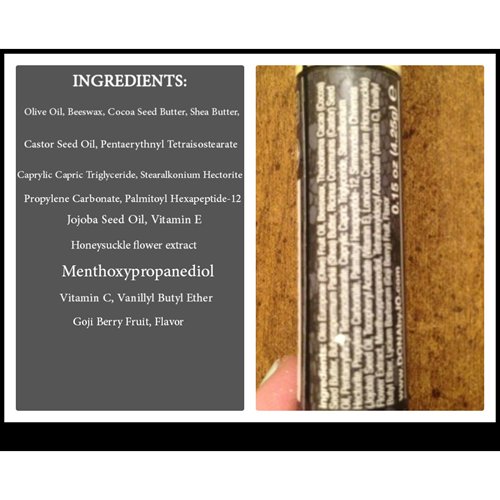 This lasts just as long as a basic chapstick. Eventually it absorbs entirely into your lips, leaving your lips silky smooth. There's no gloss or stickiness to it, just a soft shine and smooth lips. You can definitely tell a difference in hydration of your lips after you use this a few times. Your lips start to consistently stay smooth and it heals dry lips like any other chapstick would. There's also no flavor to this lip balm. It tastes like plain chapstick. So, if you're looking for something tasty, skip this.
I have large lips as is but I like to get a bit of extra plump every now and then. I wasn't able to see a big difference when using this but my husband noted my upper lip was more prominent when I used this. As long as he sees a difference I'm happy. But I'm not exactly happy with this balm. While it leaves my lips smooth and hydrated, the extra step I have to take to remove the clumps from this balm make it high maintenance.
This product was provided at a discounted price in exchange for an unbiased review. This review is in compliance with the FTC guidelines.

Thank you for viewing
Dona plumping lip balm
review page!