Oh so fresh and clean!
At the price of these wipes, I can't honestly say if I would ever actually buy them. They are easy to use and store but with only ten wipes, I'm not sure how worth it they actually are for some. I personally thought that they were nice, and will gladly choose them for free gifts with an order any time. I felt more than refreshed using them on myself and loved how clean my toys came with a few swipes of the cloth.
Published:
Pros:
clean, refreshing, easy to use, easy to store.
Cons:
Price
These wipes came as a free gift, if they hadn't I'm truly unsure if I would have ever tried them on my own. Not saying anything bad about these handy wipes though. I loved using them on both myself and my toys, as they are safe on skin and safe on all toy materials as well. The price of these wipes is the only thing that would've stopped me from both having tried it if it had not been free, and from buying again. The convenience of these wipes is what really makes them worth while. They are easy to use and have a resealable top to the package which does double duty making it easy to get into and keeping your wipes fresh and moist.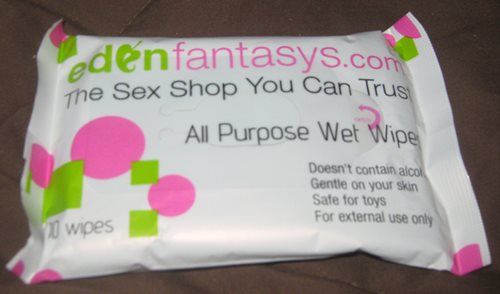 I have extremely sensitive skin, and after using Summer's Eve wipes I never thought I could possibly find a wipe I liked better. Summer's Eve sells them cheaper, but as we all know, cheaper isn't always better. The Eden wipes made me feel fresh and clean and didn't leave behind a foul after smell. I can take them anywhere as they are travel sized and I love to use them whenever I am out of the house or don't want to hassle with a bottle of toy cleaner. The sheer fact that they are easy to whip out and use whenever needed is why they sit right in my nightstand drawer awaiting their next use.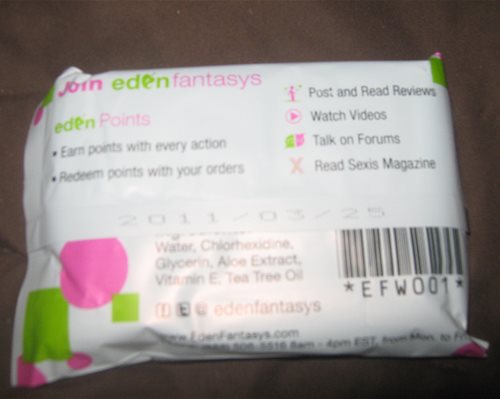 These wipes can be great for both men and women. They do have a somewhat flowery scent that may throw some of the more manly men for a loop. The smell itself doesn't stay too long, and regardless of what gender you are you can feel confident that these wipes will make yourself and your toys clean and fresh. These wipes are for external use only, not that I would ever have thought to use it non-externally, but it's nice to still read those things on the package because one never truly knows. The fact that they don't contain any alcohol means that they won't dry out your skin, which I find to be great as I am already prone to dry skin.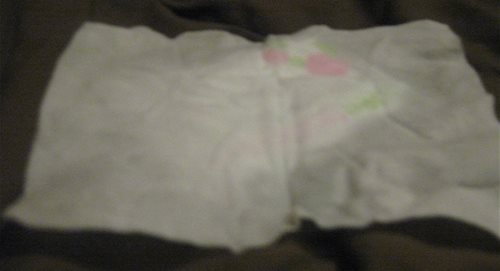 Experience
I felt that these wipes were nice as a free gift along with my order. I love how clean I felt after using them and loved how clean my toys came. I felt safe with this product because Eden has never once given me reason to worry about their products, and I would think only the best of a product they would advertise their site name on.
This content is the opinion of the submitting contributor and is not endorsed by EdenFantasys.com

Thank you for viewing
Eden toy and body wipes
review page!