Reasonably neat, very convenient
This cute little spray is designed to look like a pen and is great for people on-the-go. Though it is a bit expensive, has some odd ingredients, and isn't compatible with some materials, it still has its place in my 'going over to the boyfriends' kit.
Published:
Pros:
Cute, portable, informative, easy to use, don't have to wash off of toy, prevents growth of bacteria
Cons:
Expensive, weird ingredients, not safe for some materials
What you get
When I saw this cute little toy spray I just had to get it. Picobong tries to advertise their toys for the young, chic, on the go person, and this toy cleaner fits right into their demographic. It's called a 'pen spray' because it is designed to look similar to a pen, and thus be easy to toss into a desk drawer or pencil cup without anyone wondering what it is. You get .34 fluid ounces in the little spray, which is actually fairly pricey for a toy cleaner.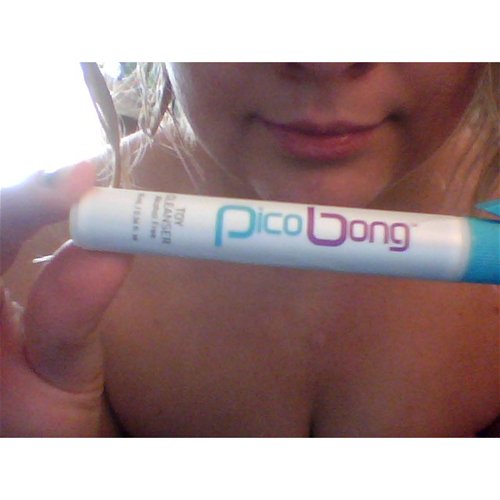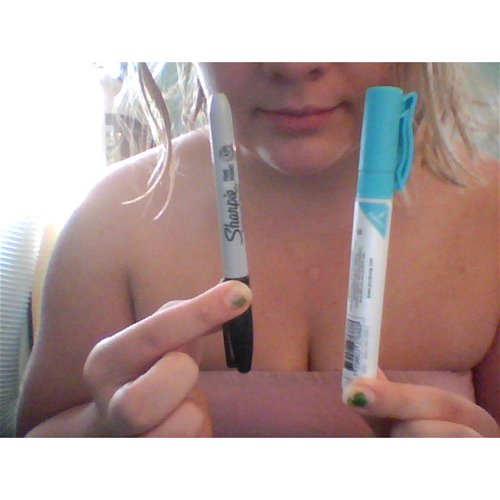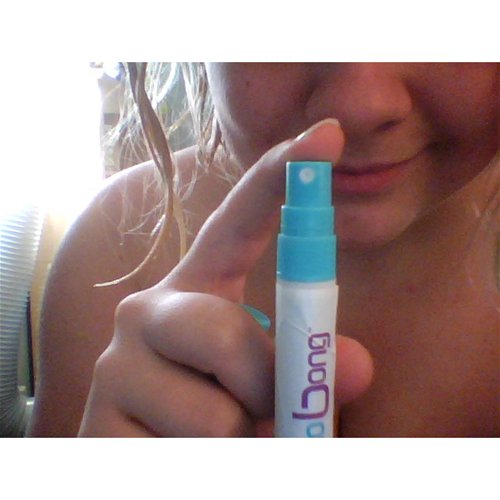 There are ingredients that are printed on the inside of the label, much like a lot of aspirin bottles or chappstick tubes. It tells you pretty much just how to use it, and has an illustration.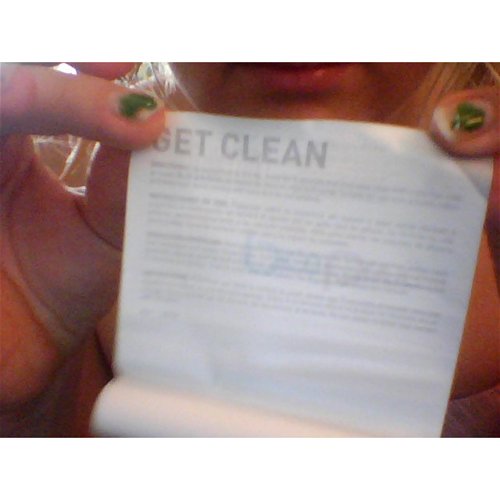 How does it work?
This product is meant to be a 'spray and use' product that's great to clean up toys both before and after play. The instructions say that you just spray it on, let it sit for five seconds, and then wipe it off with a lint free cloth or, as I prefer, a paper towel. You do not have to wash it off after spraying this on like some toy cleaners I've used.
The thing that this advertises to try and make up for the higher price is that it doesn't just kill germs, but tries to keep them from forming. The main ingredient in here that kills bacteria is
Chlorohexidine.
It prevents bacteria from growing on a surface for up to six hours, and most medical facilities use this, often in combination with the typical iodine. I did some research myself, and it seems like it's 100% safe to use internally as long as you're not allergic. Always do a spot-test on your skin, Edenites!
What other ingredients does this have?
Propylene Glycol
A skin conditioning agent, don't spray in eyes
Phenoxyethanol
Don't use on lips, may be an irritant
Decyl Glucoside
Cleansing agent
PEG-7 Glyceryl Cocoate
Skin conditioner, emulsifying agent, in super high doses organ toxicity
PEG-12 Dimethicone
Silicone based skin conditioner, may cause organ toxicity in large doses due to impurities
Sucralose
WTF is Splenda in here? I dunno, safe for consumption etc
Sorbitol
Sugar alcohol, found naturally in fruits and veggies. May be skin conditioner?
Zinc Gluconate
Skin conditioner, environmental toxin, not much conclusive evidence
Zinc Acetate
Antimicrobial, environmental toxin, not much evidence for organ toxicity
Zinc Lactate
Antimicrobial, no hazards really
Citric Acid
Buffer
Disodium EDTA
Decreases reactivity of other ingredients
Benazlkonium Chloride
Antimicrobial, can cause severe irritation, especially in large doses
In short, as long as you don't use this several times a day for your entire life, eat it, or spray it in your eyes, it should be safe. Again, some of these can be severe irritants, so spot test, please!
Wait, if this has silicone, is it safe to use on silicone toys?
My answer? Kind of. I tested this on Picobong (plastic coated in silicone), Tantus, Fun Factory, and Cal Ex (the Couture collection) silicone, and found no problems. The problem came when I tried this on NS Novelties TPE silicone... It reacted on the base of the plug and have me an ucky mess! (Luckily it was a DR assignment I disliked, so it's not a big deal.) I tried to take a photo but it's hard to see: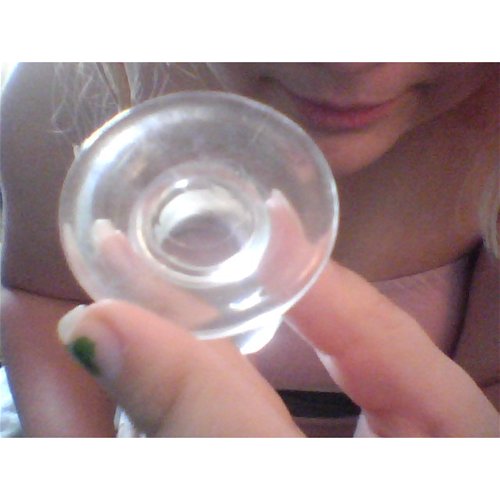 In short, this is best used on plastic and high quality silicone toys. Glass, wood, and steel, as always, are fine.
Is this safe to travel with?
Having both tossed this into my purse and back pack before and not had it leak, this is actually great to travel with. Be it into your 'emergency sex kit,' taking it with you on a special night out, or on vacation this is a convenient travel companion.
The spray top also makes it easy to use if you're in a hurry. You don't have to fumble around with a pump top or anything, you can just spritz, let it sit, and wipe away any germs or gunk that are on your toy.
Would you use this every day?
Because of the less than stellar ingredients and price, I really wouldn't use this every day. I suppose if you only use fairly small toys and don't masturbate often it might not be too expensive, but it takes like 10 spritzes to cover my Tantus Tsunami, which is just not cost effective. Here's a photo of the size of one spray:
Experience
Does it taste or smell like anything?

This product has very little scent to it. It does smell a tiny bit like sweet antiseptic, but it's certainly not a turn off. After you wipe it off of your toy or skin, neither retain the scent. This is actually a nice change from several other toy cleaners I use.

Now the odd thing is that they added two ingredients for one purpose, and that is to make it taste sweet. The addition of both an artificial and a natural sweetener (which defeats the purpose of the artificial sweetener being in there) gives this a very sweet taste. I sprayed this on my hand for the photo a few hours ago and my hand is still VERY sweet.

Even though it contains aspartame it doesn't leave a 'diet soda' aftertaste in my mouth. No matter what, the ucky ingredients make this really bad for you to eat. Don't use it to cover up the taste during oral sex or anything, even if they did add a bunch of flavoring to it.

Overall

I got this product because it was cheap, super cute, and would be a nice thing to pack and take with me to my boyfriends place. I have been impressed with the more recent Picobong toys, unlike their first foray into the adult industry, so I wanted to try out their non-vibrator products.

While I was impressed with the size and cute design, I just found that it was not cost effective and had too many iffy ingredients for me. I usually use my System JO cleaner. While it has ucky ingredients in it, too, you are supposed to wash them off before you insert anything to keep them out of your body.

As long as you don't want to use this every day, I would highly recommend it for travel. It will for sure be living in my 'boyfriend kit' along with my usual lingerie, condoms, and Zini Deux. I took off one star for the bad materials and the fact that it
This content is the opinion of the submitting contributor and is not endorsed by EdenFantasys.com

Thank you for viewing
Toy cleanser pen spray
review page!