Toy Cleaner To-Go-Go!
There's really no reason to get this unless you need something for when you're on-the-go. It is a really good cleaner, but you just don't get many uses out of it. I love it for the convenience and discretion. As much as I really like this product, I would say don't get it unless you really have to need to take toy cleaner out with you. It's a bit expensive consider how many uses you get out of it. I would invest in something more cost effective.
Published:
Pros:
Convenient, cleans well, great for on-the-go, body safe, can be re-filled.
Cons:
Doesn't get many uses, expensive.
Pico Bong Toy Cleanser Pen Spray is the perfect solution to cleaning your toys while you're on-the-go. All you have to do is throw this pen spray in your purse, make-up bag, suitcase, etc., and you're all set. The best thing about this toy cleaner is that it's so discreet! It looks like a pen/marker but it's actually a toy cleaner. This body-safe toy cleaner is an antibacterial and alcohol-free formula. This formula does a great job at cleaning your toys, leaving the free of bacteria. I didn't have any kind of unpleasant reactions to the ingredients in this toy cleanser, but if you're concerned with any of the ingredients you can always spray a small amount on your skin to see if you have any kind of reaction to it.
Ingredients: Water, Propylene Glycol, Phenoxyethanol, Decyl Glucoside, PEG-7 Glyceryl Cocoate, PEG-12 Dimethicone, Sucralose, Sorbitol, Zinc Gluconate, Zinc Acetate, Zinc Lactate, Chlorhexidine Gluconate, Citric Acid, Disodium EDTA, Benazlkonium Chloride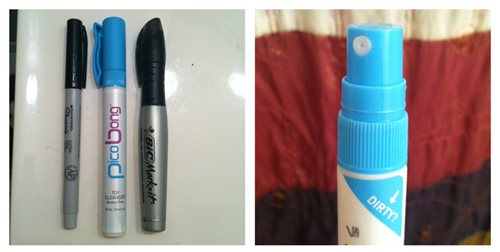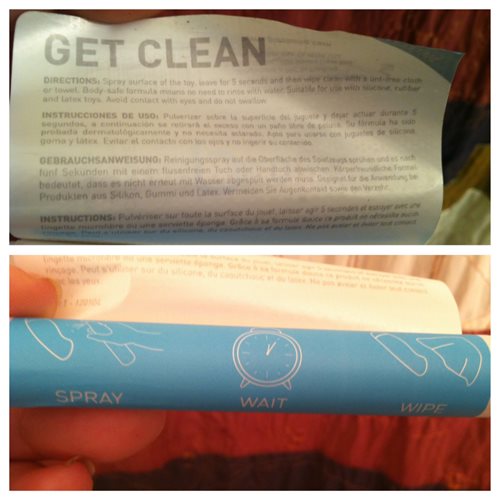 The convenience and discretion of this product is pretty genius if you ask me. If someone was to see this, they wouldn't even bat an eye. It could easily be pulled of as a pen, marker, white-out pen, or even a spray anti-bacterial hand spray. Even the label is fairly discreet. It does say toy cleaner on the front of the label, but all of the instructions and information is under the front label.
If you peel the label back, that's where you will find the ingredients list and instructions on how you should use the toy cleaner. The first think you want to do is spray down the sex toy that you're cleaning and wait for 5 seconds. You really want to give those bacteria fighting ingredients a little time to do their job. After waiting 5 seconds, all you have to do is wipe it clean with a dry towel. It's really that simple. You don't need any water, and your toys really look, feel and smell clean. When it comes to cleaning performance, this stuff does a good job. It leaves my silicone squeaky clean, my glass streak-free, and it smells a little bit like Windex glass cleaner, which gives it a clean scent. This toy cleaner is safe to use on glass, silicone, plastic, and rubber toys.
For me, there is a pro and a con about the pen spray container. The con is that you only get .34 fl. oz. of toy cleaner, so this stuff is going to run out really quick. The pro is that once you have used up all of the toy cleaner, you can rinse it out and refill it with a toy cleaner that is similar to this one. The should really consider selling a larger version of this stuff so that you can refill this one. It's really not a practical toy cleaner to buy unless you really need something for on-the-go. You really pay for the convenience of this product.
This content is the opinion of the submitting contributor and is not endorsed by EdenFantasys.com

Thank you for viewing
Toy cleanser pen spray
review page!