Squeaky Sexy Highlighter
The Picobong Toy Cleanser Spray may seem a bit pricey, but it does pay itself off if you keep the bottle. It can make a great stocking stuffer and cleans toys wonderfully. It's a great travel option for those who want toys on the go.
Published:
Pros:
No water needed
Travel Friendly
Discreet
Can Refill
Cons:
Bit pricey
A toy cleaner? What makes this one so special?
The Picobong Pen Spray is a very travel friendly way to bring safety and cleanliness to any sex toy box on-the-go! The Pen Spray is a great cleaner that will work for almost any toy material. It doesn't require water for cleaning, so this makes it a great cleanser to use in a pinch. It also works for almost any material and can sanitize a toy because it is anti-microbial.
In terms of allergies, the spray does have sucralose and sorbitol, which are sugar and sugar derivatives respectively. Sorbitol is the alcohol sugar you'll see in many sugar free gums. It's not sugar free as much as it is metabolized by the body slowly and differently. This holds true for other sugars and derivatives in the ingredients such as glycerol and some gluconates. If you are highly sensitive to sugars in your products, I'd recommend rinsing the toy after using the spray. Overall, if you fear allergic reactions, you can always put some of the spray on a more innocuous area on the forearm for a test (a more intense test since you'll get the cleaner full on), or you can clean a toy, wipe it down without rinsing, and rub the toy across the back of your hand. Wait one to two days for any potential reactions.
Overall though, this spray dissipates with no residue after a short period of time, so if you wait 5-10 minutes after cleaning (without rinsing) you could use this toy. The ingredients list is as follows: Aqua(water),Propylene Glycol, Phenoxyethanol,Decyl Glucoside,PEG-7 Glyceryl Cocoate,PEG-12 Dimethicone,Sucralose,Sorbitol,Zinc Gluconate,Zinc Acetate,Zinc Lactate,Chlorhexidine Gluconate,Citric Acid,Disodium EDTA,Benazlkonium Chloride
This product shouldn't be consumed in any fashion considering it is a cleaner.
Use and Characteristics
The Pen spray looks like a thick highlighter, and it has similar dimensions as well. It's 5.5 inches long and about two inches in circumference. Here it is compared to some office supplies: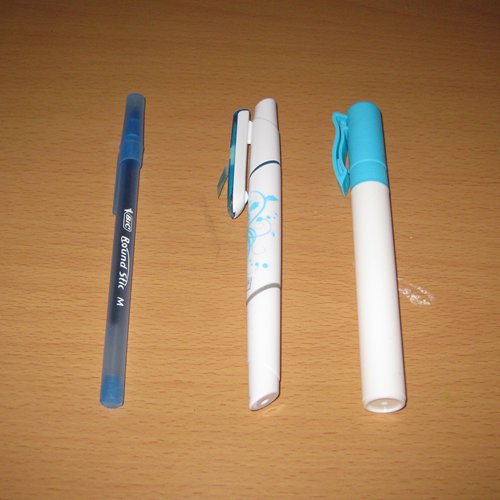 As you can see, my Pen Spray is a bit naked. It does come with a label around it showcasing instructions and the ingredients list. However, if you want to be truly discreet, you can easily peel off the label and it won't leave a horrible, sticky residue like some labels do. It comes off clean. Just make sure you keep the instructions tucked away or write a note about them! The spray also has a cap like a pen, so you can secure it on a pouch, pocket, or shirt.
To use the Pen Spray simply pop open the cap spray your toy, wait at a few seconds to let the spray work it's magic, and wipe it off with a lint-free cloth. After wiping, you could rinse the toy after if desired, but it's not required. There is a smell to the spray, but it is mild compared to other cleaners. The smell also dissipates after the toy is wiped down. After the toy is wiped down and dry, you can only smell the cleaner if you put your nose close to your toy. The cleaner can be operated with on hand. One finger can easily push the spray nozzle down to eject the cleaner.
Final Thoughts
So, this item may seem pricey for the amount of liquid you get, but it can be reused and refilled, making it that perfect item to bring in traveling toy bags! It's also a great stocking stuffer if making sexy gift bags for friends. I think the spray is worth it overall. The simplicity of the bottle and its appearance makes it easy to travel with. It is an option for any toy user regardless of orientation or gender (the neutral blue color helps there). Even if going through the airport, you could have this spray 1 of your allotted 4 ounces. If the TSA worker questions the spray, you could say it is a cleaner for glassess or is hand sanitizer. You're not really lying since it does sanitize.
Experience
My favorite thing about this spray is that you can reuse the bottle and remove the labeling. It is on of the most discreet items I have yet to own. It can be placed with your office supplies and people might assume it is a highlighter. The only time they might find out it's something else is when they pop open the cap to highlight something. Even then, it's an ordinary spray bottle. It could be a cleaner for anything, not just sex toys. It doesn't have a sex toy feel at all. Here is where my spray resides in my room.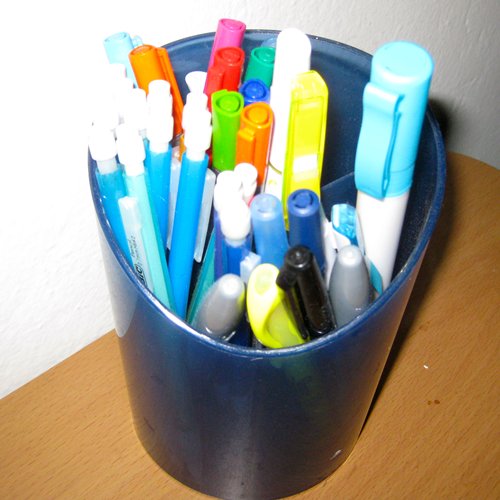 As you can see, my spray is on my desk in my pen and pencil cup. It really does look like it belongs there. I have other toy cleaners, but this is the one I take when going away from home. I also have other cleaners on hand. When I ran out of the Picobong spray, I simply unscrewed the cap and poured in other toy cleaners I owned. It's great the spray bottle can be opened and refilled. It lets the product pay for itself considering it is a but pricey for the liquid you get. I recommend it.
This content is the opinion of the submitting contributor and is not endorsed by EdenFantasys.com

Thank you for viewing
Toy cleanser pen spray
review page!