Streak-Free Cleaner
The PicoBong cleansing spray is very handy to keep when traveling with your toys. This isn't for everyday use, because it only holds a small amount of cleanser and you'll go broke trying to replenish it. The label is pretty crappy, but other than that, it cleans very well. There's no leftover residue when you use this cleaner, and it gave my toys a streak-free shine.
Published:
Pros:
-Travel Friendly
-Easy to Use
-No Residue
Cons:
-Instruction Label is hard to open and wrinkles when you close.
The PicoBong toy cleanser spray makes cleaning toys on the go easy and quick. It's perfect for traveling, and fits easily in your purse without taking up space. It's only the size of a pen! Like a pen, it is also fitted with a clip so you can clip it to your shirt pocket, pants pocket, or the lining of your storage bag. The cleanser spray is very lightweight, and holds 0.34fl ounces of cleaner. The cleaner is very runny, but luckily the cap is secure and leak-free.
The directions are found under the label. Peel the part of the label that says, "Dirty?" to find the directions. The label peels back to show the directions and the ingredients. It will stick back down when you fold it over. I found this to be the only downfall to the spray. The label fights back when you try to open it, as if you were peeling off one that wasn't meant to be opened. It also leaves many ugly wrinkles when you place it back down. It's also sticky and will pick up dirt. If it gets linty or dirty, the label will not close.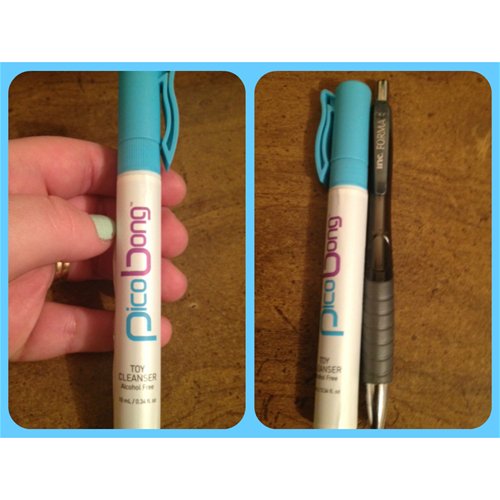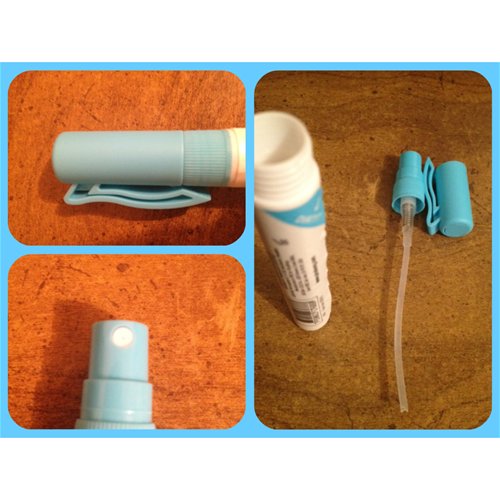 The ingredients are: Water, Propylene Glycol, Phenoxethanol, Decyl Glucoside, PEG-7 Glycerl, Cocate, PEG-12 Dimethicone, Sucralose, Sorbitol, Zinc Gluconate, Zinc Acetate, Zinc Lactate, Chlohexidine Gluconate, Citric Acid, Disodium EDTA, and Benzalkonium Chloride. You should avoid eye contact with this spray. If it gets in your eyes, rinse with water. The cleansing spray is body-safe and alcohol-free. Avoid this if you are allergic to any of the ingredients.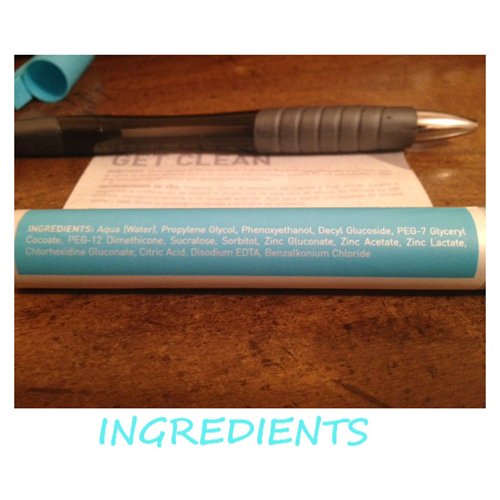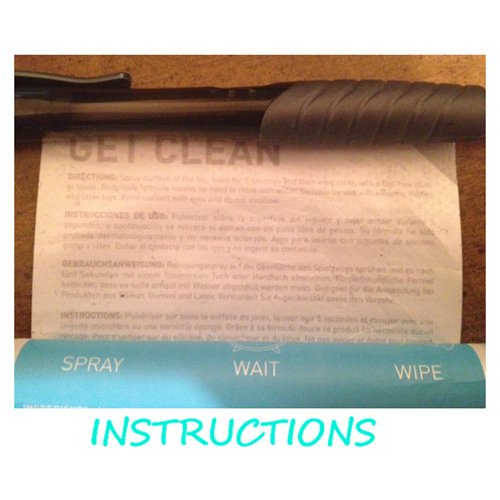 The Cleansing spray is suitable for Silicone, Latex, and Jelly toys. I noticed it works great for glass toys as well. The PicoBong toy cleanser spray is really simple to use. First, spray the toy. The spray doesn't cover a wide area, so be sure to spray enough to cover the whole toy. Second, wait for 5 seconds before you wipe. This cleanser takes rinsing out of the equation, but you want to make sure to let the cleaner sit a few seconds so it gets cleaned. Third, wipe with a lint-free cloth. There's no foam, lather, or water involved. You just spray, let sit, and wipe. I used this on a glass toy so I could check for residue. I ended up with a streak-free shine with no residue on the toy. There was also no chemical-y smell to it. You know how you go to dry some toys and the toy will still feel damp? It only took me one or two wipes and the toy was entirely dry. There wasn't any stickiness or build-up on the toy, it shined and looked brand new.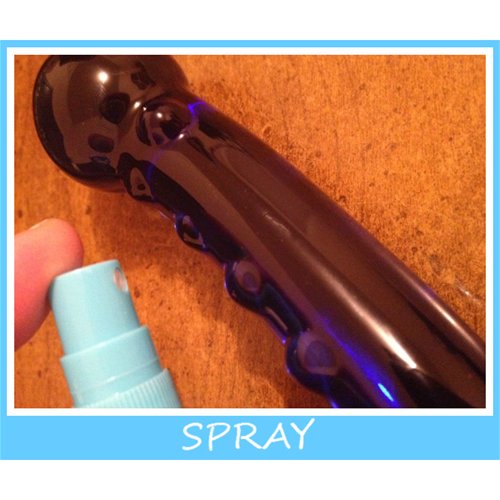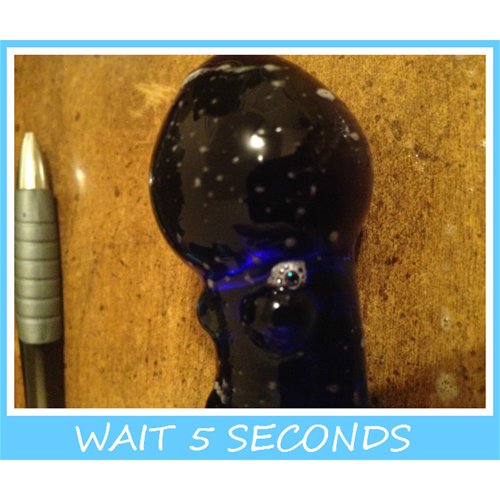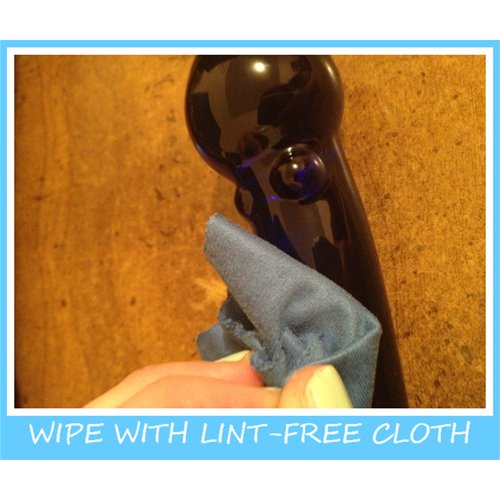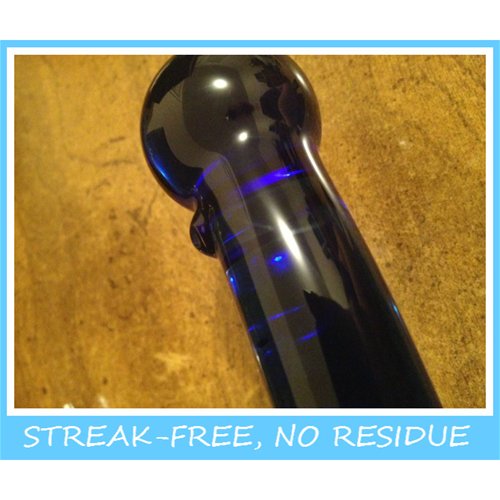 It cleans very well. Personally, I prefer to use the lather and rinse routine because I want to insure my toys get a good clean. But, this makes cleaning quick and easy if I'm crunched on time. I don't doubt that it cleans well, especially after seeing how shiny my glass toy was after using it. I wouldn't recommend this cleanser to be someone's one and only, because it is a small package and won't last long if it is used often. This would be best for those who travel with their toys, but don't want to lug around their 16oz bottle of cleaner. While this won't replace my current method of cleaning because it's so small, I'll always keep one on hand when I travel.
Follow-up commentary
2 months after original review
It cleans very well and we still like it as something to travel with for cleaning purposes. Unfortunately it doesn't last past a few cleanings. Though it's pretty small and great for travel I've begun to wonder if it really is worth it to purchase another when there are toy cleaners that clean just as well and also come in small packages can last a bit longer. For example, the LELO toy cleaner is a pretty small cleaner and great for travel and lasts a good bit longer than the solution in this cleaner does.
This product was provided at a discounted price in exchange for an unbiased review. This review is in compliance with the FTC guidelines.

Thank you for viewing
Toy cleanser pen spray
review page!