Simple, Gentle and Wonderful Wipes.
These wipes are the only toy wipe I've tried, and I don't feel the need to expand my search. They work incredibly well and are very high quality. They're a bit pricey for only 10 wipes, but I always get them as my free gift so I don't worry about the price.
Published:
Pros:
Lovely scent, Variety of uses, Cleans any toy gently and efficiently, Free Gift.
Cons:
A bit pricey for only 10 wipes, Not enough for those who use them often.
These wipes are very handy to have around, for really anything! They're great for other things than cleaning up toys. We use them for our toys, but I've seen in plenty of other reviews that people use them for lots of various things; cleaning up spills and dusting things to name just a couple.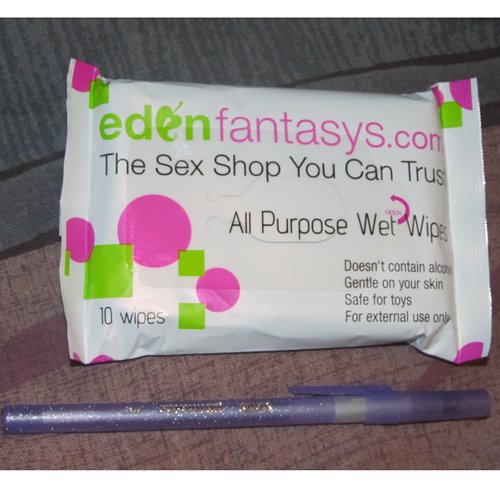 I find I can use one wipe on at least two to three toys and my hands. They're a very easy and quick way to clean toys and anything you choose. It doesn't hurt that the wipes are super large and they're nice and damp, but not overly so.
Right on the packaging it says it's very gentle and safe to use on any toy. They don't contain alcohol which is part of the reason that makes them so gentle. The packaging doesn't make them very discreet, considering it says right on there in big and bold letters "The Sex Shop You Can Trust" so they might not be the best to have laying around if you want total discretion, but I don't mind it a bit. The packaging outside of that is actually rather cute and very simple.
The tab that you pull up to open up the package actually keeps the wipes very moist and damp. If you do not keep it down though the wipes will dry out. I had the last two wipes from one package dry up on me because I hadn't pushed the tab back down correctly and it let them air out. It's very easy to avoid doing so though.
The wipes have a very nice, light fragrance to cover up whatever you use them to clean up. I've never had any lingering unpleasant odors waft off of these wipes. The fragrance covers it up completely. It's a powdery-floral smell and I like it a lot. They're also very durable so if you tug them out of the package roughly or use them to clean a toy with harsh edges they're not likely to tear. They stretch very well in fact.
All in all, I will continue to use them. I wish Eden would either lower the price on these or make a larger package, maybe of twenty to thirty wipes for maybe ten dollars or so. I would certainly purchase a couple packages in that size! I would definitely recommend these to anyone looking for a solid toy wipe, and remind people that they can receive one package FREE with every order!
Follow-up commentary
22 days after original review
We've had these for months. We just now got around to writing up the review though. I would highly suggest these to any of my friends who dabble in the sex toy world.

These wipes are very nice, they have a simple floral like scent to them. They are also very stretchy. We mostly use these wipes to wipe down our toys before and after use for a quick clean if we are feeling to much like we are floating on a cloud ti get up otherwise we wash them with soap and water.

The price is a big downside to these considering how many wipes you get. Wish Eden would give us a bigger pack of wipes, until then I'll keep getting them as my free gift!
This content is the opinion of the submitting contributor and is not endorsed by EdenFantasys.com

Thank you for viewing
Eden toy and body wipes
review page!