So convenient and versatile!
I love these wipes! They're so handy and do a great job of cleaning up whatever it is I use them on. These are my favorite free gift with purchase that EdenFantasys offers, and I would not be shy about buying them if I ran out!
Published:
Pros:
Convenient, versatile, very clean.
Cons:
Not as soft as other personal hygiene wipes, only 10 wipes in package.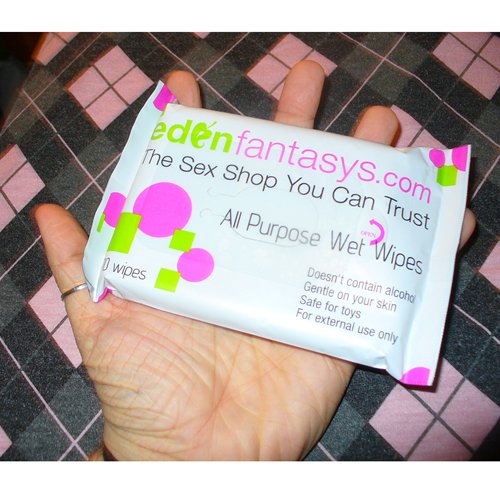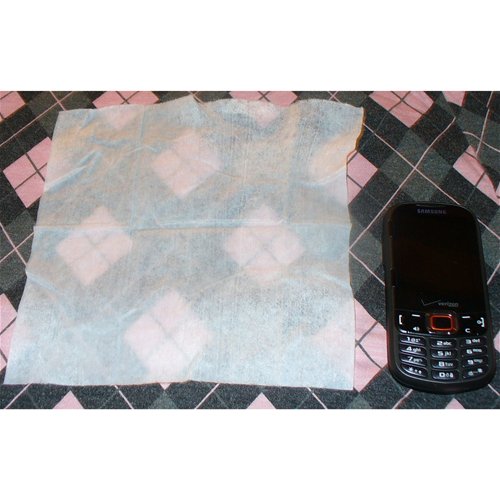 Use and Experience:
This 10-pack of all purpose wet wipes is a great add-on to any purchase. The package has an easy to use, resealable tab to open. The back of the package advertises EdenFantasys and the different benefits of being a member, so if you're giving any toys away as gifts, these would go great with it!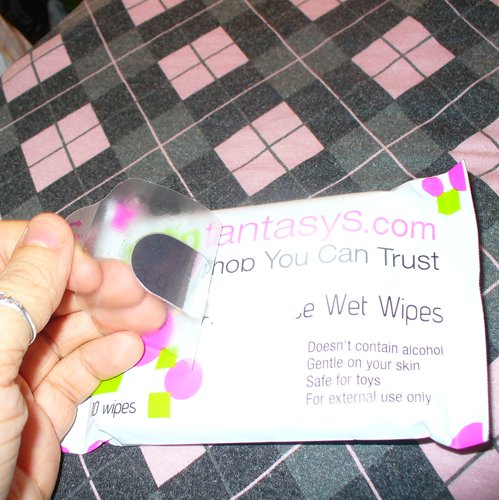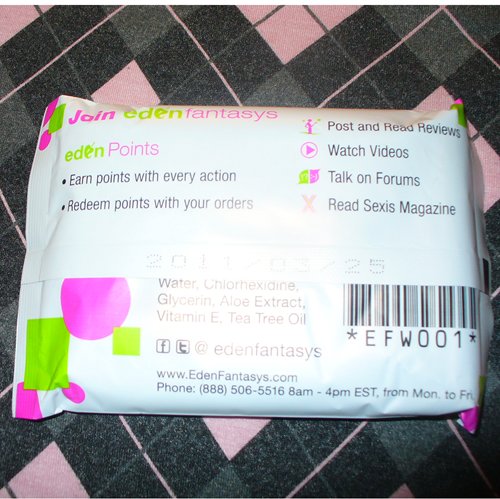 These aren't incredibly discreet, though small enough to hide away easily in your luggage or purse, as they say "The sex shop you can trust" across the top of the package, but honestly, if you're traveling with wet wipes, even if they're just a popular toilet paper brand, this kind of product is pretty easily recognized.
The packaging suggests using them to clean toys, and after trying it, I can say that they're worth the money for that purpose alone! They take off lubricants and other mess, as well as removing most of the lint and fuzz that tend to stick to a toy. They also won't cause any damage to the toy, regardless of material.
Additionally, they can be used for personal hygiene and are described by the packaging as gentle on skin. I don't personally have sensitive skin, but I recommend that if you do, you test the wipes on the back of your hand to make sure you don't have a reaction to them before using them on any *ahem* more sensitive areas. I noticed that these wipes aren't quite as soft as other brands of toilet wipes, and they do feel a little, well, weird when using them to clean myself, as they clean the skin of any natural fluids and leave things a little tacky for a few minutes. Other than that, they leave me feeling very clean. I expected that they would tingle a bit, as tea tree oil is listed in the ingredients, but I had no such experience, so I can assume there isn't a lot of the oil in the wipes.
I also found that these wipes are EXCELLENT at removing makeup! I haven't tried using them to remove mascara yet, as I'm nervous about using them quite that close to my eye, but they removed foundation easily and eyeliner within a couple of swipes. Again, if you have sensitive skin, I'd definitely recommend being careful about trying this. They leave my skin feeling very soft after it dries!
Note: the packaging does not say whether or not these are flushable like other wipes, so I would NOT try it.
Ingredients:
Water, chlorhexidine (antiseptic - kills bacteria and prevents fungal growth; used in many mouthwashes and soaps), glycerin (preservative - moisturizes and lubricates; found in many foods, pharmaceuticals, and personal care products), Aloe extract, vitamin E, tea tree oil. Does not contain alcohol.
Favorite Features:
Being able to easily remove lint and fuzz from my toys before use or before putting them away is a HUGE time saver. I used to have to wash with soap and water or toy cleaner, then wait for the toy to air dry because if you touch it with a towel or paper towel, you just get lint all over it again. I also LOVE when EdenFantasys offers them as one of the options for free gift with purchase!
Complaints:
I really don't have any major issues with this product. I would like larger packages to be available, maybe 24 wipes instead of 10? I would also love if they were always available as a free gift with purchase instead of just occasionally.
Follow-up commentary
1 month after original review
I use these at least once a week! I cry a little every time they're not available as a free gift with purchase, but I would definitely purchase them when I run out! Worth the money!
This content is the opinion of the submitting contributor and is not endorsed by EdenFantasys.com

Thank you for viewing
Eden toy and body wipes
review page!