Stronger for Longer
The Principessa Shower Pouf is fantastic. If you're anything like me, you're often disappointed at how quickly a pouf loses its shape and no longer works as it did when you first got it. You won't be disappointed with this pouf! It is a bit pricey, but it's worth it.
Published:
Pros:
keeps its shape, stays firm, exfoliates well, cute
Cons:
price
The Shower Pouf by Principessa Beauty looks like your average shower pouf, other than the ribbon loop attached to it. Typically shower poufs have some sort of loop attached to them so that you are able to hang them to dry when you are finished with them. The loops are usually rope. The ribbon loop does not make the pouf any less or more well in terms of quality, though it does look really cute!
The pouf did not have any packaging to it when it had arrived. There was a cardboard tag, attached to a pink ribbon on the pouf, which stated the brand, product name, and company contact information.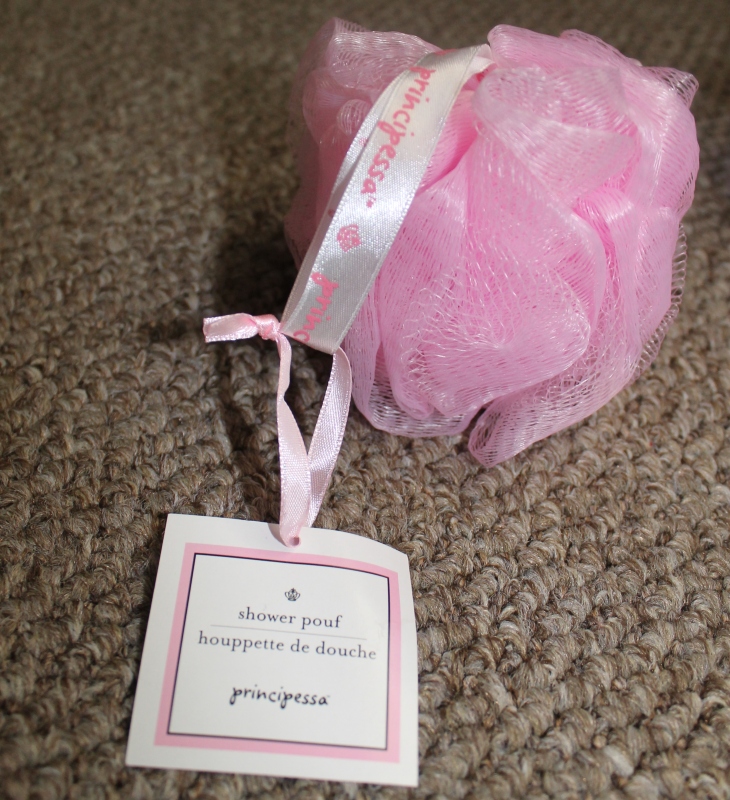 The mesh pouf is a light pink colour. It's very feminine and cute. While it is marketed towards females, the pouf can be used by either sex.
I prefer using shower poufs to washcloths for a couple reasons. The first reason is because poufs lather much better than a washcloth, and because of this, you use less body wash/soap. The second reason is because the mesh of the pouf exfoliates the skin while cleansing it.
I decided to purchase the pouf because it was time to replace my old one. I was a bit hesitant because of the price, but decided to give it a try anyway. Like regular poufs, the Principessa pouf is very tight and firm the first time you use it (though it does still have flexibility and is soft against the skin). The pouf exfoliated my skin quite well, without being too abrasive. I did not need to use much body wash on the pouf because it lathers so well.
The pouf has a circumference of approximately 13 inches before use. As you use the pouf, it does loosen a bit, making it appear a bit larger. The ribbon loop is approximately 4 inches in length and ½ inch wide.
My biggest (and only) gripe about shower poufs is that they fall apart so easily. Usually after a few uses, my shower pouf looks like someone has played tug a war with it, and than sat on it for 24 hours. I always had assumed that I was just way too rough with them. I've used my Principessa pouf over a dozen times now, and it's still as firm as ever. This is really the only thing that makes this product different than any other pouf, but this is the most important thing in a pouf (for me anyway). Below you can see a photo of my new Principessa pouf beside my current one. It's not very easy finding much of a difference in shape or firmness between the two.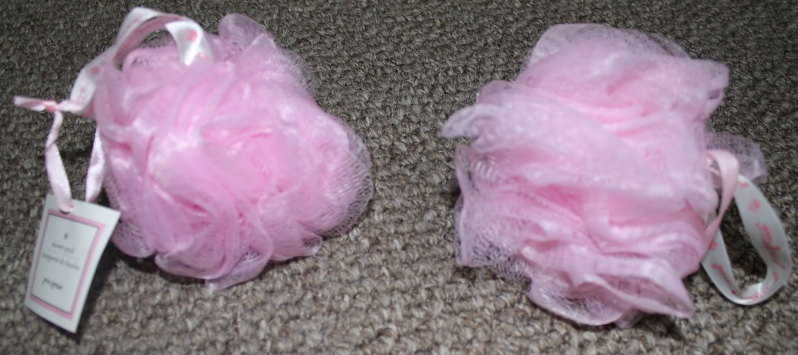 The pouf on the left hand side of the photo has not been used (yet), and the pouf on the right hand side is the one I am currently using it. You can see that the pouf, even after over a dozen times using it, still has kept its shape. The pouf looks a bit lighter in colour because it has loosened a bit. I had purchased the second pouf after I realized that it wasn't going to fall apart on me like so many others have.
The shower pouf should always be rinsed thoroughly after each use. I'd also suggest giving it a rinse before you use it for the first time as well, just because there was no packaging to protect the pouf. You really should clean the pouf after each use (though I'll admit, sometimes I'll just give it a good rinse). To clean the pouf, use a vinegar and water solution. Let the pouf soak for a while, and then let it dry. Letting the pouf dry is just as important as cleaning it because if it is constantly kept wet, it will rot. The ribbon loop is excellent to use for hanging the pouf to dry. I suggest storing the pouf outside of the bathroom because of the moisture that accumulates in the room. The pouf should also be replaced every month or so.
Obviously I am very happy with the pouf. So happy that I had to buy a second one for when this one needs to be tossed out. The one thing that still bothers me though about the pouf is the price. When I had first noticed the pouf, it was only $2.99. A few days later, the pouf was listed for $4.99. It hasn't changed back. While I'm willing to pay the few extra dollars for a stronger pouf, I noticed that the Principessa website lists the pouf for only $3.00. The high price is the reason why the product has lost one star. Other than the price, it's a fabulous pouf that I'll continue to use/buy regularly.
Follow-up commentary
3 months after original review
I still love this shower pouf! It's excellent quality. I'm very happy with it and will continue purchasing them. I actually need to buy another soon!
This content is the opinion of the submitting contributor and is not endorsed by EdenFantasys.com

Thank you for viewing
Shower pouf
– sponge review page!