The Boasting Pouf
The Principessa shower pouf is well-made and suds well, but it is also small and a little rough. Given the option to purchase again, I'd probably stick with my Walmart of Dollar Store poufs for $1. There's really nothing that justifies the $4.99 price tag on this item.
Published:
Pros:
Well-Made.
Suds Well.
Cons:
More Expensive Than A Regular Pouf.
Smaller Than The Average Pouf.
This little pink shower pouf comes from Principessa (which I believe is Italian for princess). I knew this would be a quality (yet dainty) product when I ventured onto the Principessa site and was immediately greeted by a vintage floral pattern. Also, the site says that pink is the way to show a "sensitive heart."
I wouldn't exactly say that this shower pouf is for the sensitive though. It's actually quite rough (even when wet and sudsed up) in comparison with the shower pouf that is currently in my bathroom. It's also quite a bit smaller. A good size comparison for you: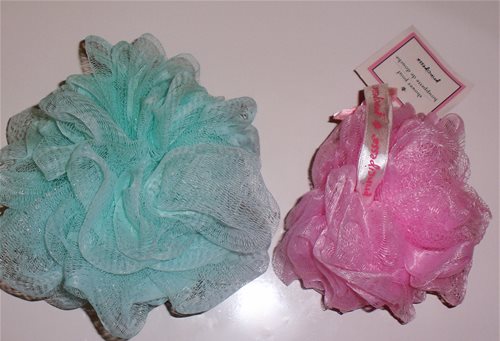 Some reviewers will say that this item will appeal to both men and women, and I'm not sure if I agree or not. I have a friend (who is gay) who commonly tells a joke about the 3 type of men: The first type is a diva, the second is a princess, and the third is a queen. By the way, he also says that this applies to all men...not just to gay men!
Normally, my shower poufs have a braided rope of sorts in order to be hung up. I generally hang mine in the shower, so I was glad to see that this pouf had a cute little ribbon to be hung up with. It has the Principessa name several times as well as a little crown on it (with the ribbon in white and name and crown all in pink). Some suggested this might be put around your wrist, but I tried. My "man hands" could not possibly squeeze into this ribbon. Perhaps you have dainty princess hands that will though.
This pouf is really quite tight in its design. This is not something that I imagine will fall apart easily...and I have owned poufs that have. I recently read that poufs are supposed to be replaced often in order to avoid bacterial growth, and so you may end up replacing this before it even shows any wear. Other individuals have stated that this item is machine washable. However, a simple wash will not kill bacteria...I repeat, tossing this in the washer cleans (but does not disinfect) it! After some research, it seems that many individuals soak their poufs in 3% hydrogen peroxide.
On the manufacturer's site, it says they focus on perfume, packaging, and performance. Oddly enough, the poof had the lightest sweet smell to it. Normally, my poofs don't smell at all. However, the packaging is very minimalistic...to the point of being a bit of a let-down. After all, this is a $4.99 pouf instead of a $1 pouf. I'm not sure what I would suggest, but it wouldn't hurt this item to be dressed up a bit more.
This content is the opinion of the submitting contributor and is not endorsed by EdenFantasys.com

Thank you for viewing
Shower pouf
– sponge review page!