These Really Are All Purpose
These wipes are the preferred free gift with purchase for many and I finally understand why that is! They have simple and safe ingredients, are non-irritating, have a pleasant, mild scent and come in a portable packet. You really can use them as an all purpose wet wipe for sex toys, most surfaces and even on delicate skin.
Published:
Pros:
Hypoallergenic, antimicrobial, no alcohol, light scent, portable, all purpose, soft
Cons:
Expensive w/only 10 wipes, naturally occurring scent may bother some, not discreet packaging
As I'm sure you already suspect, I received a good number of these wipes as a free gift with purchase. I didn't hold out much hope that I could actually use them because of my chemical sensitivities. So, they accumulated in a pile and I gave some to friends when I sent packages to them. After one of those friends mentioned that she really liked them, I decided to finally take a look at these wipes myself.
The wipes come to you in a plastic pouch with a peel up, center flap through which you access the wipes, similar to a box of tissues. When finished retrieving your wipe(s), the stickiness around the edge of the flap allows it to reseal and keep the rest from drying out. Before I opened the package, I could not detect any noticeable odor emanating from it. However, once opened and even after resealing the flap, I could then detect the scent; but then, I have an unusually sensitive sense of smell. I assume if I can smell the product inside the package while it's closed, then air is still getting through and I would eventually expect that opened pack to dry out.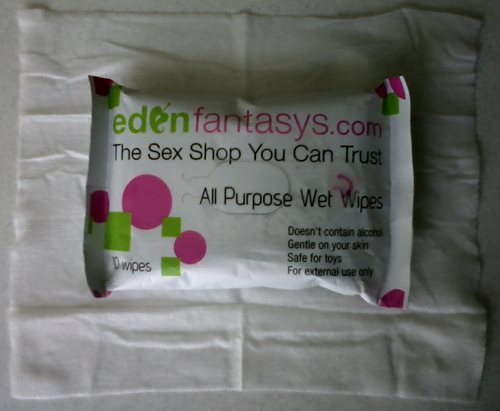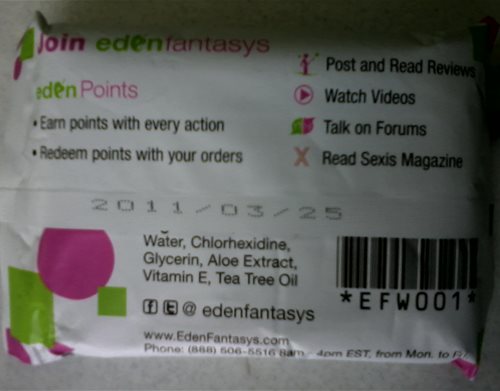 The cloth-like wipe is white with a thickness similar to a paper towel and a barely damp feel. I was surprised that they are not at all as moist as baby wipes and that is something I actually prefer about these! You receive 10 in each pack and they are roughly 7" by 8". They do have a scent, but it is a light herbal and slightly fruity scent that is inherent to the individual ingredients, not an added fragrance. I was concerned that these would smell like tee tree essential oil, which I find overpowering. Happily, they do not, and since tea tree oil is the last listed ingredient, it is the smallest percentage of the product.
First off, I was pleasantly surprised by the ingredients! They are as follows:
Water, Chlorhexidine, Glycerin, Aloe Extract, Vitamin E, Tea Tree Oil
Wait a minute, I can pronounce and know all of these ingredients! If you have concerns about any of them, they can easily be researched on the Internet. Chlorhexidine, the ingredient you may not be familiar with is an antiseptic, antibacterial agent. It works by killing or preventing the growth of bacteria on the skin as well as other surfaces, such as sex toys.
On the back of every package is a stamped date, and all of mine say 2011/03/25. I searched the forums and read that this is supposedly the date of manufacturer and that they remain good for three years past that date. I question why that is not clearly stated, but being familiar with these ingredients, I have no real concerns about expiration. If you do, then just use them where their antimicrobial properties are not essential.
EXPERIENCE:
I started this section here because it was too long to fit in the following section!
I am chemically sensitive, as I'm sure others are getting tired of me pointing out. But I think it is important there are reviews from people like me so anyone else who knows they are sensitive can get the information they seek. The vast majority of people will not have a reaction to these wipes when used on their skin. Some, like myself, will object to the naturally occurring scent of the ingredients, but it is a light scent that I think many would find pleasant, or at the least, innocuous.
In order to test these on my skin, I decided not to use them directly on my genitals, but wiped the skin on my abdomen, inside elbow, behind my knee & behind an ear. There was no immediate irritation and the only sensation was a mild tacky feeling as it dried to a very thin film most would not notice. However, after about 15-30 minutes, I began to itch in all areas and especially my hands, as they got the most product on them. Within moments, I had red inflamed patches that itched, so I thoroughly washed all areas in cool water and gentle cleanser. Just removing the slight film that had been left behind was a relief, but I did need to apply an over the counter cortisone cream which eventually calmed my skin.
Experience
Since chlorhexidine is used in many hospital skin cleansing preparations, such as HibiClens, and I have not yet reacted to those, I began to suspect the tea tree oil and/or the aloe extract, both potential irritants, but not commonly bothersome to the vast majority of people.

The next time I tried the wipes was on some silicone, glass, plastic, TPR and CyberSkin dildos and vibrators. I even tested them on my granite counter tops, door handles and light switches! Since any disinfectant works better when allowed to remain on the surface you are treating for 2 minutes minimum, that's what I did. With the glass, you could see a slight streaky film as it dried, but not on the other surfaces. I decided to wash all of the surfaces off with soap and H2O to remove the product. None of the surfaces retained any smell or feeling and I did not have any reaction after touching any of them. I discovered that as long as I wash the product off my hands thoroughly and quickly, I did okay. However, since reactions tend to get worse over time with repeat exposure, I will wear dish washing gloves when handling these wipes.

While the wipes worked on the household surfaces, I don't think this a cost effective use for them, but wanted to test the all purpose claim. I do think I will be using these to wipe off my toys right after use and let the antiseptic action work before I thoroughly wash them in soap and water, and then any other steps I take. Since I will not be leaving the residue on the toys, for the obvious reason, I don't have any problems with the streaky film on the glass dildos, but others might.

In general, I always recommend washing off any antibacterial product before using the toy on yourself, but you could leave the toy with the treatment on it until right before use when you would wash it, as I saw no deleterious effect on the treated surfaces. But, I don't think there is any reason to introduce chemicals into our bodies if we don't need to do so! These wipes are a handy tool to have for the reasons I've mentioned, but also for removing makeup, or dirt and sweat, as some people have mentioned doing. They are also great for a quick cleanup after intercourse or masturbation, where lubes and bodily fluids can be quickly addressed. Just because I can't use them for those purposes it doesn't mean you can't! As a free item, I think these are effective and a good advertisement for Eden, but at $4.99 for 10 wipes, I would hesitate to buy them myself.
Follow-up commentary
1 day after original review
I would like these if I didn't react to something in them! Otherwise, as long as they are free I recommend them highly.
This content is the opinion of the submitting contributor and is not endorsed by EdenFantasys.com

Thank you for viewing
Eden toy and body wipes
review page!