Useful and handy
These wipes are really useful and they work, but they are also pretty expensive at 50 cents per wipe. As opposed to regular baby wipes which are also meant to be gentle, I don't really see how these are worth the cost.
Published:
Pros:
practical, useful, comes as free gift, package can be resealed, they work, travel friendly
Cons:
price is steep for 10 pack, packaging is very obvious
The Eden toy wipes aren't something I would normally purchase, but they're actually super useful. I have enjoyed having them around after I picked them up as a free gift with my order. I get mad at myself all the time because I forget to toss the free gift in--every single time. In fact, I just did it again today! I'm really glad I got them though, because they're really handy to have around.
Currently I live in a dorm, and even though it's not that big of a deal to walk out and wash something in the bathroom and I've never seen anyone while washing a toy off, there's still a bit of fear of awkwardness. These are great to have around not just for privacy, but also just because we all know we get lazy sometimes and it's nice to have wipes right next to the bed. I don't use them on myself aside from to wipe lube off of my hands, but mostly just on toys that got lube on them or were inserted into my body.
They're really similar to baby wipes or any of those sanitary napkins in size and how to use them, and the packaging can be resealed so they won't dry out. They are supposed to be gentle enough for skin, but I wouldn't wipe them around my vagina or any other open area.
The packaging is super obvious and everyone will know what they are for. I understand Eden's need to advertise, but I think it is a bit much. If anyone saw these, they would know they were being used for some sexual purpose, or if not, that you at least made an order from a sex shop. I wouldn't let your mom dig in the drawer you keep these in. The package is small though, only a little bigger than an ipod. It only holds 10 wipes, so it's really easy to travel with.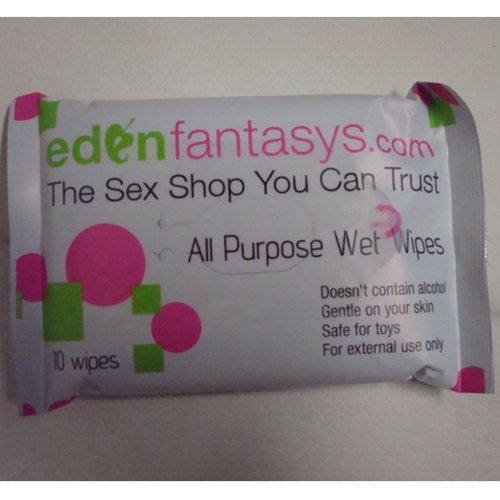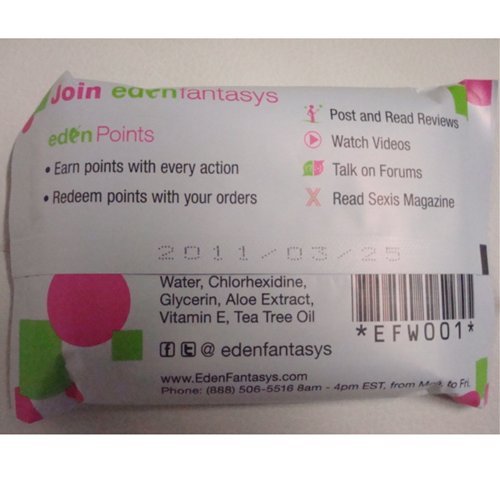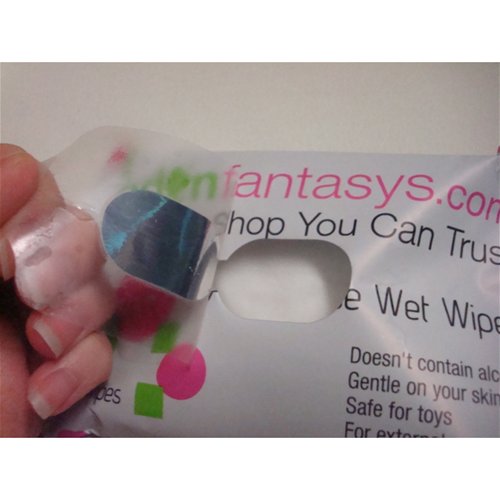 The ingredients are water, chlorhexidine, glycerin, aloe extract, vitamin E, and tea tree oil. The package instructs that they are for external use only. It also has an expiration date. I received these a couple of weeks ago in early January. They expire March 25th of this year. That means they're good for about 2.5 months.
Experience
I really like these, but I think 50 cents per wipe is pretty steep. I'll continue getting these as the free gifts but I probably would never buy these myself. I really like them and they work well in cleaning lubricant off of toys and skin. I'm giving them 4 stars because they're nice and convenient and do their purpose, but there is nothing special to make them worth 50 cents per wipe as opposed to buying a 200-count package of baby wipes for a few bucks.
This content is the opinion of the submitting contributor and is not endorsed by EdenFantasys.com

Thank you for viewing
Eden toy and body wipes
review page!