Wipe Clean and Continue On!
The Eden Fantasys All Purpose Wet Wipes are more than just a toy wipe. You can use it for general cleaning as well. Clean spills, toys, dusty baseboards or your body! (The usable surfaces are endless!) These wipes are large, thick and smell wonderful! They are handy and work in a pinch. They can be easily stored in a purse or a night stand. They are my go-to free gift with purchase!
Published:
Pros:
Free Gift Option
Handy
Smell
Cons:
Pricey for 10-Pack
I was pretty bummed when I realized I could get these great wipes FREE with my orders. Why was I bummed? Because I had already made about 7 separate EdenFantasys orders, before I found out about free gifts with purchase!
Silly me. How did I not notice that before? These gifts are awesome! There are a few to choose from: EdenFantasys tee-shirts, bags, and wipes. All as free gifts on a regular basis. And sometimes they even have calenders, bullets and more! Such a sweet surprise in addition to the great deals and discounts!
Now that I discovered this, I will always add the EdenFantasys Wipes to my order. They are wonderful. Here is why:
Packaging:
The packaging is a small (1.5 oz.), white, flexible, peel-open container. The package is about 5.5" long, 3.5" wide and 0.5" thick. The container is a lot like travel baby wipes. They open from the top, by peeling off a section to remove the wipes. You can re-seal the wipes for later use. They come out of the packaging easily and one-by-one.
The packaging is not discreet at all! The EdenFantasys' website is on the front, along with their logo and their catch phrase, "A Sex Shop You Can Trust". It is basically an EdenFantasys advertisement, not that I mind! (They are like EF business cards I can give out to interested friends!)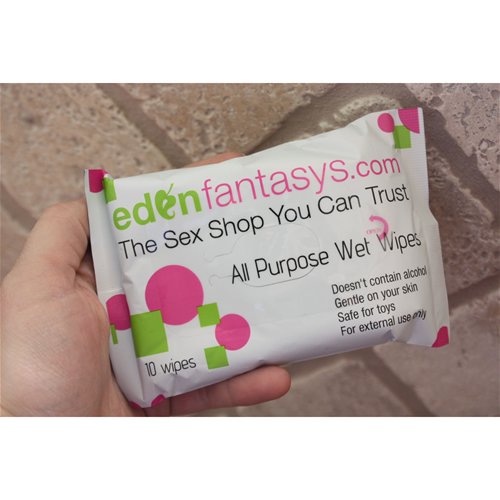 Use:
There are 10 wipes in each package, but the wipes go a long way. I can wipe down 2-3 toys with one wipe. Even if we just used one toy, sometimes I wipe down a few others in the box, just for some added cleanliness. Why not?
These wipes are safe and not dangerous to your body! It is safe to use after you just wiped down a toy. If you taste the toy after you wiped it down - there is no weird cleaner after-taste. It just is the taste of the toy. This is reassuring.
**Although they are not harmful, just to be safe, you should do a test on your skin before you start using it on all of your toys and private, sensitive areas. To test: just wipe it on a small part of your skin and wait 24 hours to see if you have a reaction to any of the ingredients.
Design/Texture:
The wipes are wet/moist and smell great! The scent is a light (minimal perfume-y) scent, very pleasant. It is fresh and clean smelling. It is not an intense or overpowering scent.
The wipes are thick and medium-large in size (measure 7" long, 6" wide). They come folded in portions, but fold out to a thick paper-towel-like wipe.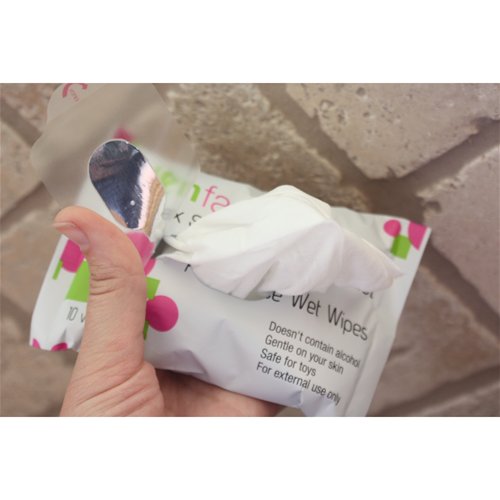 The ingredients: Water, Chlorhexidine, Glycerin, Aloe Extract, Vitamin E, Tea Tree Oil. These wipes are alcohol free, hypo-allergenic and anti-microbial. Anti-microbial = will not allow bacteria, or fungus to grow and survive.
Personal Comments:
A package of 10 wipes lasts me about a week. Like I said before, I use one single wipe for multiple toys. It would be handy if these wipes came is a bigger portion. Maybe 20 wipes. But then again, maybe not, because once you open them, if you don't seal them all the way, they can dry out after a day or so. So in this way, it is better to have the small packages to reduce the risk of drying out.
Be careful when you tear the top portion, if you rip too hard you might rip off the entire top and it won't seal correctly. If this happens, I would keep them in the packaging, sealing as much as you can. Then put the package in a zip-top plastic bag. This will make them last longer than just sitting out.
Again, they come free with any purchase. Just make sure to add them to your cart before you check out. Or if you want, you can order them for $4.99 for a ten pack.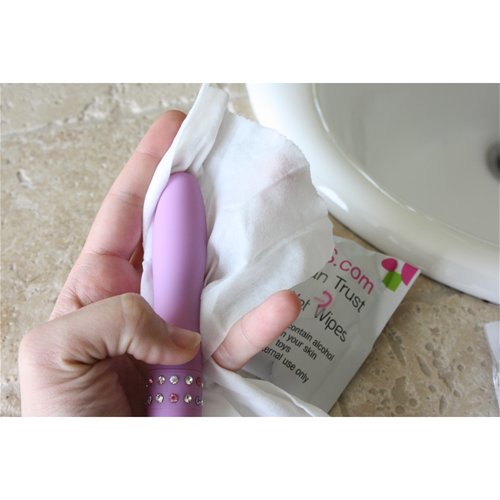 Experience
Experience :
I love the convienence of the EdenFantasys All Purpose Wet Wipes. If I am feeling lazy after a nice sexual experience, I sometimes don't want to get up and wash the toy at the sink. So, with these wipes, I can just stay put in bed, pull the wipes out of my bedside drawer, and wipe the toy down. All without even getting out of bed!
In the same way, it is also good if you want to clean your toy quickly before sex - you don't want to ruin the mood by getting up and washing it, just wipe it down and then continue to get it on, without even disrupting the magic!
These wipes travel well! You can fit them in a toiletry kit, in a deep jeans pocket or your purse! In fact, I keep one in my purse for every-day clean up!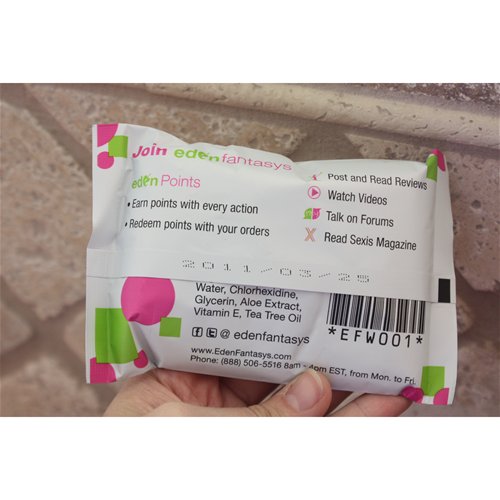 Follow-up commentary
4 months after original review
What more can I say? These wipes are DA BOOM!!! I love them. Most recently I have found they double as great window blind cleaners. I have to use an entire package for a single window, but they work better than anything!
This content is the opinion of the submitting contributor and is not endorsed by EdenFantasys.com

Thank you for viewing
Eden toy and body wipes
review page!