Wipe Dat Body!
As a free gift, Eden wipes are great. They can be used for toys, body parts, and toys. Take them to keep fresh during the day or in your toy box for clean up after sexy time. A great things to have on hand.
Published:
Pros:
Smell Great
Good Ingredients
Free
Cons:
Pricey if not Free
Mwar, there are well over 100 reviews for these wet wipes. Why are you bothering me with this?
Okay, so people have had a lot of say about the Eden wipes. And you know I'm giving you one more opinion. I like to think of it this way: in science, the most accurate data is the one with the most data points. Thus, my review is contributing to scientific accuracy the greater good for sexy kind! Yes, my dear, it's for science!
Okay, for Science! Tell me what you know, Nerd.
So acerbic... anyways, the Eden wipes are designed for use on both your body any toys. They don't contain any harsh products and are great for even those with sensitive skin. In fact, the wipes only have six ingredients, and you can actually pronounce most of these. Eden wipes have water, vitamin E, aloe and tea tree oil for skin softness, glycerin to keep moisture, and chlorhexidine as the cleanser (antiseptic). The transparency and simplicity of the wipes make me feel great about using them. I'm not thinking of all the possible unknowns I'm doing to my skin.
The wipes don't contain alcohol and the oils keep skin from becoming dry or irritated. It also let you wipe lady bits and not feel any burn or uncomfortable feeling. The wipes are also pretty strong. They won't accidentally rip when you're trying to pull one from the packet. You're more likely to destroy the package than the wipe. The wipes are also sizable and one can clean most the key ares of your body if you need to freshen up.
Why should I choose these as a free gift?
The wipes come in packs of 10 and they are easy to transport. The package is only a little larger than an index card. They easily fit in a purse or bag. They are especially great to carry during the hot summer months to wipe the sweats and oils from your skin and face. They stay moist for a long time, but the wipes aren't so saturated that there's a pool of liquid at the bottom of the package (the wipe won't drip, either).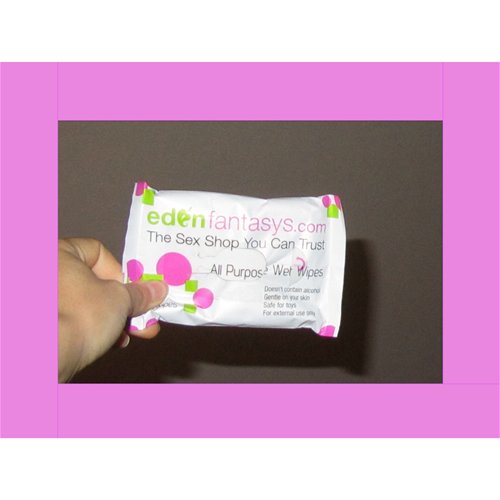 The wipes have a pleasant, fresh/powder scent. It's not overwhelming and dissipates nicely after use. If you decide to use this to clean your lady/man parts, it will leave a taste on your skin, similar to a weak hand sanitizer. Your partner will be greeted with a bitter, powder taste if they perform oral on you shortly after using these wipes. They are great for clean up after sex, though.
Okay, I know they're from Eden. Are they discreet? Can I give them to friends?
Eden wipes are not discreet. The back of the wipes advertises Eden's programs and the reasons why they are the best sex shop around. The front also says in large letters "the sex shop you can trust." So while you may have no problem giving this to a "tell everything" friend, you might if you wanted to give your conservative family member wet wipes.
The wipes are still discreet enough to use in public. You don't really have to remove them form your purse to get a wipe out. Even so, they're only exposed for a second, so it's not a huge issue. The wipes can still be a stocking stuffer or something to throw in a bath and body gift for an open friend. If you have friends you want to share Eden with, you can hand them these wipes as a reminder to stop by on the site and get involved.
Experience
Okay, anything else you'd like to share?
I did a size comparison picture if anyone was curious of how large the wet wipe is fully extended. It is compared to an Eden gift card, the card it comes in, and, of course, a pencil.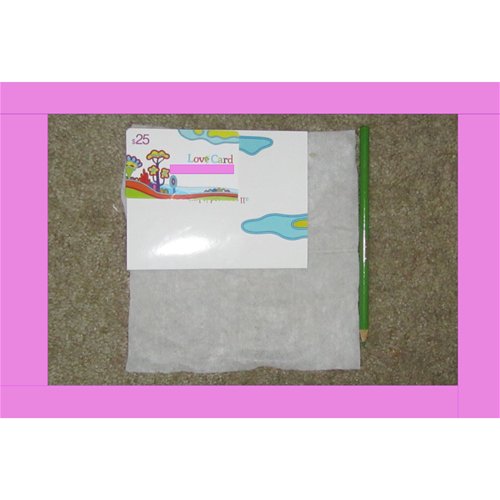 Overall, the wipes are a great free gift and help Eden advertise. I wouldn't shell out 4 or 5 bucks for them, but for free, I'm quite please with them. It's always good to have wet wipes on hand.
This content is the opinion of the submitting contributor and is not endorsed by EdenFantasys.com

Thank you for viewing
Eden toy and body wipes
review page!