Wipe On, Wipe Off
The Eden fantasy's brand All Purpose Wet Wipes are a nice product for their price. Although I have been using these wipe on my toys, I have found that there are a few thing that bother me. There are both pros and cons on this product. Over all I would still use this product, even with my dissatisfaction. The price is just too good to pass up.
Published:
Pros:
Price, Travel friendly.
Cons:
Smell, and The wetness doesnt evaporate off the toys.
The Pros: The size of the wet wipe is typical to any baby or disinfectant wipe. It is large enough for cleaning, and can be used on many different surfaces. A single wipe measures 7 1/2" by 6 3/4"(stretched out a bit). What makes these wipes even better is their ability to stretch. When stretched it can become almost twice the size, but also becomes see through. The package advertises that the wipe contain no alcohol, gentle on skin, while still being safe for toys. The wipes come in both 10 and 20 count packages. The wipes fit into the small package, which makes it easy for travel. I keep a set in my car for when needed.
The Cons: The package its self has a very loud crinkly noise to it, making it noticeable when opening. I would compare this to opening a chip bag. The wipe have a strange odor. The smell is a mix between flowers, aloe, and chemicals. At first this sent may be pleasant, but shortly after I found that it was too chemical smelling for my preference. Although they are supposed to be "unflavored", the after taste is a little chemically. The main con that made this product disappointing to me was that after wiping a toy, there was wet streaks that took forever to "air dry". I ended up wiping the toys of with the wet wipe and followed that by drying them with a towel or other rag.
Ingredients: Water, Chlorhexidine, Glycerin, Aloe Extract, Vitamin E, and Tea Tree Oil
Over all I give this product 3 points. Two point were for the great price, and one point for being small/ travel friendly. I took two points away for the disappointment of to evaporating off toys on their own.I would still buy this product again but not for the quality, just based on the price tag.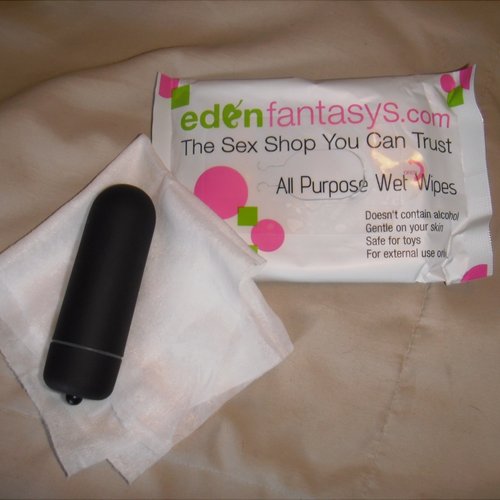 Follow-up commentary
5 months after original review
I still don't uses them directly on my body, but over time I have started to use these wipes more with my toys. They are cheap and I have become accustomed to the smell. Some toys I own are made out of TPR, a very sticky material at times. I wipe the toys down and then wrap them in a wipe before I store them. This has helped to keep my toys clean, not allowing them to collect all the lint and pet hair in my room.
This content is the opinion of the submitting contributor and is not endorsed by EdenFantasys.com

Thank you for viewing
Eden toy and body wipes
review page!