Worth More Than I Paid!
I'm a fan of these wipes. They're nicely scented and non-drying, and they work well on my toys, my face, and between my legs. The small packet is handy for on-the-go use, too. This is my favorite of the three current "free gifts with any order"!
Published:
Pros:
Alcohol-free; Large, soft, durable; Contain aloe, vitamin E, and tea tree oil.
Cons:
Scent may be too strong for some.
Basics
The
All-Purpose Wet Wipes
, offered under the EdenFantasys brand, are gentle, alcohol-free, and non-drying. They have many possible uses; the main ones are wiping toys off before and after use (though this is not a substitute for washing or sterilizing), wiping the genital area after sexual activities, or wiping any area of the body that needs freshening up during the day. They are sold ten to a pack, and are made in...well now, where
are
they made? I can't find an answer to that question, either on the package or the product page.
The Package
As you can see, these Wet Wipes are contained in a white plastic package with a foil inner lining, whimsically decorated with pink circles and green squares. The brand name and tagline are prominent on the front, along with a simple description of the product inside: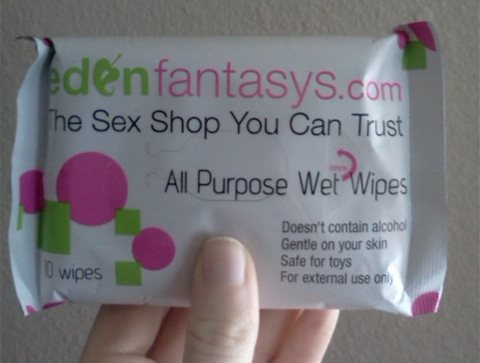 The back offers an advertisement for the EdenFantasys website, including the EdenPoints program and a list of fun activities available. It also lists the ingredients, and shows a stamped-on date (which is hopefully a packaged-on date, and not a use-by date, because the date on mine is over two years ago):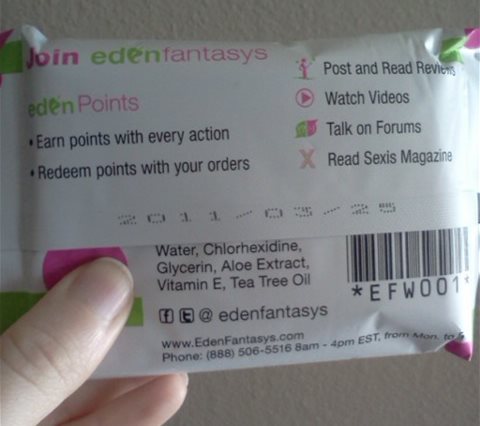 Returning to the front, there is a fairly simple and effective opening and closing mechanism in the center. A rectangle of clear adhesive completely covers a small oval flap cut out of the package, with a non-adhesive tab at the right-hand side. Simply pull this tab gently, and it will peel the flap back along with it--just don't pull too quickly or too far, or you'll tear the flap off.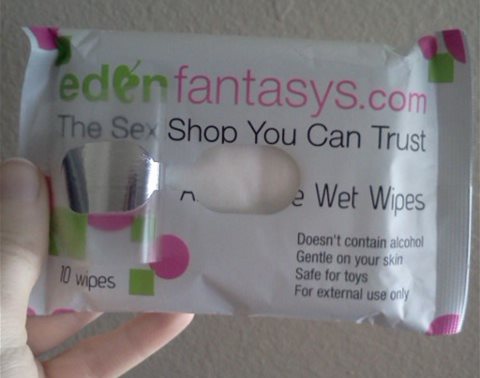 To close the flap, just smooth the package a little and press the adhesive piece down over the opening, from left to right. This should give you a good seal: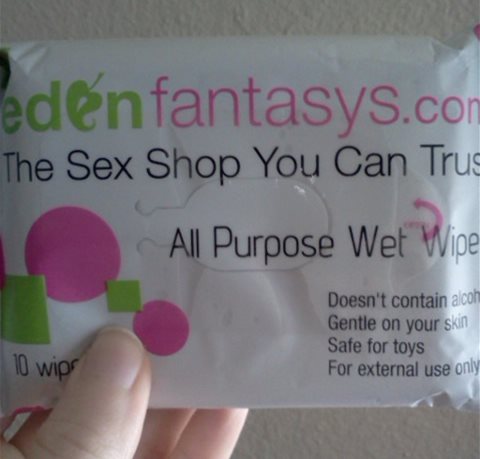 The Wipes
Once you've opened the front flap, you can pull out your first wipe. The edge is slightly above the opening, so just use your fingertip to draw the wipe down a little; you'll quickly feel the edge and be able to gently work the wipe out of the package.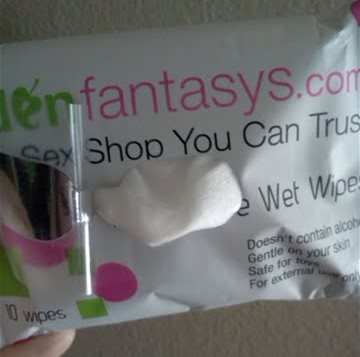 One of the best things about these wipes is that they aren't partly folded together, as many store-bought wipes are; this means you're not in danger of pulling out more wipes than you need, and wasting them. The wipe still has two folds after being pulled out: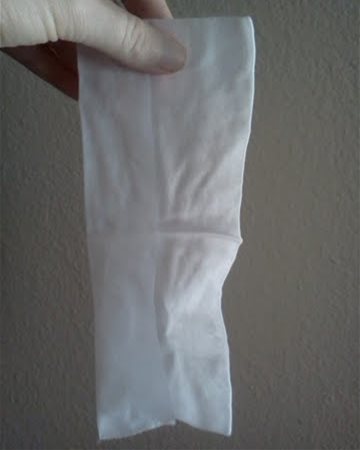 Once unfolded, it looks like this: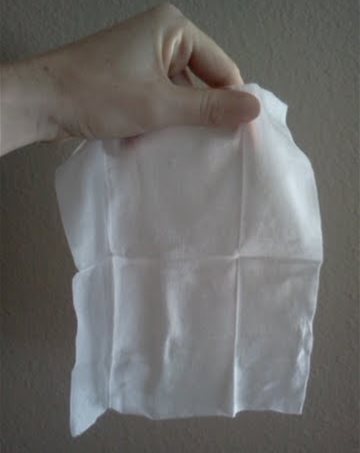 It's more than large enough to cover my medium-sized woman's hand with fingers spread: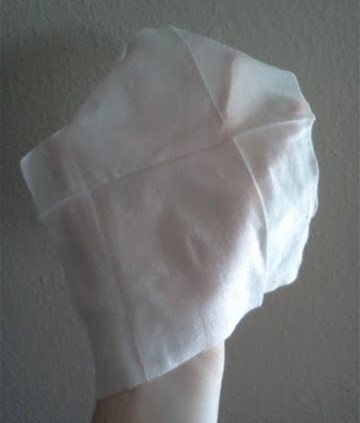 The wipes are very soft and almost plush to the touch, and I find them to be neither too thick nor too thin. They have decent strength, although they can be torn if enough force is applied. There's no information on what the wipes themselves are made of, but the ingredients they're soaked in are few and mostly very good: Water, Chlorhexidine (an antiseptic/antimicrobial product considered safe in small doses), Glycerin (used for lubrication and moisturization; glycerin is a sugar alcohol, so beware if you have sensitivities to personal lubricants containing glycerin), Aloe Extract (from the aloe barbadensis plant, commonly known as aloe vera, and used for its soothing and moisturizing properties), Vitamin E (a skin conditioner), and Tea Tree Oil (oil from the leaves of
Melaleuca alternifolia
, known for its antibacterial and antifungal properties).
If you aren't overly sensitive to the small amount of glycerin, you will probably really enjoy these wipes. I tend to be very sensitive, as many sex lubricants will irritate me and my skin breaks out easily, but I've used these wipes around my outer labia and perineum, and have felt no burning, stinging, or irritation of any kind.
Experience
As a free gift with purchase, these wipes are an excellent value. If one were to purchase them at $4.99, they'd average out to about $.50 per wipe, which is not too bad, but not that great, either.

So far, I've used them as a quick and easy way to wash my face when I'm in a big hurry, as an underarm wipe on hot days when I can't shower, and as a wipe for my external vaginal area (NOT the mucous membrane area, just the surrounding skin, as I'm concerned about the glycerin's effects on my more sensitive bits). After using them, even on my very sensitive face, I've felt no dryness--they've left my skin feeling clean and free of oil, sweat, and other bodily secretions. I'll continue to choose these as my free-gift-with-order for the forseeable future!
Follow-up commentary
4 days after original review
I've gone through one packet of these, and started on the next. I prefer them to the "naturally gentle wipes" from the drug store, and they have a nicer scent than the supposedly unscented ones, too! 'Twould be lovely if Eden made a branded (or just pretty) lidded box to store these in, and better preserve their moisture. I find that the top layer of the top wipe tends to be slightly dried out.

These work great on our dog, too! The vet recommended using a gentle wipe on her private areas several times a week, to prevent irritation, and her belly skin is looking healthy and smooth.
This content is the opinion of the submitting contributor and is not endorsed by EdenFantasys.com

Thank you for viewing
Eden toy and body wipes
review page!