Oh MY RIDE!
I have my new ride. I would much rather stay home and play with my wing then do anything else. I have been able to use multiple vibes and dildo's with this accessory. It's easy to clean and after my sessions are over I can lay my head on it and watch TV. The price is easily justifiable when you see the quality of this furniture and it will last for years!!
Published:
Pros:
Easily cleaned
Versatile
FUN
can use with many many toys!
Cons:
costly
Use
It's a wonder mound with holes for your toy to fit in so that you can ride them. It is so multifunctional that I cannot give you all of the examples, but I will start you out. You can use all types of vaginal and anal toys with the wing. You can use your glass, your dildo's, your rabbits. You can use straight ones or curved ones, big ones or little ones. This mound is for both women and men, alone or as couples. ( yes it can hold me and my husband so we have to give it lots of credit.) The wing is riding solo or for use as a positioner for intercourse. Any kind of intercourse and they even have a black label edition so you can use restraints with it. You can use it under your hips, under your head, under his hips. You can straddle it, you can put it up under your knees to relieve back pressure. You can hug it while you sleep. You can use it as a prop for while you are watching TV.
You can use this for a doggy style positioner, you can use the wing for DP for your partner to enter you anally and the dildo vaginally or the other way around. You can prop the wing up and back yourself up to it. You can use it as a step stool, You can stand it on end and use it as a stool. So are you getting it? You can use the wing for just about anything, but I wouldn't suggest using while driving. But If you are short you can use it as a booster seat.
Material/Texture
The Wing has a waterproof liner that sits over high density foam. The foam maintains it's shape despite weight and pressure on it. ( Thank god it can handle my husband and myself for an extended period of time!) The waterproof liner is what holds your toys in place with the slits. It protects the foam from your juices and lube. Over the top of the waterproof liner sits your colored micro fiber cover. It comes in red, blue, purple, black and leopard. I have the Red of course. The micro fiber cover is very plush feeling, it's soft and has lots of drag on it so it doesn't slip on the sheets, comfort, carpet, and even the tile floor. I tried to drive it around and it just won't go. You can remove both the micro fiber cover and the waterproof liner to wash them. They are easily access able by heavy duty zippers. As for washing, wash in cool delicate setting and don't use heat to dry. I have also just used a wet wash rag to wipe up some stuff on it and it seems to repel stuff easily.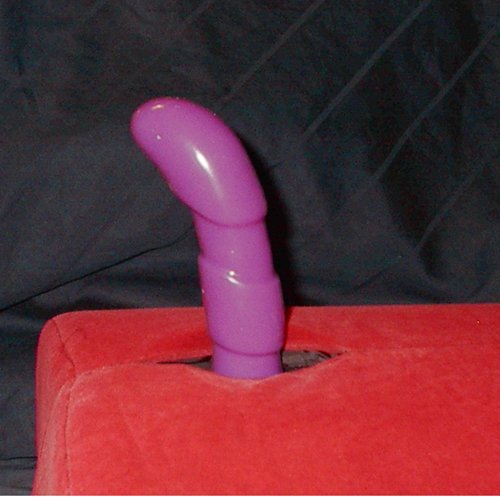 Design
It is sort of an oblong shape as far as the "hump" goes. Sort of like a bishop's hat. On the top of the hump, 2/3rds of way towards one end there is a slit. The slit is 4 ½ inches long and 1 inch wide with no toy inserted. This slit is where you place your dildo's. I used "The One" from Doc Johnson and I lost aprox ½ to ¾ of an inch when placing it in the slit.[link|https://www.edenfantasys.com/sex-toy-reviews/dildos/this-is-the-one] The slit with the waterproof liner helps so that the dildo doesn't slip. The diameter of the base of The One is aprox 2 inches and it has held firmly with no side to side movement. The on one of the ends is a round opening into the liner sheathed hole. The hole is 2 inches around. This is where you can place your toys that you would like to sit down on, or back up to. You could lie on your back and use your legs around the wing to hold it in place. I found that I lost more length when using the end hole.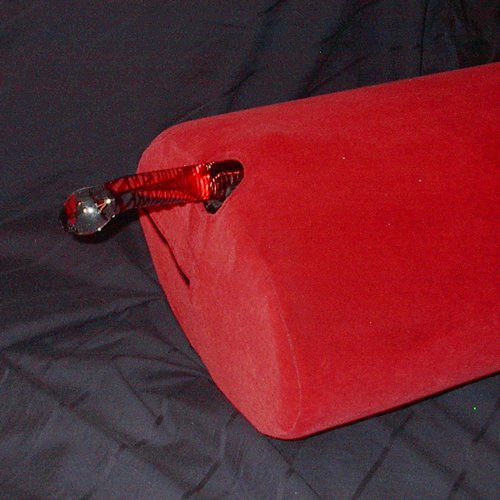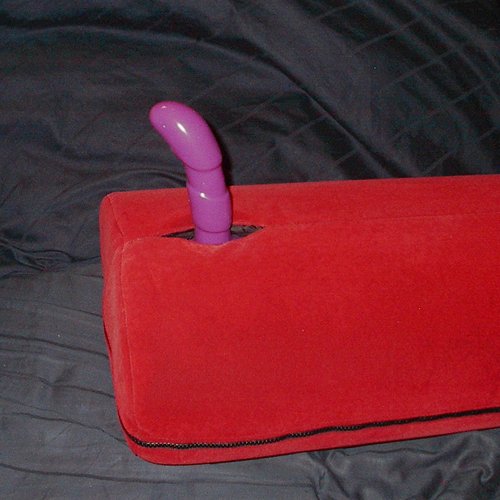 Packaging
My wing came in a clear plastic bag with a tag. Nothing special.
Experience
I contemplated this purchase for months, I am so happy that I finally took the plunge and ordered it! I have used this toy for my solo rides and for play with my husband. The husband even gave his seal of approval and would like to get more. It is a quality piece that is able to support both my husband and myself for extended periods of time. It is comfortable to straddle and is very versatile. It works with silicone, glass, rubber, rabbits, g spot toys and much more. The microfiber cover is very soft and smooth. I spoke with other contributors and found that the liberator pieces last for years, so I am looking forward to using it for many years to come.
Follow-up commentary
4 months after original review
This is still the best accessory for any toy lover! It works with the vibrators, the dildo's. It works with glass and metal and wood. Of course there are my silicone's too. I am so pleased with this purchase and I would do it again. This was my first liberator piece and I have gone on to purchase more and I have not been disappointed.

Plus it has many more uses. And it does clean up nicely.
This content is the opinion of the submitting contributor and is not endorsed by EdenFantasys.com

Thank you for viewing
Liberator Wing
– liberator shapes review page!