Hands Free and Winging It!
You know it was a matter of time before I not only got my hands on this wonderful Liberator piece but that I put my silly (but oddly sexy) stick figures on it! This piece is useful, comfortable, very supportive, and has so many uses that it never gets "put away" from my floor or bed. It's more than a wing-shaped pillow! It's like the Swiss knife of sex accessories. What can't it do?!
Published:
Pros:
~ Waterproof
~ Strong
~ Versatile
Cons:
~ Nothing!
This is more than a long, stiff pillow (or are you just happy to see me?). This is one of the most well-known Liberator shapes –
the Wing
! Now I've heard almost as many people who it didn't impress as I have people who are now huge fans so it's important to know what is important for your body and positioning preferences. But I am one of the those that simply LOVES it! So prepare yourselves for an ode to this wonderful addition to my Liberator collection!
THE FABRIC
As for all of the Liberator shapes, its top layer is a microfiber. It's velvety smooth, shiny, and matte enough to help prevent slipping and sliding all over the pillow. It helps repel water (or other liquids) and is completely washable and dryer safe. My only complaint, just like with the
Axis Hitachi
, is that the shade of purple it comes in isn't the
same
purple as my other purple Liberator shapes.
But unlike my Liberator Throe and Axis Hitachi, this one actually has a patch on the end with a Viking-like woman on it. Not that the two holes for sex toys is really all that discreet but this image will certainly pique some curiosity out of your household visitors. "So, this isn't just a body pillow… Is it?"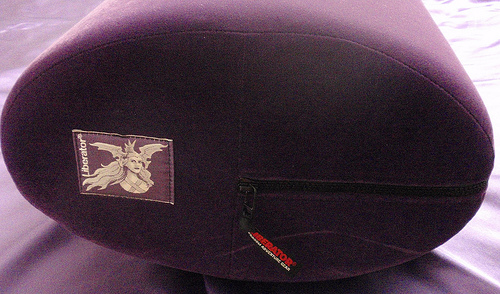 THE LAYERS
Further proof that this is not just a pillow, the layer beneath the microfiber is a black, waterproof cover to protect the foam core from, you know, anything messy. You can feel free to over-lube, accessorize with food products, or enjoy your body's own gooeyness without worry. It will simply wipe clean, assuming the liquid even makes it through the top layer.
Though I wasn't sure of listing this as part of the layers or the shape, it's important (or at least interesting) to note that the hole actually cuts all the way through the foam to the other side. But the waterproof covering is just a deep pocket that you shimmy in place down it. Why does that matter? Well, that way no water is going to sneak past it and into the foam. And foam is pretty evil when it comes to material care because it takes, what feels like, weeks to dry and is so porous that smells in the air can permeate it and cause permanent stains. Moral of that story? Keep your Liberator foam covered!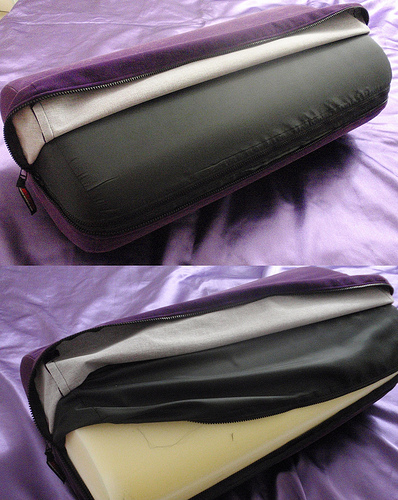 THE SHAPE
So now that we touched on the topic and you're now knowledgeable about the hole, let's delve into that. The liberator wing is, well, wing-shaped. The curves make it comfortable, the length makes it useful for all sorts of positions, and the width is perfect for me to straddle. This is what breaks it for most people, honestly. Not all heights, weights, and personal preferences agree with this shape. And that's ok!
It's 23 inches long, 7.5 inches tall, and 13 inches wide. (I am giving approximate measurements and did notice that it's a bit different from what's on the product page.)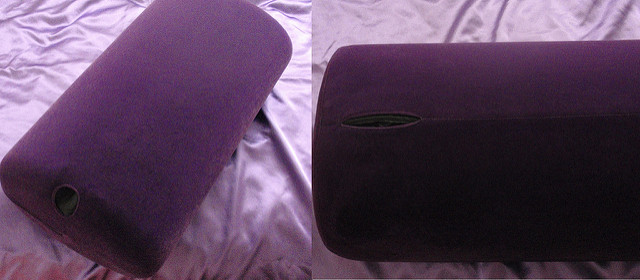 And if we use the Viking Liberator woman as a point of reference, the top of the Wing is where you'll find the first area to place a toy. It's a groove in the foam that extends the length of the wing right in the center. It's roughly an inch deep about 1.5 inches wide. It's pretty much the perfect size to slide in a straight, traditional vibrator (or an equalivant) to straddle the top of the Wing and get stimulation through the microfiber layer. But because it's on the wider side of the wing, it's more difficult to get direct stimulation, at least for me.
Now the best part of the wing is the hole! It's on the bottom of the Wing, on the opposite side of the patch. It's roughly 3 inches wide (though I'm not sure you'd be able to get something 3 inches in diameter in the hole), and is as deep as the Wing itself (and, remember, it's a pocket so it won't fall through). As long as the item isn't too slim, this slit actually holds onto your toy with impressive grip! And there's no rule on what you can use: dildo, plug, wand massager, clit vibrator, try them all!
Experience
THE POSITIONS
Now this is what everyone was waiting for. Who doesn't love some sexy Liberator-riding stick figures? I just knew I needed to make a few of my favorite positions for you. But, of course, I want everyone to know that these are not all the ones possible! Use some creativity or sexual prowess and see what you can come up with, either by yourself or with a partner (or two)!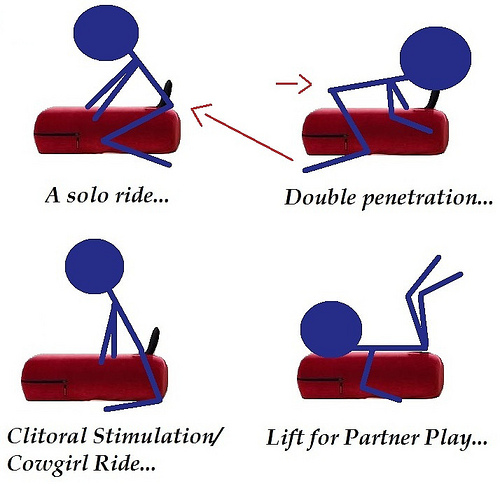 This shape also came with that handy little Liberator book (which doubles as advertisement and position inspiration) that I got with my Axis Hitachi. And you can always check out the
Liberator website
for more ideas as well for this or other shapes.
Seriously, this shape gets a total thumbs up for me! Even when I don't want to use a toy with it, it's great for propping myself up, even when I'm just reading a book. But the fact that it holds my toys
for
me is wonderful!
This content is the opinion of the submitting contributor and is not endorsed by EdenFantasys.com

Thank you for viewing
Liberator Wing
– position pillow review page!