This wing may turn your bed into a sex plane!
This is a great solution to look into as a more versatile positioning pillow that the Axis Hitachi. Lint rollers required (not included).
Published:
Pros:
Great positioning pillow for double penetration and solo play.
Cons:
Lint and dust magnet. May not be able to hold smaller toys well.
The Liberator Wing is a positioning pillow designed with two holes for use with toys. The First hole is designed to hold a vibrator or a dildo so one can ride the Wing while being penetrated. The other is designed to slip in a bullet or a vibrator so you can straddle the Wing and have clitoral stimulation. The Wing measures 24" long, 15" wide and 9" tall. It weighs in at 3lbs. Like all Liberator pillows, it is made with stiff foam and is incased in two layers. The outer layer being a microfiber material that does a great job sticking to other fabric surfaces (sheets, carpet, etc). The second layer is a nylon like layer that is supposed to be water proof, so no worry about body fluids, lube, or other liquids.
When looking into getting our Ramp/Wedge combo set the misses saw eyeing the Axis Hitachi and the Pulse. I told her that I would look into getting her something like those to so she could enjoy some hands free solo play. She narrowed it down to the Axis Hitachi, and I was reading more up on it and I ran across the Wing. Because we had talked about doing some double penetration, this seemed like a great idea, but she really wanted something that would accommodate her Hitachi. In looking into if the Wing could accommodate the Hitachi, I only saw one comment that it could in a EF forum posting, saying that they had seen it done in one of the Liberator stores. So I took the plunge and purchased the Wing. It arrived in a large cardboard box incased in a plastic bag. Before we could even get it to the bedroom, it was covered in dog hair.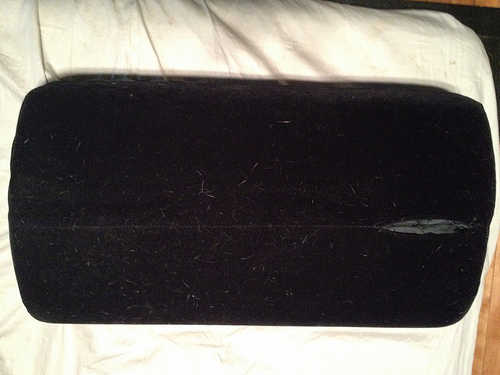 After getting out Ramp/Wedge combo, I purchased the storage bags from Liberator. So I was hoping that they would have the bag for the Wing as well. I got a response from Liberator's customer service saying that they plan on having bags available sometime in early 2012.
The very first thing that we wanted to know was if it would take the Hitachi Magic Wand. Unlike the Axis Hitachi, there is no mechanism to feed the cord or to operate the switch. So we pulled the cord along the length of the Magic Wand and inserted it into the Wing! Voilà! It fit! Now there are a couple of things to note. It's a tight enough fit that you should probably wait to plug in the Hitachi after you have inserted it into the Wing. You probably want to put some pressure on the Wing if you are actually going to apply your body weight to the Hitachi. Last, you have to be careful about how much pressure and movement you use with the Hitachi inserted because the fit is so tight, movement can change the position of the Magic Wands switch.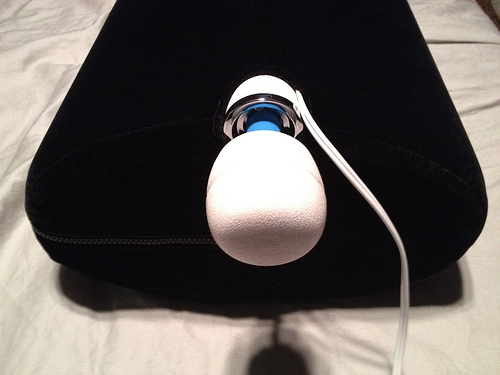 Second was can the Wing handle our dildos? The answer was yes! All of our dildos have a base of some sort. Now the very easiest ones to use are ones with a circular base. Ones with balls can be a lot harder to get inserted into the opening. But once you get them in there, they are going to stay put.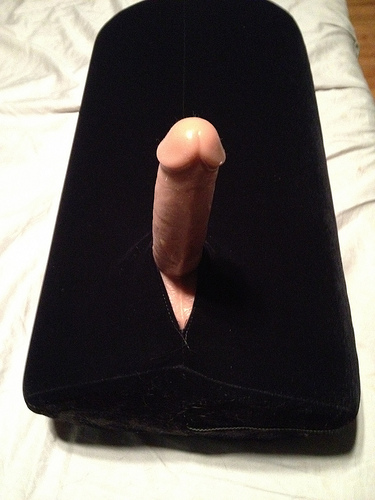 Cleaning and Maintinence:
Cleaning and caring for the Wing is damn easy. When you are ready to wash it, just unzip the the layers, and you can wash the microfiber layer in the wash on the cold cycle. We tumble dry ours on a low setting. The nylon layer we just wipe down with cleaning wipes or baby wipes. We can't wait for the optional storage bag to hit the market, but for now, we just have it tucked in our closet. It's not the easiest thing to store in the world. It would fit nicely under most bed frames, but ours is too low to the ground.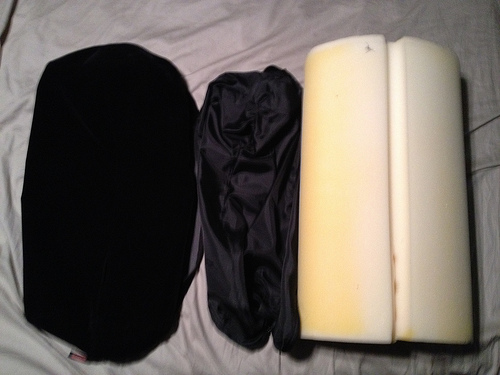 Experience
We've really liked ours so far. It's been great for both of us for solo play, as well as play together. It's definitely a great way to experience double penetration without the added complications of the third party. I can't say it's an addition that we've used a ton, but definitely one that has seemed worth while. Frankly, I've been more impressed with this than our Ramp/Wedge combo set. It just has been way more fun! Also, it really does work great as a support pillow for lying in bed and watching movies and what not.
Follow-up commentary
2 months after original review
I can't say that we've had a ton of use out of this, but it's been great for what we have used it for. She's riden it, I've riden it, and I've rode her on it! It's a great addition, and a lot of fun to pull out every once in a while when you want something different. Fits her Hitachi Magic Wand fantastically and would totally recommend it for anyone who is looking to have a awesome hands free Hitachi or other magic wand experience.
This product was provided at a discounted price in exchange for an unbiased review. This review is in compliance with the FTC guidelines.

Thank you for viewing
Liberator Wing
– position pillow review page!