Just slightly thicker than water
I had purchased the H20 formula first and then the sassy booty. They each have their purpose. I like the sliquid's products. They don't get STICKY!!!! H20 tends to mix nicely with your natural lubrication and it just disappears. NO goo in the morning, no showering afterwards.
Published:
Pros:
Natural Ingredients
Paraben and glycerin free
clear bottle
waterbased
Cons:
can get messy
Sliquids H20 formula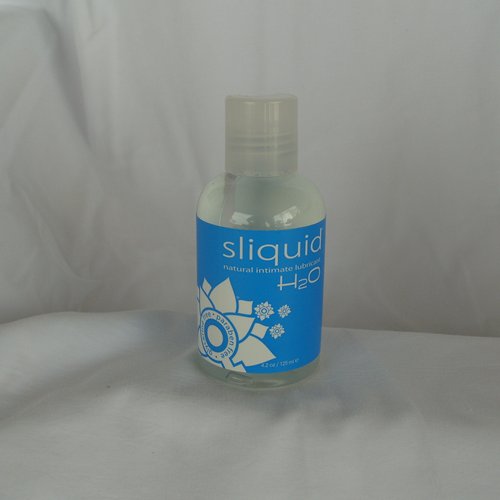 Use
I prefer the H20 for vaginal use and for using my clitoral vibes. It can be used for anal use too. H20 is made from natural ingredients. No parabens and no glycerin. H20 is water based and safe to use with all types of materials, Latex, Plastic, rubber and of course our beloved Silicone toys. It is safe to use with condoms. There are no flavor additives to H20.
Texture/Consistency/Thickness/Viscosity
Thinner than Medium density Jack aide. It is only slightly thicker than it's namesake, water. It is quite a bit thinner consistency than the sassy formula, KY and Astroglide. These are my frames of reference. I have noticed that I needed to use more lube than I did when using the Medium density Jack aide. Remember though that Jack aide contains parabens and glycerin. Because it is thinner it doesn't seem to stay put and can get on your sheets and on other items. Luckily it will not stain. You may want to keep a towel handy.
I have to say it because I am the queen of sticky, I hate sticky with a passion. Just can't deal with it and this formula is not sticky at all, it didn't even become tacky when I used it. It mixes well with your natural lubricants and just seems to go away. No residue and no goo.
Taste/Aroma
This lube is completely free of scent and taste.
All Vegan Ingredients
Water
Plant cellulose(from cotton)
Cyamopsis (Guar conditioners)
Potassium Sorbate
Citric Acid
These are the same ingredients as the sassy booty formula.
Sliquids claim to fame is that their lubricants do not contain any Parabens or Glycerin.
According to sliquid's web page, "Instead of using Glycerin they use a plant cellulose and add in Cyamposis, a hypoallergenic additive to help the plant cellulose glide."
Performance
It doesn't get sticky! With the H20 formula I did have issues with this lube drying out with my usage. This didn't happen with their sassy formula which is thicker. But I believe that my clitoral /vaginal sessions last longer than my anal sessions. I have heard others state in their reviews that they have to reapply most water based lubricants. According to Sliquids web site, water based lubricants dry out faster than silicone due to the fact that the water molecule is larger than the inert silicone molecule. When you notice your water based lubricants starting to dry rather than reapply. If you keep a glass of ice water next to the bed you can simply run your hand on the sweat of the glass and touch your drying areas. This amount of water should be sufficient enough to reactivate your lube. I read that on the internet, I cannot take credit for it.
Packaging
H20 comes in a 4.2 ounce clear bottle so that way you can see how much you have used or how much you have left (you need to know when it's time to reorder). It has a snap type cap allows you to squeeze out the amount you want. I have notice that this formula can tend to leak down the cap when you pour it out. The label for H20 is a bright turquoise with white writing on it. It does state that this formulated to last longer than most Hollywood marriages!
Sliquid has a wonderful web site to see all of their products and compare them. They even have Lube 101.
I would suggest to take a peek at it. www.Sliquid.com.
Experience
One thing that I just noticed is that the ingredients that are listed on the product page aren't the same as listed on my bottle. But, in checking their web site the ingredients on the site matches my bottle. I wonder if the product page was built prior to a change in their product.
Follow-up commentary
3 months after original review
I really like the Sliquid products!! First of all they are not sticky and I have huge issues with sticky. They are made from the best ingredients and don't contain any of the nasty stuff. They work well and I don;t have any issues with them drying out.
This content is the opinion of the submitting contributor and is not endorsed by EdenFantasys.com

Thank you for viewing
H2O lube
– lubricant review page!