Sliquid Roundup #5: The water of life... for sex!
Wanna try Sliquid? This is a fantastic introduction into their products. All natural, long lasting lube that should fit the bill for those looking for a body safe, water based lube.
Published:
Pros:
Glycerin and Paraben free
Re-activates with a little bit of moisture
Cons:
Not as thick as the other Sliquid lubes
Does not last as long
Welcome to my latest installment of the Sliquid Roundup! I started down this road trying to find some better lubes and ended up with all these Sliquid lubes because no one really seemed to have a comprehensive comparison, just brief snippets. Why Sliquid? Well, they are made from almost all natural ingredients, are body safe and if you are prone to yeast infections, UTIs or other issues, these may help a ton compared to other lubes. They are all Glycerin and Paraben free, as well as totally vegan! So, something in the Sliquid family of lubes should meet your needs!
Todays Sliquid... the H20!
As with all products, the first impression you have about the product is all based on looks. For some folks, they choose products almost on looks alone. And if that's the case, this is a sleeper. The bottle is plastic with a simple blue and white label. There is very little that stands out about this. On the other hand, it's not super discreet either. It's pretty clear what is inside of this from across the room. So if you are worried about people finding it, don't leave it out. Its pop top is great for easy access to the lube and is perfect for not making a mess all over your bags when traveling.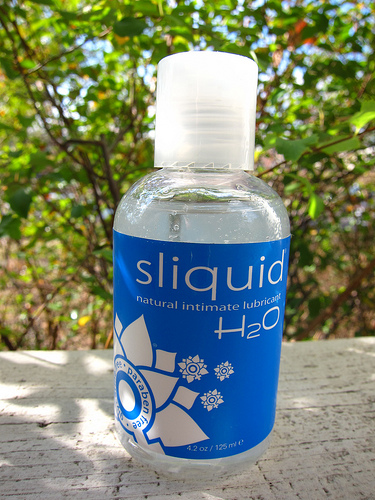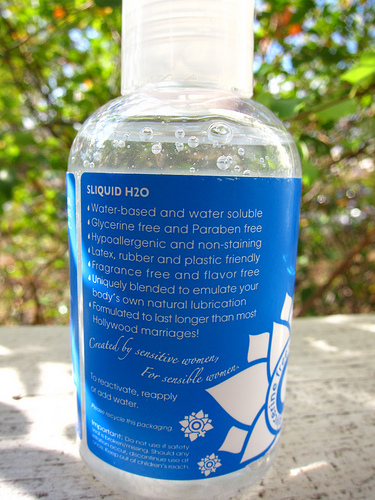 The second thing you will notice about this lube is it's not "thin". It's not exactly super thick either, but with a name like H20, I expected a liquid lube. It has a slight fragrance which almost smells like soap to me, it's not bad at all though. Very light and slightly botanic. And it tastes exactly like... like macaroni and cheese... oh wait, that's what I had for lunch! It really does taste exactly like it smells, but it's one of the quickest fading tastes compared to all the other Sliquid lubes that I have tried.
Now, onto use. This stuff is pretty rock solid. I've only used it for vaginal sex and for masturbation. During sex it has preformed extremely well. We've never had to re-apply, except for after taking a short break. We haven't tried it for anal. It seems to perform pretty well, and I wouldn't hesitate to try it, but I know a lot of folks like much thicker lubes. Masturbation with my Fleshlights works pretty darn well. It seems to last a good 15 minutes, give or take a couple before needing to re-apply. Now, you can, instead of applying more, use a bit of water (or saliva) to recondition the lubrication when it becomes dried out, though when I've tried doing that, it doesn't seem to last as long as it does with a reapplication of lube. This is also one of the reasons why it lasts so long during sex; because your bodys natural fluids keep it slick and lasting.
An interesting thing about the H20, as well as all of the Sliquid lubes save the Silk and the Silver, is that when friction is applied, it starts having a slight foaming reaction and starts appearing white rather than clear.
As asked for by popular demand, here are the ingredients!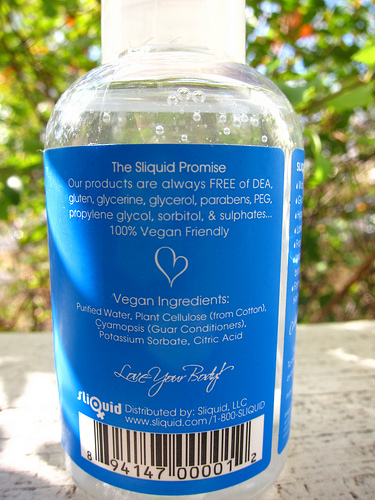 Purified Water, Plant Cellulose (from Cotton), Cyamopsis (Guar Conditioners), Potassium Sorbate, Citric Acid
Experience
Comparison
Since there isn't a "Comparison" section, I'm using the experience section for that. Here is where I wanted to really get into the details. How do all these other lubes stack up to this one?
First, we are going to start with some data.
Here is a picture of my vertical hold, flat surface test.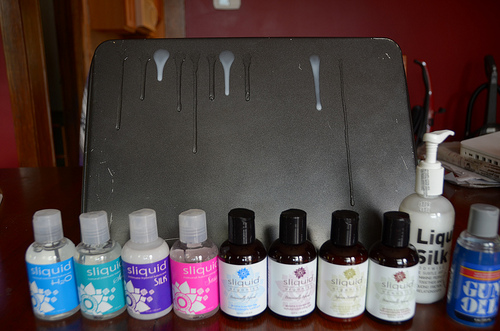 Here is the chart with all the data.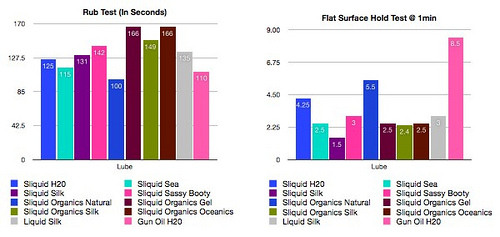 Now for opinion...
vs the
Sea
: The Sea is thicker and has a much more pungent aroma. Frankly,
I like the Sea
better than I do the H20. It feels better to me than the H20.
vs the
Silk
:
The Silk is an amazing lube!
It feels like a womans natural lubrication, and frankly takes the cake for most play. It does contain a small amount of silicone, and so may not be compatible with every product out there, but I haven't found one yet. Though, I'll say, I like the
Organics Silk
more than the regular Silk. I'd reach for either of these before I would the H20.
vs the
Sassy Booty
: The Sassy Booty is designed for anal play. And I'll say it works quite well at that. Since I haven't tried the H20 for anal, I can't say if it works as well, but even for everyday use, I'd reach for the Sassy before the H20, save maybe in my lube pigs (Fleshlights).
vs. the
Organics Natural
: The Organics Natural is designed to be the equivalent in the Organics line, and the H2O blows it out the water. The H20 works hands down better than the
Organics Natural
.
vs. the
Organics Silk
: This is by far and away my most
favorite Sliquid lube
. The Organics Silk is like the Sliquid Silk, but better. Why? I can't quite put my finger on it, but it just feels better than the regular one. This is my go to lube.
vs the
Organics Gel
/
Oceanics
: Now, I've been lumping these together because short of their ingredient list, they are identical. Same thickness, same staying power, I cannot tell a difference at all. If I want something that is totally water based, and thick, these are my go to lubes or my #2's.
The H20 is honestly my second from the bottom, just one up from the Organics Natural. That does not mean that it is a bad lube in any way, shape, or form. It's definitely worth picking up a bottle and seeing how it works for you.
Please check out the other installments of the Roundup!
Sliquid Roundup #1 - Organics Silk
Sliquid Roundup #2 - Sea
Sliquid Roundup #3 - Silk
Sliquid Roundup #4 - Organics Natural
Follow-up commentary
3 months after original review
We've used this a handful of more times, and I have to say, it seems to work pretty well. Still dries out super fast if you stop for any length of time. I've used it as well with my Fleshlights and sleeves and unless I just gob it on, it doesn't seem worth it. I'd say it's a good penetration lube, just not great for much else.
This content is the opinion of the submitting contributor and is not endorsed by EdenFantasys.com

Thank you for viewing
H2O lube
– lubricant review page!