Sliquid Roundup #1: Oh this Organic Silk road
Frankly the best, most natural feeling lube that I have used. I really wish it came in much larger quantities.
Published:
Pros:
Super realistic feeling, long lasting.
Cons:
Maybe not compatible with all toys. Can't buy it in larger than 8.5oz.
Welcome to my first installment to my mega roundup of Sliquids Products. My fiancee and I were really disliking the lube we had, so we started to look at others and quickly discovered Sliquid. We've been amazed with how awesome their products are and I've set out to review most of their products. Now, I've all ready reviewed some, but have been pitting some new ones versus others.
Sliquid Organics Silk
There are times when products are good, some are really great, but every so often something is so fantastic, adjectives can't do it justice. This is the case with Sliquid Organics Silk. Why? It probably has a lot to do with the fact that it is a hybrid lube. It contains 12% silicone, to the 88% water based so you have almost the best of both worlds.
As with all the Sliquid's water based lines, the Silk also includes plant cellulose, which is what keep the lube staying slippery while they are in contact with our bodies natural fluids. And we can't of course forget that it contains all the organic goodness. Now, the silk differentiates itself from the rest of the Slquid line by being white versus a clear lubricant. As with the Sliquid Organics line, the Silk comes in a brown tinted plastic bottle. The label has the Sliquid lotus icon as do the rest of the line, but the Silk's color is taupe, which I have to say, doesn't scream silk to me, but who am I to say.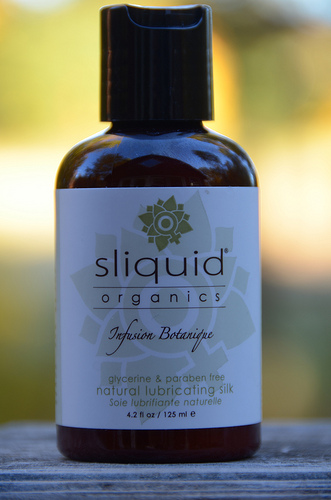 The other very interesting thing about this lube is its color. It's white and, dare I say it, almost cum like; which makes it a little surreal applying it, probably because all of the other lubes that we have ever used have always been clear. As far as the smell and taste go, when you inhale, it's hibiscus, rose hips and again some tea scent. With a little trepidation I did taste it and have to say you definitely has a sour/bitter chemical taste. You can make out the smells when tasting as well; but, frankly the sour/bitter chemical taste is way overpowering. I'd avoid giving head after using this.
When it comes to its use, this one shines. Compared to the rest of the lubes we've tried, they all just feel feel like "lube", maybe it's the silicone component. It's a little tough to put your finger on it, but it feels natural, like how your body's fluids are supposed to feel. This makes penetration amazing. There was no drying or re-applying, just fantastic romps!
When it comes to solo play, this lube is fantastic as well. I was a little skeptical if it would still retain it's natural feeling, but amazingly it did for both of us! At this point, I want to give you a word of caution. Since this is a hybrid lube that contains silicone, this may not be compatible with all toys. You want to be careful with which toys you use this with, particularly TPE & TPR, but also 100% silicone. I would highly recommend you spot test before use. If it looks like it's going to be ok, then make sure you clean your toys immediately after use. Again, for both of us, it made insertion feel extremely natural. How could it make insertion for me, a guy, feel natural? I took the risk and tried some of the Organics Silk and applied it to the base of one of my Fleshlights and had no side effects. I applied it to the Fleshlight and waited... no melting or other craziness. Next step, finger fuck the Fleshlight. Looks good. Then I gave it a try, and really, wow! It felt like how a very turned on woman feels.
Clean-up is just as easy as any other water based lube. Just rinse or use a wet wipe and you are good to go! As well, the Organics Silk also just dries and absorbs into your skin; so, if you are lying in a post coital puddle, you can just let it dry and then it's gone.
Here are the "Vegan Ingredients"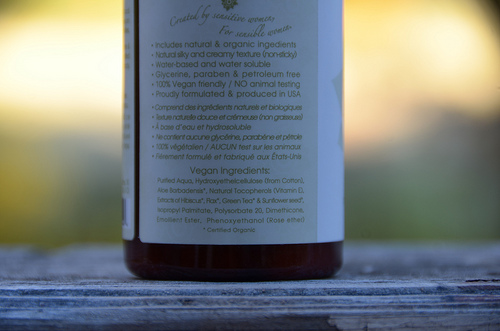 Purified Water, Plant Cellulose (from Cotton), Aloe Barbadensis, Natural Tocopherols (Vitamin E), Extracts of Hibiscus, Flax, Alfalfa, Green Tea & Sunflower Seed, Isopropyl Palmitate, Polysorbate 20, Dimethicone, Emollient Ester, and Potassium Sorbate.
Experience
Comparison
Now, since there isn't a "Comparison" section, I'm using the experience section for that. Here is where I wanted to really get into the details. How do all these other lubes stack up to this one?
First we are going to start with some data.
Here a picture of my vertical hold, flat surface test.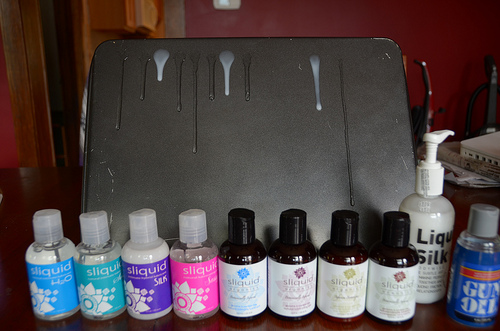 Here is the chart with all the data.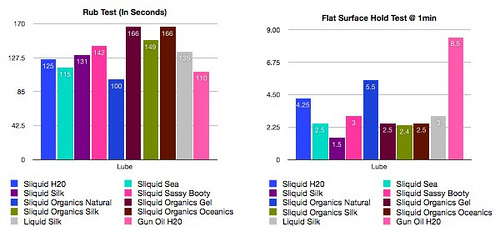 Now for opinion...
vs the
H20
:: Comparing these two is tough, because the Organics silk in unlike any other standard lube. Though they are made by the same company, it's like comparing a good major league baseball team to a multiple World Series winning team.
vs the
Sea
: Again the Sea has something of an extra pazzaz that is hard to put your finger on, but in most ways it's pretty much like the H20.
vs the
Silk
: Now comparing these two is tough. They are essentially the same thing, and as I stated previously, they are basically the same thing. But there is something about the Organics Silk that is just better. It's just like the little something extra to something insanely delicious that you can't put your finger on. It's like having a splash of rum added to home made whipped cream.
vs the
Sassy Booty
: Since the Sassy is supposed to be a more "specialized" lube it's a little tough. I haven't used the Organics Silk for Anal, but if it can work, it's going to be a really awesome. The sassy, for for everything else, I'd prefer the Organics Silk.
vs the
Organics Natural
: I dunno, I just haven't been wowed by the Organics Natural, and frankly the Silk is lightyears beyond it.
vs the
Organics Gel
/
Oceanics
: For a basic gel lube, these two are the best I have used. I lumped them together because I really can't tell a difference besides the ingredients. Despite them basically being the same, and they are fantastic, it's just that the Organics Silk has a smoother more natural feel. If I didn't have my Organics Silk I'd reach for either of these two, and frankly, I wouldn't care which one I grabbed.
Follow-up commentary
3 months after original review
This is my favorite lube. It's just so natural feeling and frankly, lasts forever. Seriously, we've never had to re-apply this. Even though it's a little thinner in initial texture, it's got the staying power of the thicker gel's so it's worked really well for anal as well. It's also worked great with all of our silicone toys and my Fleshlights. The only thing that I'm a little disappointed with was the size of the containers.I wish it was sold in 32oz or 64oz pump bottles! Alas, it is not. If you haven't tried this lube, put it on the top of your list, you won't be sorry.
This product was provided at a discounted price in exchange for an unbiased review. This review is in compliance with the FTC guidelines.

Thank you for viewing
Sliquid organics silk
– lubricant review page!