Sliquid Roundup #4: A Natural Head Scratcher
I really want to like this lube, but I'm scratching my head in comparison to all the others. It just seems to fall short of my expectations.
Published:
Pros:
All natural, organics and vegan lube.
Cons:
Doesn't last as long as the others in the Sliquid lines.
Welcome to the fourth installment of the Sliquid lube Roundup. I started down this road trying to find some better lubes and ended up with all these Sliquid lubes, because no one really seemed to have a comprehensive comparison, just brief snippets.
Todays lube in the Roundup...
Sliquid Organics Natural
The Sliquid Organics Natural is the most basic lube in the Organics line. It's a clear lube that is somewhere in between runny and a gel. It's packaging is in a somewhat opaque brown plastic bottle with a while label, with black text and blue Sliquid lotus logos. One of the awesome parts about this, as well as the rest of the Sliquid Organics line, is that it seems pretty inconspicuous. It could easily be mistaken for a bottle of lotion or massage oil or something. It's pretty good for travel. It's got a push top, so it's not easily opened, and I feel very safe throwing it into a bag and going. Now, because it's over 3oz, you cannot take it in a carry on. Though it does come in three sizes, 4.2oz, 8.5oz or the .17oz trial packet, which would be very awesome for plane travel.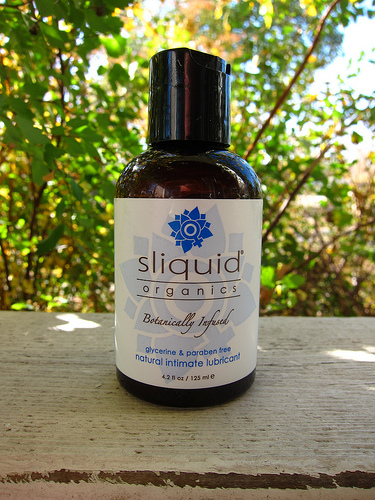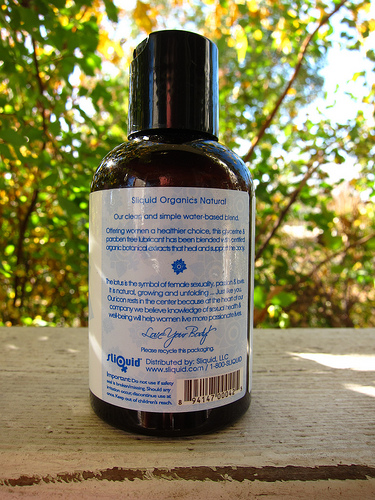 Now smell and taste. It's smell is pretty faint, but reminds me of an apartment lobby that a friend used to live in. It's taste is pretty much the same. I think it's because of the hibiscus, green tea, sun flower and citric acid. I can get all those from smelling and tasting this. It's not as good as some of the other lubes, but I would have no problem performing oral after or during use of this lube.
When it comes to use, the Sliquid Organics Natural, though a little bit thinner, worked a fairly long time during sex. The interesting part was it has been the only one of the Sliquid lubes that we needed to re-apply. Now that may have been more circumstantial that anything else, but to us it was pretty remarkable. We both agreed that we would (probably) never use this lube anally. Now critically folks say that Fleshlights are lube hogs, and this lube really points this out. You need to apply quite a bit to even get to a good starting point, and then re-application was needed after about 6 or 7 minutes in. Frankly, compared to the rest of the lubes from Sliquid, it seemed like it only worked so so. Clean up with the Organics Natural is easy. A quick rinse off or wipe down with a baby wipe (or cleaning wipe) takes care of the job. It also gets absorbed into the skin fairly quickly, so you could just let yourself air dry.
Now all of the Sliquid lubes you can re-activate with a little bit of water, saliva, etc. We were actually surprised on how short this lasted in comparison to all the other Sliquid lubes we've used, because it was a very short amount of time, maybe a minute or two.
One of the awesome parts about this lube is the ingredient list. It's all natural, as well as a vegan lube, if those things are important to you. It's also glycerin and paraben free. Here is what's in it.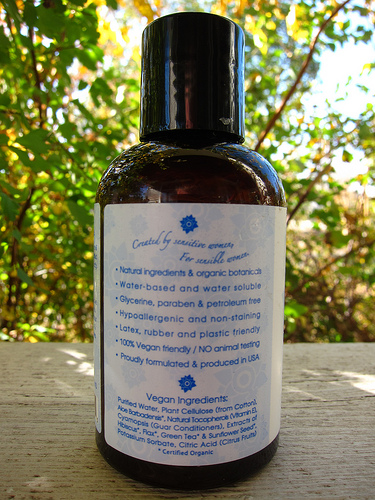 Purified Water, Plant Cellulose (from Cotton), Aloe Barbadensis, Natural Tocopherols (Vitamin E), Cyamopsis (Guar Conditioners), Extracts of Hibiscus, Flax, Alfalfa, Green Tea & Sunflower Seed, Potassium Sorbate, Citric Acid (Citrus Fruits).
Experience
Comparison
Now, since there isn't a "Comparison" section, I'm using the experience section for that. Here is where I wanted to really get into the details. How do all these other lubes stack up to this one?
First, we are going to start with some data.
Here a picture of my vertical hold, flat surface test.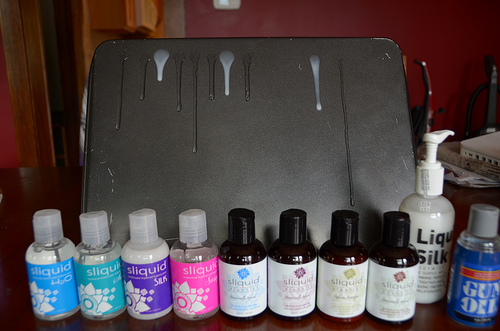 Here is the chart with all the data.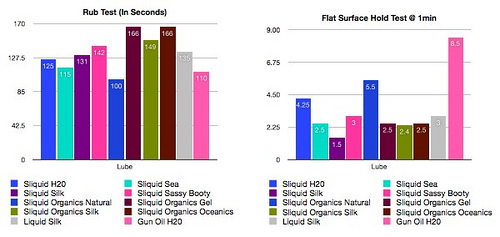 Now for opinion...
vs the
H20
: the H20 is probably the closest to the Organics Natural, but it's just frankly way better. If you are looking for something in between runny and gel consistencies, I'd pick this one. I'd point out that I would probably actually buy any one of the other ones listed before the H20.
vs the
Sea
: The Sea rocks. Pretty plain and simple. Not in at the very top of my list, but way better than the Organics Natural.
vs the
Silk
: The Silk is my backup to my Organics Silk. It's great and I'd buy it in a heart beat before I bought the Organics Natural.
vs the
Sassy Booty
: The Sassy is another fantastic lube, though it's a little more specialized than the others. It's another one I'd look at before the Organics Natural.
vs. the
Organics Silk
: This is my favorite of the Sliquid lubes. It simply is fantastic and totally natural feeling. If you haven't tried it, try it.
vs the
Organics Gel
/
Oceanics
: These are tied as my second favorite lubes, they are so similar it's hard to distiguish besides ingredients. They are everything and more that I would have expected to get out of the Organics Natural.
I'm not going to mince words. This has been the worst preforming lube out of all the Sliquids. Maybe it's because I/we tried so many of the other Sliquids first, but frankly, I'd pick anyone of these other lubes before I would pick the Organics Natural. It's not bad, it's just meh.
Please check out the other installments of the Roundup!
Sliquid Roundup #1 - Organics Silk
Sliquid Roundup #2 - Sea
Sliquid Roundup #3 - Silk
Follow-up commentary
2 months after original review
Ok, I've started to like this one a little more than I said in my previous review. I've been trying to "use it up" in my Fleshlights which tend to be lube hogs and it's seemed to do pretty well. I have to re-apply durring longer sessions, but really, it's not that big of a deal, and especially if I use enough of it up front, it seems to go for a good while. Though I can't say that it's my first choice in Sliquid lubes, it's natural and better than a good fair number of the competitions lubes.
This content is the opinion of the submitting contributor and is not endorsed by EdenFantasys.com

Thank you for viewing
Sliquid organics natural
– lubricant review page!