Sliquid Roundup #2: Sliquid of the Sea
They say it's "Formulated to last longer than most longer than most Hollywood Marriages!" and they aren't far off the mark. This is a great option for someone looking for a natural, long lasting water based lube.
Published:
Pros:
Performs well, smells good and contains sea botanical goodness.
Cons:
Maybe not as long lasting as others.
Welcome to my second installment of the Sliquid Roundup. I started down this road trying to find some better lubes and ended up with all these Sliquid lubes, so I decided to do a round up -- Pit them against each other.
Sliquid Sea
My first impression of the Sliquid Sea is that it was a lot thicker than I expected. For some reason I was expecting something that was way thinner; to my surprise, it's not thin at all. It's about as thick as all of the other Sliquid Gel lubes. Like all other lubes in the Sliquid line, the Sea comes in a clear plastic bottle. The label is way more of a turquoise or aqua color with plain white text with the standard Slquid lotus logo.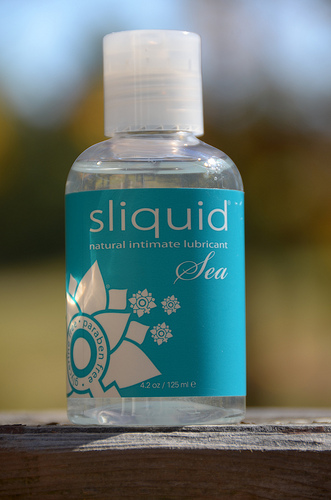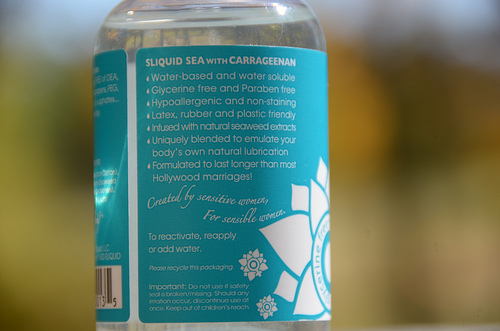 Smell and taste? This one is fairly pungent. Upon opening and wafting the lube, there are definite citrus and tea aromas, fairly sweet. The flavor is similar with an after-taste of lube. It's not a bad after taste, but something that is not exactly pleasant either with no real chemical taste. Like the rest of the Sliquid line, this one too reactivates with additional moisture. In cases where you need to apply some additional moisture to re-activate, try giving some saliva-rich oral sex and see how it works. If noting else, you will get some fantastic tastes of you and/or your partner, as well as the botanically infused lube.
When it comes to the use of this lube, it's pretty darn good. When it comes to vaginal sex, we've never had to re-apply. The Sliquid Sea's ability to keep slick is amazing. During masturbation with my Fleshlights, this one has been good, but not as great as some of the others. It lasts a good 10 minutes plus. It definitely has needed re-moisurizing or re-application.
As with the rest of the Sliquid water based lubes, clean up is super easy. You can use any method you want, from rinsing off or a little rub down with a baby or cleaning wipe. Heck, you can even just let it dry while your skin absorbs it.
Because I know you all are interested, here are the vegan ingredients: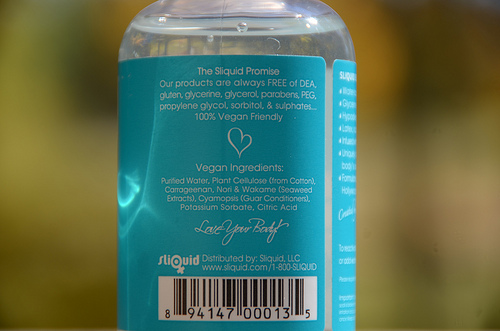 Purified Water, Plant Cellulose (from Cotton), Cyamopsis (Guar Conditioners), Carrageenan, Wakame, Nori, Potassium Sorbate, Citric Acid
Experience
Comparison
Again, since there isn't a "Comparison" section, I'm using the experience section for that. Here is where I wanted to really get into the details. How do all these other lubes stack up to this one?
First we are going to start with some data.
Here a picture of my vertical hold, flat surface test.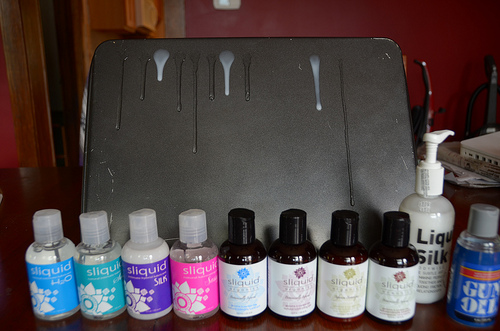 Here is the chart with all the data.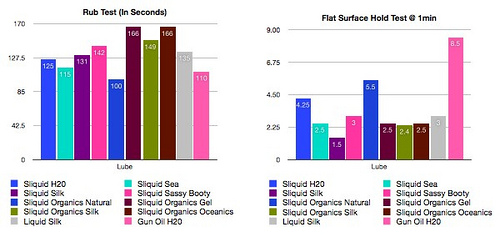 Now for opinion...
.vs the H20
: The H20 definitely seems to last longer during masturbation but doesn't have the same kind of natural slickness feel that the Sea does. Ultimately, they are very similar, but neither would be my go-to lube in this list.
.vs the Silk
: Comparing these is tough, because the Silk is a hybrid and frankly, I just like what Sliquid has done with both of the Silk lubes. I'd still default to the Organics Silk, but if I ran out of that, this would be my next choice. For masturbation with silicone/life like material toys, I wouldn't use the Silk.
.vs the Sassy Booty
: The Sassy is just a great all around lube. Though it's supposed to be a bit more "specialized" I defiantly wouldn't reach for the Sea for anal applications.
.vs the Organics Natural
: I think the only thing that I can say is the the Sea is way better that the Natural. Any other of the Sliquids are better than this one.
.vs the Organics Silk
: As stated before, it's tough to compare these because the are so different. The Sea though is a good alternative when wanting to do play with toys that are made of silicone or lifelike materials that might have adverse reactions to the Organics Silk.
.vs the Organics Gel
and
Oceanics
: The Sea is fairly close as far as consistency, but both the Gel and the Oceanics seem to have a little longer staying power, and are just slightly thicker as well. I'd reach for these two before the Sea.
All in all, this is a pretty great lube. I'd reach for the
Organics Silk
or
Organics Gel
/
Oceanics
before this one, but it's pretty darn good lube.
Follow-up commentary
2 months after original review
Well, how do you say that you still really like a product but it's about 4th on your list for water based, more gel like lubes? Seriously, this lube is awesome. I just prefer a handful of others before it. I would just go with the Organics Gel or the Organics Oceanics or the Sassy Booty (in that order) before I bought the Sea again. Do I think it's worth trying? Absolutely! I'm super happy to have it in my arsenal, and would totally recommend it to anyone.
This product was provided at a discounted price in exchange for an unbiased review. This review is in compliance with the FTC guidelines.

Thank you for viewing
Sea
– water based lube review page!