Sliquid Roundup #3: Silk and the other fine things in life
Next to it's organic brother, this is the best lube I've ever used. They just need to make this in bigger bottles with a pump and then I'll be in lube heaven.
Published:
Pros:
Lasts long, body safe, bright purple container.
Cons:
Might not be compatible with all toys.
Welcome to the third installment of my Sliquid Lube roundup and comparison. I started down this road trying to find some better lubes and ended up with all these Sliquid lubes, because no one really seemed to have a comprehensive comparison, just brief snippets.
So here we are, talking about the
Sliquid Silk
First, I have to tell a little story about how I got my Sliquid Silk. I had ordered the
Sliquid Organics Silk for review
but ended up getting just the standard Silk. I wrote Eden's customer service inquiring about doing an exchange. I was informed that they could not give me an exchange because they do not take returns of any sort on lubes. So they offered to send me out the Organics Silk and let me keep the regular Silk as well. So thanks Eden for having the best customer service out there.
As with all the Sliquid lubes, the Silk has a very simple presentation: solid color (purple in this case with white text and a block image of a lotus on the label over a clear plastic bottle) with a push cap lid. One thing that you will notice is that the lube is not clear, like most lubes, but it is actually white. Once out of the bottle and on skin, it looks fairly cum-like. The other thing that struck me is, while it's not as thick as most gel lubes, it seems to spread more easily and stay in place better than most gels. As far as its other properties, it has almost no scent and the taste is like sucking on sour chemicals. So you probably want to avoid any oral contact with this lube, unless you are into sucking or licking sour chemicals. The container is pretty travel safe, though you might want to throw it into a zip lock on the off chance it might pop open.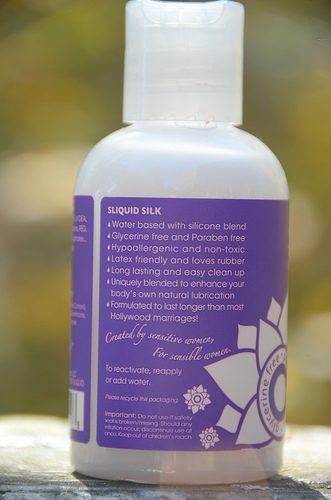 Another noteworthy thing is that they claim on the label that it is "Formulated to last longer than most Hollywood marriages!"
Now when it comes to use, it's very much like its organic sibling. Wow, does it feel natural. I've always disliked the fact that lube feels like lube. Granted, it still feels great, but this stuff feels just like pure natural slickness. Now we haven't tried the Silk for anal yet, but because it stays in place so well, I imagine that it could be good for it. The other great part is, as with all of Sliquid's lubes, it will actually stay slick when it comes in contact with our body fluids. We've never needed to re-apply when using this; we can just go to town and it keeps working.
Also, I love using this in my Fleshlight. I was concerned when I tested the Organics Silk that it might cause damage to it, but I've used both repeatedly in my Fleshlights and I have never had a problem. I'm delighted with this, because I can really sense more of a difference between normal lube and the Silk in my Fleshlights.
The Misses loves it too because it's safe to use with pretty much all of her toys as long as we wash them right away. We've spot tested Silk with all of our silicone toys with no negative results. We have just avoided it with insertables that have any sort of coating on it that isn't 100% silicone. So glass, metal, plastic are all safe. I will say that you probably want to test this lube if you aren't sure if your toy and it are compatible. And when we are all done, clean up is a breeze. You can rinse it off easily, use a wet wipe, or a towel, or just let yourself air dry and your skin will absorb it right up and leave you feeling nice and moisturized.
As asked for by popular demand, here are the ingredients!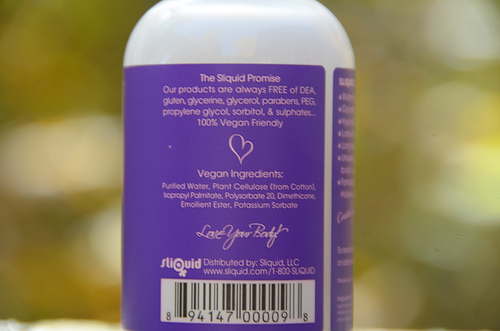 Purified Water, Plant Cellulose (from Cotton), Isopropyl Palmitate, Polysorbate 20, Dimethicone, Emollient Ester, Potassium Sorbate
Experience
Comparison
Now, since there isn't a "Comparison" section, I'm using the experience section for that. Here is where I wanted to really get into the details. How do all these other lubes stack up to this one? First we are going to start with some data.
Here a picture of my vertical hold, flat surface test.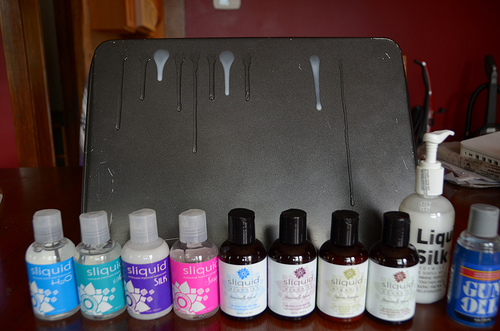 Here is the chart with all the data.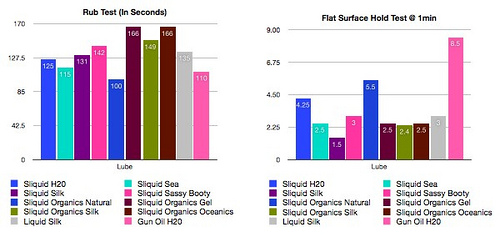 Now for opinion...
vs. the
H20
: The H20 is a pretty basic lube. It's like a really thin gel, but not quite a Liquid. The Silk, is just way better than the H20.
vs. the
Sea
: The Sea is a little thinner than the Silk as you can see from picture above. I really like the Sea (
Sliquid Round-Up #2
but I have to say, the Silk(s) are just better for most applications.
vs. the
Sassy Booty
: I've said this in all the other Round-Ups: the Sassy is a great lube and is geared towards folks who like a thicker lube. However, but it's really like having two completely different types of bread. Some people prefer baguettes, while other people prefer ciabatta.
vs. the
Organics Natural
: In comparison to the rest of the lubes listed here, this is my least favorite. It's just plain "meh" in comparison. It's not a bad lube, it's just the Silk blows it out of the water.
vs. the
Organics Silk
: Now this is where the comparison gets very hard. These two are almost identical. There is a slight variation between the two, and I like the Organics Silk more. I can't tell you why, but the Organics Silk just has a je ne sais quoi about it. Though, if I ran out, I'd be very happy if I had the standard Silk as a backup. The other thing that I feel is worth pointing out is that the standard Silk just looks like it's probably lube or something goofy. The Sliquid Organics lines look like they could be some lotion you find at the co-op or a little massage oil. They just seem to me to be a little less conspicuous.
vs. the
Organics Gel
/
Oceanics
: Now I love these two pretty much equally. Besides some light difference in scent and ingredients they are exactly the same and they rock! Again, it's like comparing two styles of anything. Some prefer one, others prefer another. But to me, for a gel lube these are the cat's meow, and I'd reach for them almost as quickly as either of my Silks.
Follow-up commentary
2 months after original review
I still LOVE this lube. It's just about as equal as the Organics Silk. If I didn't have one of these two lubes in my nightstand, I'd freak. If you haven't tried it, don't walk, RUN to go get this. It's absolutely amazing.
This content is the opinion of the submitting contributor and is not endorsed by EdenFantasys.com
Thank you for viewing
Silk lube
– lubricant review page!