Wonderful Lube, Just Not For Me
I found this hybrid lube to be natural feeling, hypoallergenic and free from the ingredients most likely to irritate women, such as glycerin. There are only two drawbacks. The first is that it leaves a flaky white residue upon drying & the other is the chemical sensitivity reaction I had from the formula.
Published:
Pros:
feels natural, hypoallergenic, fragrance free, combines silicone & H2O-based lubes,
Cons:
dries out after 20-30 minutes & leaves flaky white residue
I have been on a search for a lubricant ever since I discovered toys. Due to medications, I lost some of my naturally heavy lubrication and therefore, found myself wasting time on the usual drug store brands. How I wish I had found Edenfantasys before I worked my way through product after product that caused numerous negative side effects! A lifelong label reader, I was able to identify various ingredients that were causing me such grief as rashes, burning & even bladder infections. I became more educated about how many different alternative lubricants there are. Having already found out many ingredients I couldn't use, I was able to quickly home in on the Sliquid brand. They are known for their focus on body safe, hypoallergenic, vegan, woman-friendly products. They eschew the common irritants found in many other brands, such as glycerin, fragrance, or petrochemicals, while remaining latex & rubber safe. The formula I am reviewing here is the 8.5oz Sliquid Silk, a hybrid lube containing a mixture of water-based & silicone-based lubricants. Here are the ingredients from
my
bottle's label:
Purified Water, Isopropyl Palmitate, Polysorbate 20, Dimethicone, Emollient Ester, DMDM Hydantoin
I want to point out that I received my bottle directly from Sliquid and it has the older label design, with the above ingredients.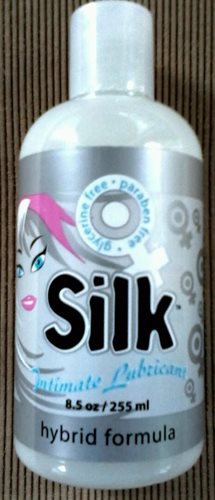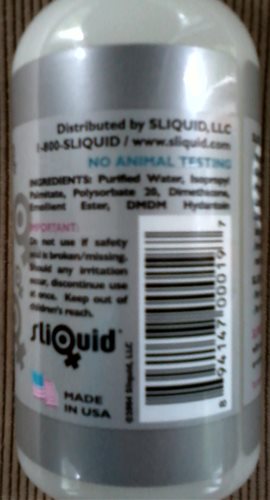 But, it appears more than the label has changed & I wanted to point out a discrepancy. Eden carries the new labelled bottles & has pictures of it on the product page. However, the ingredients on the product page match my older bottle & not the ingredients as listed on the newer purple labelled bottle. I made Eden aware of this months ago, but since the page has not been updated, I will include the ingredient list for the newer, purple labelled bottles as follows. I took this directly from the manufacturer's website:
Purified Water, Plant Cellulose (from Cotton), Isopropyl Palmitate, Polysorbate 20, Dimethicone, Emollient Ester, Potassium Sorbate
You will notice DMDM Hydantoin has been removed while Plant Cellulose (from Cotton) and Potassium Sorbate have been added. I am not going to get into all the individual ingredients & their pros & cons, you can easily see that in many other reviews, as well as all over the Internet. What I will say is that removing the DMDM Hydantoin was a smart move and made this product even more hypoallergenic & non-toxic than ever!
As for the product itself, it's a semi-opaque, milky white liquid with the viscosity of Greek yogurt.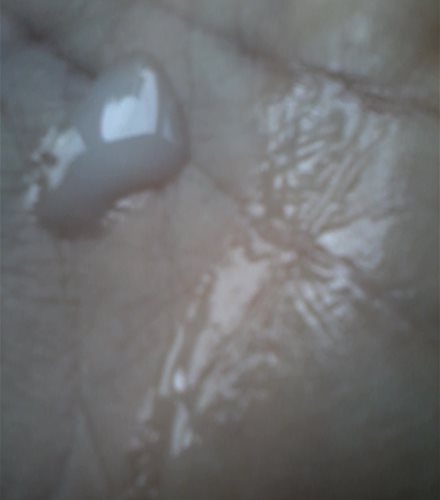 It is easy to pour out of the levered top and has a very slight fruity smell when you bring the whole bottle up to your nose. The hybrid formulation gives it the cool, wet feeling of the water-based lubes, but the silky glide & staying power of the silicone lubes. It stays in place enough that you don't have the problem of it running & creeping everywhere as you do with all silicone lubes. Nor do you have the problem of it melting, running & disappearing or drying too fast, as with water-based lubes. It combines the best of both types of lubes!
I find it applies easily, feels very similar to my natural lubrication and stays in place, rather than wandering away from where I need it. However, for long sessions, it does eventually start to dry up & I find it leaves a white flaky residue on the skin, as well as the toys. The directions state you should add water or re-apply in order to reactivate it. Using a little water worked better for me than adding more product, but eventually, I did need to use more. When using with textured toys or "grabby" surfaces such as some silicone & TPR/TPE, I needed more of the lube & needed to reactivate it more often. That's where the residue issue reared its ugly head.
Experience
To enjoy the benefits of a silky smooth, natural feeling lube, without harmful ingredients, I would gladly put up with the dry down & residue issue! But, if I played for more than 20-30 minutes with a toy, it started to dry out on me, necessitating water or more lube. Despite the warning not to use with silicone toys, I have never had any problem using this on any of my premium silicone toys. I attribute this to the fact that they used the more expensive dimethicone instead of a less expensive silicone & because I only have premium, or platinum grade silicone toys..

From the first application externally, it felt natural, cool & comfortable. But, once I introduced it into my vagina, I started to get a very slight discomfort that was difficult to nail down. I didn't outright burn, sting, or itch. I started to worry that I didn't use enough & was rubbing myself a little raw because of it, (as if I was a little too dry). The first use didn't last more than 15-20 minutes and after, I washed off the product because I'd rather be safe than sorry. Within several hours I has symptoms of a yeast infection with a burning, itchy sensation. I treated it with over the counter topical cream. I figured all the symptoms I experienced were from the impending yeast infection, since I am susceptible to them right before my period.

I am sorry to say that the next time I used it, I developed an internal soreness & was uncomfortable for a few days, with a raw, inflamed feeling to my vagina, while my vulva was slightly burning. Believe it or not, I still tried it one more time this morning, not quite sure it was the lube, or a toy. This time I used glass, something that never irritates me. Within several hours, I had a bladder infection which is something that only happens to me when my urethra & vulva become inflamed due to chemicals.

Now, why on Earth am I detailing all that for you? I am trying to convey just how difficult it can be to try & suss out the causes of negative reactions. Basically, my advice is to listen to your body's warning signs. Yours may be quite different from mine, but you will eventually notice patterns. Please, do not keep trying something that is not working for you, or is irritating you! Either way, it will not get better & can certainly get worse. It's not worth it when there are many other alternative lubricants out there. Sliquid has many different formulas including an organic line. Many companies have heeded customer requests & introduced safer alternatives. If it weren't for my chemical sensitivities and my reaction to this, I would rate it a 4 of 5 due to the flaky residue. But, after my negative reactions, I am giving it 3 out of 5 stars.
Follow-up commentary
1 day after original review
I now have the photos up! You can see the older label design.

I had to choose "I still don't like it" even though I rated it 3 stars, because I had an allergic or negative reaction to one or more, ingredients.

Other than that very individual problem, the sticky/tackiness as it dries & the resulting flaky white residue are my main complaints. I want to stress that the place I see the most flakiness is on my toys, more so than on myself.
This content is the opinion of the submitting contributor and is not endorsed by EdenFantasys.com

Thank you for viewing
Silk lube
– lubricant review page!