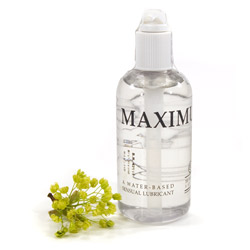 Maximus
Lubricant
by Bodywise Limited
Maximus Is the Max You Could Want From a Lube
I love this lube! I recommend it to anyone looking for a new lube. It has a short ingredient list, a great pump for easy dispensing. And it's thick enough for long hours of use without having to reapply every ten to twenty minutes.
Published:
Pros:
+Thick
+Long lasting
+No glycerin
+Minimal ingredients
+Easy to use pump
+Water based
Cons:
-Not discreet?
-Doesn't come with a lifetime supply
What is this?
This is the much talked about water based Maximus lube. It may be mistaken as hand lotion or sanitizer from afar, but within reading distance it is obviously lube. It comes in a nice, clear plastic,
reusable
pump style 8.45 FL OZ bottle. The bottle itself is clear with black writing and pictures, while the pump is white and can be locked into place by pushing it down and twisting. Locking the bottle helps to prevent leaks, doing this makes it safe to travel with, but I'd still put it in a plastic bag for added caution. The pictures on the bottle make me think of ancient Greece. It's manufactured by Body Wise Limited and made in the UK.
What's in it?
Maximus lube contains water (just plain ol' highly purified H2O),
propylene glycol
, cellulose polymer di sodium EDTA phenoxyethanol (I cannot find anything on this other then it is used in a lot of lubricants),
butyl paraben
,
ethyl paraben
, and
propyl paraben
. No glycerin, YAY!
Needless to say, if you have a known allergy to any of these products steer clear of this lube!
How well does it work?
We've only used this lube for vaginal sex and masturbation, and only use half a pump which lasts up to an hours play for us. We haven't gone over much more than hour using the lube, so we haven't had to reapply or know if half a pump can go longer than that. When it dries up it leaves a slight film on the skin but it can easily be washed away with warm water and soap (soap not necessary, but advised). You can apply the lube your partner, yourself, or any of your toys as it's safe to use with all materials.
Despite it being water based, it feels more like a gel then a runny lube. It stays in place fairly well, but if it does wind up on your clothes or sheets it won't leave any stains as it has no dyes and is not oily. Even the tiniest bit makes your skin feel like a slip 'n' slide. It has a sweetish taste to it, with a nasty indescribable background taste, we don't use it for oral, but if you don't mind the taste you can. As far as I can tell it doesn't have a smell either. And it's even thick enough for anal sex.
Experience
I love this lube! My husband and I have started using this one over all the others that we have, and will definitely be buying more when it runs out. The pump makes it easy to use with one hand, and the consistency of the lube is amazing for it being water based. We've left the bottle lying on its side and have not had any problems with leaks. It hasn't provided me with any problems that I've experienced with other lubes (discomfort, burning, etc.), and I would recommend it to anyone looking for a new lube to try. It's 100% worth the $17.99. I am so glad we purchased this lube.
Follow-up commentary
22 months after original review
This is still one of our favorite, go-to lubes. Despite various moves, being shoved under the bed and various other hiding places, and the abuse of two little boys who have found it a few times- the bottle still does not leak! This is a lube made to last, not only in the sheets, but the bottle puts up quite a bit of fight as well against every day abuse. I still highly recommend this lube!
This product was provided at a discounted price in exchange for an unbiased review. This review is in compliance with the FTC guidelines.

Thank you for viewing
Maximus
– lubricant review page!