Sliquid Roundup #6: It's finally arrived to Eden!
It's all natural ingredients make it ideal use for anyone, but especially for people who have had issues with the ingredients of other lubes. This is one of the most fantastic lubes out there. The Sliquid Organics line is that the bottle is 100% recyclable and the label is made from partially recycled materials.
Published:
Pros:
Fantastic organic ingredients. Long lasting.
Cons:
None.
First, I have to say that I am absolutely delighted that Eden is carrying the Sliquid Oceiancs. So, welcome to my sixth installment to my mega roundup of Sliquids Products. My fiancee and I were really disliking the lube we had, so we started to look at others and quickly discovered Sliquid. We've been amazed with how awesome their products are and I've set out to review most of their products. Now, I've all ready reviewed some, but have been pitting some new ones versus others.
Sliquid Oceanics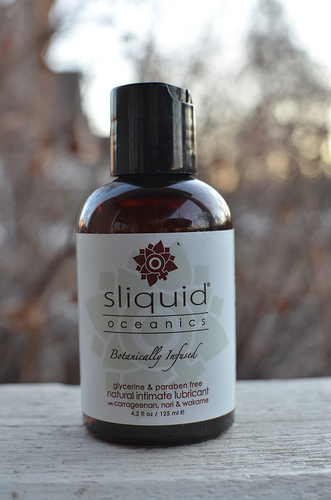 In essence, the Sliquid Oceanics, is the organic sibling of the
Sliquid Sea
. Just like with the Sea, I was very surprised when I got it and found how thick it was. The second thing that was surprising is that it comes in a brown tinted bottle, like the rest of the Organics line, not the green one as is pictured. Now the first quiestion I had was why is called Oceanics? Because it's got ocean found extracts. Here is what Sliquid has to say about those extracts.
"Carrageenan offers the benefit of being one of the mosts effective lubricants found in nature, and has been shown in lab tests to help prevent the spread of HPV (Genital Warts), which is one of the most common STD's. Wakame is a red algae often used for it's anti-wrinkle & skin revitalizing properties, as well as being a natural source of Vitamins A, B, C and E. Nori is a green algae, and is an effictive natural moisturizer, as well as being a great source of B Vitamins (Folic Acid) and minerals, including Zinc, Iodine, Iron & Copper."
The smell and taste of this one is fairly bold. It's a combination of green tea and floral notes. Though it's there, the smell fades almost immediately after it's been applied, and is pretty much only there when you are smelling or tasting directly from the bottle.
Now as far as use goes, this stuff is amazing! It's as thick as the Organics Gel and lasts a long long time. We have never had to re-apply this lube unless we've stopped for any length of time. When we have stopped, we have just reactivated it with a little bit of saliva. It's also been great for anal as well as solo play. I've never had to re-apply even with long sessions with my Fleshlight. It provides a great about of lube even for our bigger toys. One of the best parts about the Oceanics, is that because it's all natural and water based, you can use it with any toy material.
Clean up is super easy because it's water based. Just a wipe down with a cleaning wipe, or a quick rinse off, and it's gone. There is no residual feeling, except maybe a the feeling of your skin being moisturized. Also, the nice part is, if you don't want to clean up right away, when it dries, it leaved no residue, and is absorbed into the skin.
Because I know you all are interested, here are the vegan ingredients: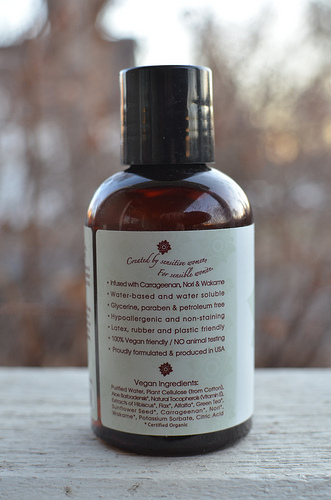 Purfied Water, Plant Cellulose (from Cotton), Aloe Barbadensis, Natural Tocopherols (Vitamin E), Cyamopsis (Guar Conditioners), Extracts of Hibiscus, Flax, Alfalfa, Green Tea & Sunflower Seed, Carrageenan, Nori, Wakame, Potassium Sorbate, Citric Acid (Citrus Fruits)
Experience
Comparison
Since there isn't a "Comparison" section, I'm using the experience section for that. Here is where I wanted to really get into the details. How do all these other lubes stack up to this one?
First we are going to start with some data.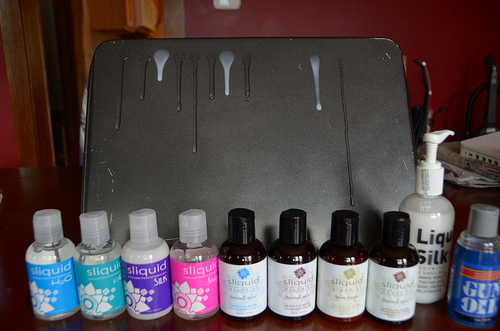 Here is the chart with all the data.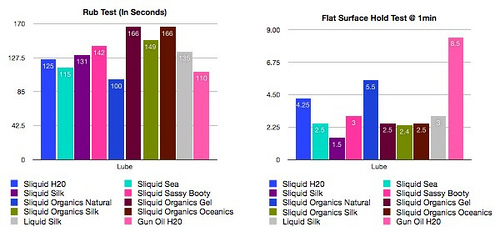 Now for comparison...
.vs the H2O: The H2O is a very basic lube. The Oceanics is way more thick and versitle, and all in all is just way better.
.vs the Sea: These lubes are really similar, but I have to say the Oceanics is just more impressive than the Sea. It's thicker, doesn't seem to have the same staying power.
.vs the Silk: This one is great, but it just isn't quite as nice as the Organics Silk. Glad to have it as my back up to my Organics Silk though.
.vs the Sassy Booty: Now these lubes are pretty close to the same thickness, and I have to say all in all, I like the Oceanics as well as the Sassy, even for anal use.
.vs the Organics Natural: Out of all the Sliquids, this was by far the worst performing one. It's not that it's bad, it's just not as good as the others. I'd reach for the Oceanics every time.
.vs the Organics Silk: I have to say, I love the Organics Silk. It is my go to lube. Because the Organics Silk is a hybrid, it just has a more natural, body fluid like feeling to it. The Oceanics is my second favorite.
.vs the Organics Gel: It's been great and I am on my second bottle, but I really love the Oceanics a little bit more. It just seems to preform just slightly better. Either way though, you can't go wrong.
Take a look at my other reviews in the Sliquid Roundup!
Sliquid Roundup #1 - Organics Silk
Sliquid Roundup #2 - Sea
Sliquid Roundup #3 - Silk
Sliquid Roundup #4 - Organics Natural
Sliquid Roundup #5 - H2O
Follow-up commentary
2 months after original review
Oh, I still love this stuff! To be honest, the more I've used it the more I can't tell the difference between the Oceanics and the Organics Gel. But they are both phenomenal lubes, and one of them will always be in our night stand.
This content is the opinion of the submitting contributor and is not endorsed by EdenFantasys.com

Thank you for viewing
Sliquid oceanics
– lubricant review page!