(1x/2x) Naughty People Have More Fun
This chemise makes you do what I think its created to do - make you smile and make you feel comfortable. Its wonderful to wear around the house (if you don't have children who would ask about the photos). I highly recommend it to plus size women who want something comfortable and fun to wear.
Published:
Pros:
Adorable pattern on fabric
Very comfortable fabric
Cons:
Ribbon straps are a bit too narrow and uncomfortable
No breast support
When I think of Coquette, one word that comes to mind is "comfort". While I only have 2 of their products so far, I am hooked on their products due to the quality, comfort and style that I have experienced thus far.
The Naughty People chemise is not what I would call "sexy" but the pattern is "fun" and the style is mostly comfortable. It is great for around the house and some might even be able to wear this out in public. I live in a small town and at my age (51) and size (22/24), I would not feel comfortable doing that.
According to Coquette, for this size I should wear clothing sizes 18-22, with a D cup in sizes 46-50, and have a waist of 38-42" plus hips of 46-52". As you can see from the pictures below, I clearly do not meet that size because while I wear clothes that are 20/22/24 in the top and a 44D bra, my waist is 49" and my hips are 57". In other words, I am "too large" to be the ideal customer they designed it for.
But lets face it - its Coquette - it looks comfortable and like it could stretch (it does a bit) and the pattern is just too cute to pass up.
So I placed my order and waited anxiously for the package to arrive. When it arrived, the chemise was hanging on a clear plastic hanger inside a clear plastic bag.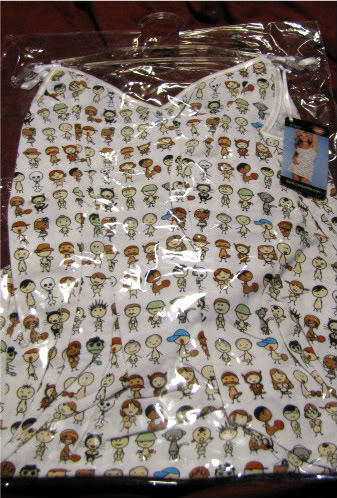 The tags state this chemise is made in China and is 50% cotton/50% polyester. It is recommended that you hand wash it. I suspect you could wash it in the washer on gentle cycle with cool water if you put it in a lingerie bag and I may try that because I am afraid of stretching out all the little people if I wash it by hand. I also want to add that I find that this wrinkles very easily on me.
The chemise is 29" from the shoulder to hem and the bust is 40" when unstretched. The hem circumference is a very comfortable 58" so it doesn't feel too tight when you have it on. The straps are adjustable from 9.5" to 19" so you can make them the length you want. My only problem with this is that the straps are little ribbons that are only 3/8" in width and it feels almost like they cut into my shoulder when I try to sleep.
Upon taking it out of the bag, my husband and I had a lot of fun giggling over the various "naughty people" that are in the pattern. Here are a few of them: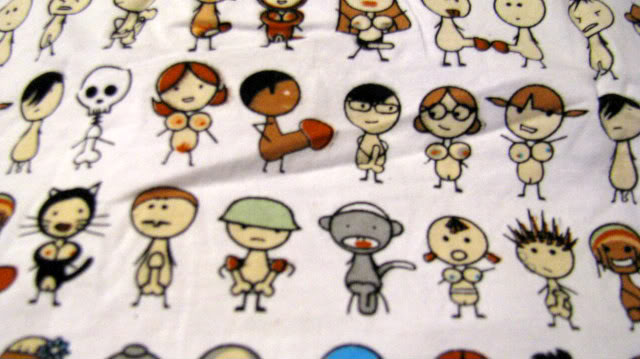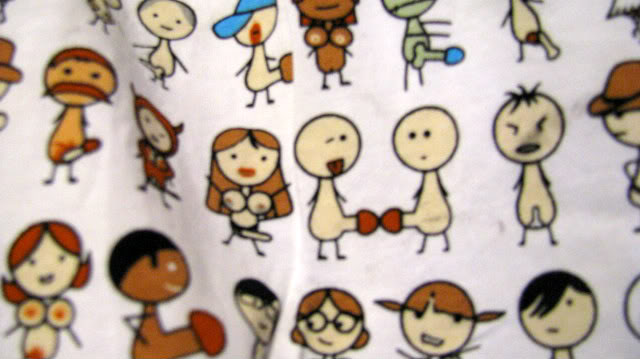 Aren't they adorable?
So here are some pictures of me in the chemise. Please remember, I am a bit larger than the recommended size and I have the dreaded "apple" shape meaning I'm very wide in the waist.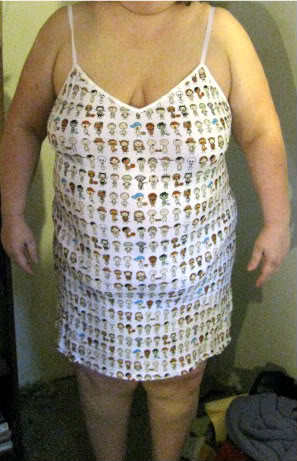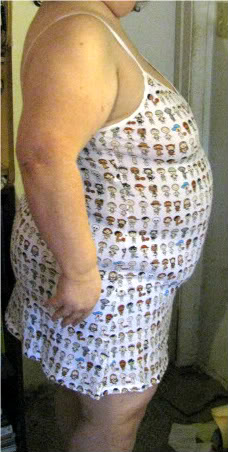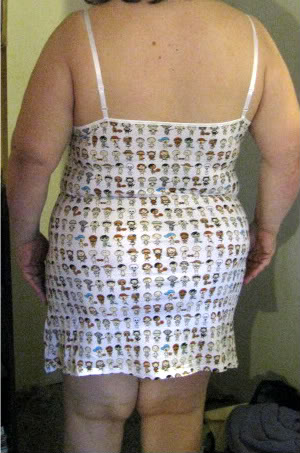 Now I know that some of you are looking at these photos and seeing how it rides up on me a bit and going, "No way" but I want to restate once again that it is because of my particular body shape and the fact that I do not fit within their measurements perfectly.
In spite of the way it may look in those photos, I am keeping the chemise because I am in the process of losing weight and hope to have it fit better soon and because it is just so comfortable to wear around the house.
Experience
I have two small complaints about this item and one observation. First of all, a plus size woman needs a better strap than a 3/8" ribbon. The ribbon just feels too flimsy.

Secondly, while this stays down great while I'm wearing it around the house, when I sleep in it, it comes up and wraps itself around my waist. I'm used to that in many items but I was hoping that this chemise wouldn't do that.

The other item I would like to point out is that there is no support for your breasts in this item. Due to the design, that is to be expected, but it is still something I wanted to point out. A large woman like myself might want to wear some sort of a strapless bra underneath this if you were going to wear it all day, simply to keep from sagging.

Because of those two things, I gave the chemise 4 stars. Otherwise I would have given it 5 stars because it is so well made and so cute.
This content is the opinion of the submitting contributor and is not endorsed by EdenFantasys.com

Thank you for viewing
Naughty people chemise
review page!